There are many factors to take into account when looking for the best Bike Tour in Buenos Aires.
In this post we'll analyze and explain why Biker Street definitely offers the best Bike Tours in Buenos Aires.
Which is the Best Bike Tour in Buenos Aires?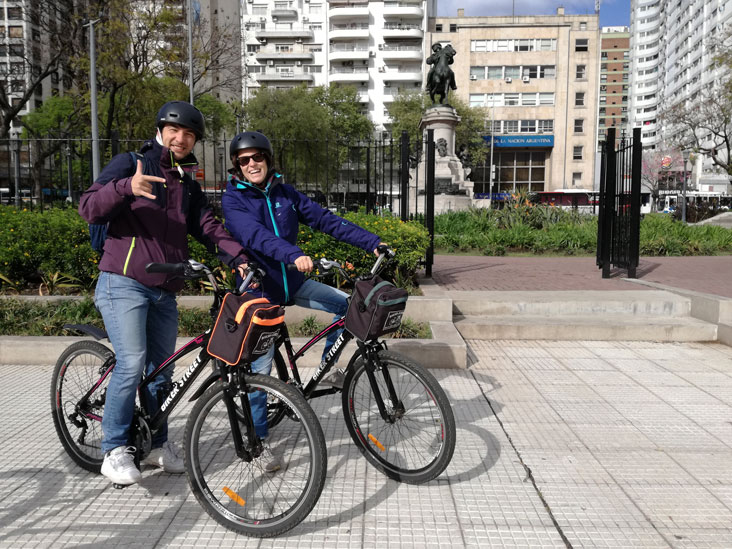 Certainly, the best Bike Tours are those organized by Biker Street, as they gather all requirements to be classified as the best ones.
So, we'll analyze in detail all the things that make Biker Street the best bike tour offer in Buenos Aires.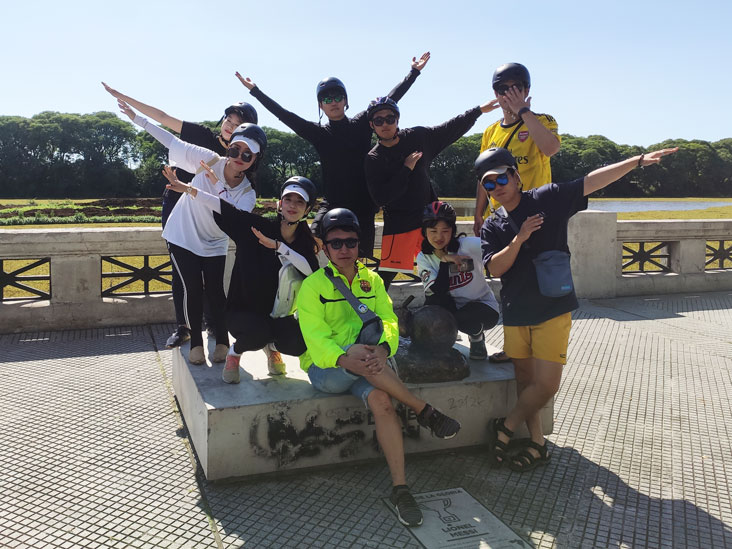 Lately, social networks and review platforms have become a very helpful tool when hiring a service.
In these websites you could read the reviews wrote by those who have already experienced the tours. Therefore, you could get an idea of what you are going to experience yourself. If you decide to complete the booking, of course.
At Biker Street, we can proudly say we have an average of 5 stars on all our social networks and review platforms.
It is rewarding to discover our effort is reflected on the beautiful words used by those who shared a tour with us.
This is the most efficient way to evaluate a company, since it's all about the real experiences of those who have already joined a tour.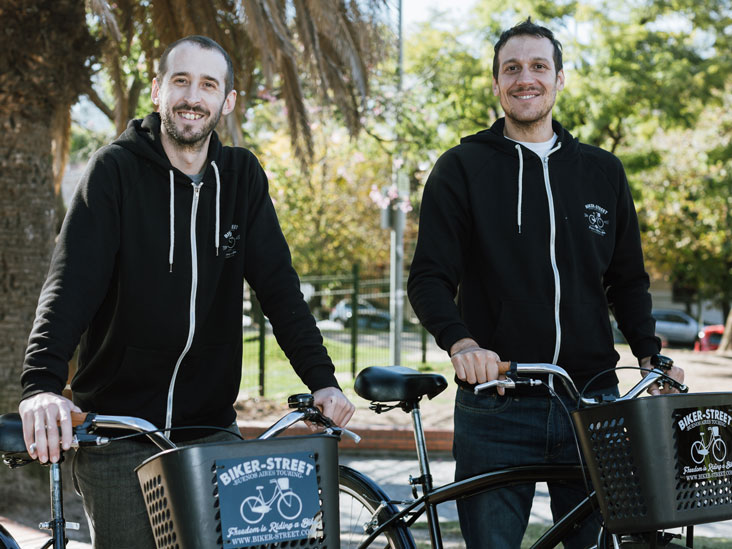 Biker Street is a self-managed project. We're just 3 people working on it: Julián, Carlos and Gilda.
This start up project was born as a dream, back in 2015. Today it is a reality, thanks to the effort we all make to carry this project forward.
When you go on a bike tour with Biker Street, you will always be in contact with one of us. We're the only ones to respond to the messages, process the bookings, guide the tours, fix the bikes, etc.
Furthermore, we do feel a commitment to all the people who trust in us when booking a tour. We do our best, working on every detail. So that whoever participated in the tour, not only feels like a "satisfied customer", but also like they made a new friend in Buenos Aires.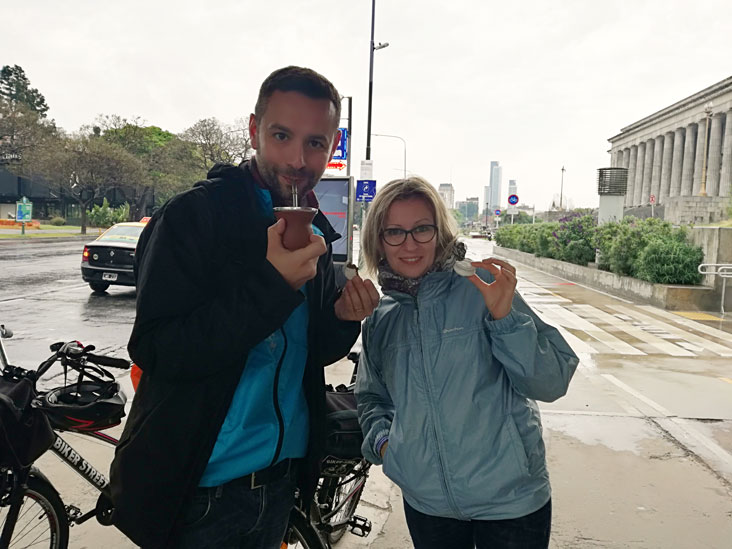 In our bike tours you will get a local experience, as you'll be riding with a local. We want you not to feel you are part of a (big) group of tourists visiting a city.
Besides, we always try to share our lifestyle and explain what our habits are like. We'll offer accurate and important information about the places we visit.
You will also have the opportunity to ask as many questions as you want. We will talk about the topics that interest you with great enthusiasm.
Last but not least, you will be able to try typical products from our culture such as "mate". Furthermore, if you book one of our tours that include lunch, you will also taste a traditional local meal. If you heard that we love empanadas or choripan, you'll also get the chance to try them in a typical place.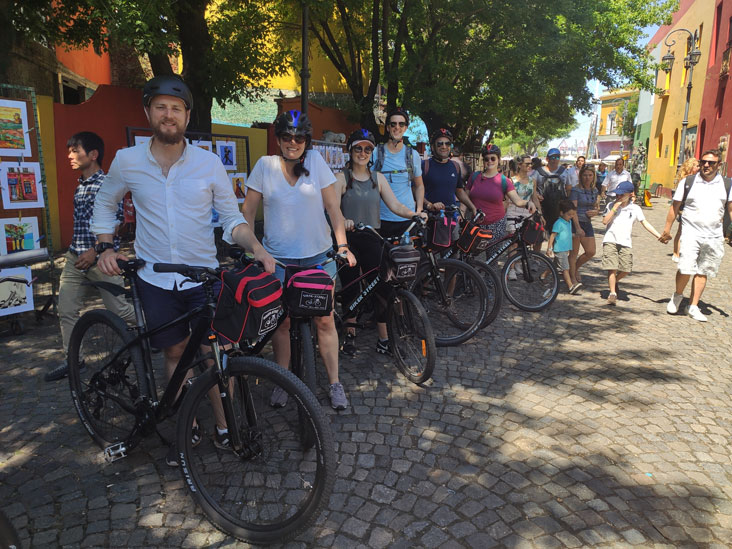 All our bike tours are made in small groups of maximum 6 people. We are the bicycle tour company in Buenos Aires with the lowest limit of participants per tour.
In our opinion, you are not just a number, you are a curious traveler who is touring with us. So we want you and everyone to have a good time. 
By riding in a small group, your experience will be more rewarding since:
You will have the opportunity to be in touch with the guide all the time and ask as many questions as you want.
It is easier to ride on the streets and on bike lanes.
You will not waste tour time waiting for other people. For example, when the group is very large, each traffic light divides the group and everyone must wait for the rest.
It helps integration with the other members of the group.
It's easier to coordinate with a small group, in order to make the most of the tour time.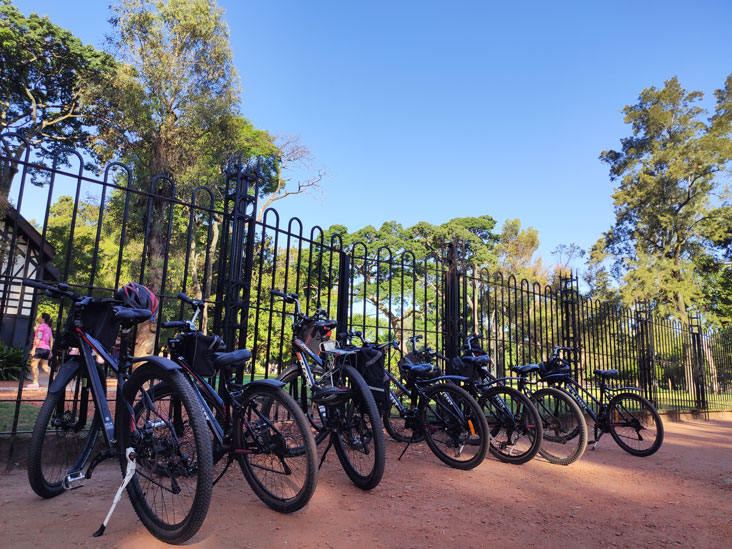 All our bicycles have 21 speeds and suspension in their front wheel so that the ride is easy. This way you'll enjoy the most.
It's just us who take care of the maintenance of the bikes and make sure they are all in perfect condition.
If, for any reason, your bike suffers any damage during the ride, we should know how to fix it to continue exploring. Fortunately this is not something that happens frequently.
Our bikes have a front bag so you can keep there anything that could be useful during the bike tour. It could be: a bottle of water, a camera, a coat, keys, etc.
As we mentioned before, it's just the three of us, Carlos, Julián and Gilda, who guide the bike tours.
We were all born and raised in Buenos Aires and we love our city. So we try to transmit this to the people we meet on our bike tours.
We like history but we are also always aware of current events. This gives us tools to pass on our point of view and exchange ideas with people from other cultures.
We are always going to do our best to answer all the questions. Do not be afraid to ask a lot, we love when this happens.
It actually makes the tour more interesting for us as well.
We do not like playing the role of a machine that repeats the same speach all the time.
A Single Language per Tour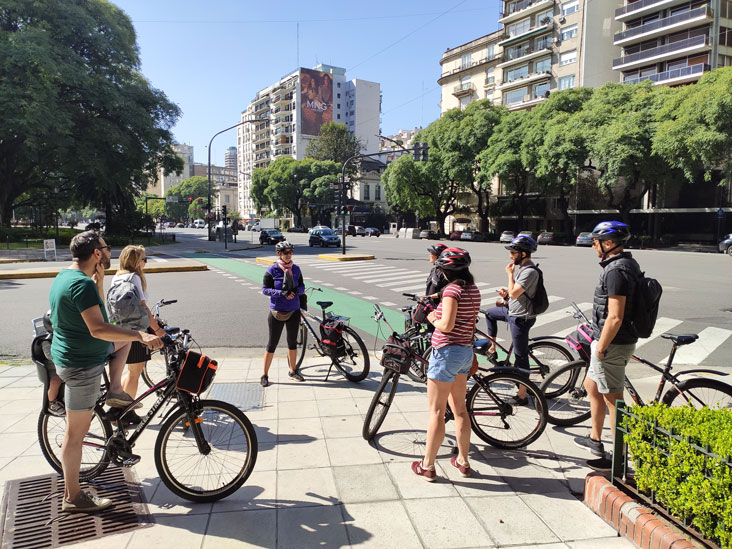 Our bike tours are guided in one language per tour. In other words, all the people in the group speak the same language.
You will not have to waste time listening to a language you do not understand or hear the same information 2 or 3 times in different languages.
Furthermore, this is also a way to optimize time on the bike tour.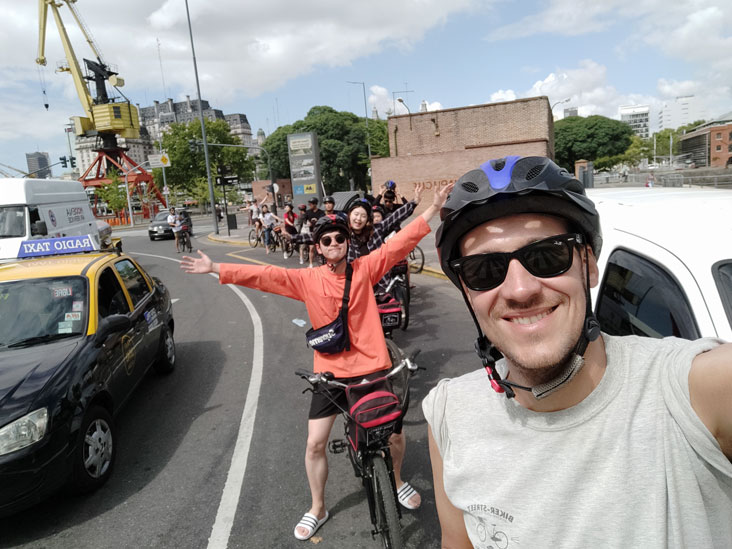 For all this, Biker Street is the best bike tour company in Buenos Aires. Support small local businesses and trully experience Buenos Aires!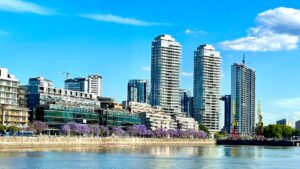 Here at Biker Street, we designed the best self-guided routes to visit Buenos Aires. We steered the best paths according to how long your stay in Buenos
Read More »