Mate drinking tradition is a typical habit from Argentina that wakes enormous curiosity among visitors who arrive to the country.
It is an infusion of yerba (Ilex Paraguariensis, a kind of herb) that's produced in the North of Argentina, mainly in the province of Misiones.
The Guaranies (natives from Paraguay) were the first users. It was originally prepared in a small dry hollow pumpkin and it was drunk through a cane. 

The cup is also called "mate" and currently you could find it made of different materials, colors and sizes. Apart from that, instead of a cane, we now drink it through a metallic straw called "bombilla".
We usually drink mate at home, at the office or when we go to some park. For us, it's like going on a pic-nic.
Mate is something that you bring with you, it's not something you order in a bar. You would normally carry your own mate set to the place where you want to drink it. So, it's just the bars for tourists (usually in posh areas) that offer mate, but no local goes to a bar to drink mate.
For a lot of people it's a social ritual that invites you to share a meeting with friends or relatives. So when you haven't seen someone for a while, you will most likely say "let's have some mates".
Drinking mate doens't have any side effects and whoever drinks it comments on the refreshing and relaxing effect it produces.
There are also mate consumers in Uruguay, Paraguay, Southern Brazil and distant countries such as Syria. Yes, Syria!.
Of course, on our bike tours in Buenos Aires we do a stop to enjoy some mates and share more about this habit that has been maintained since the foundation of Buenos Aires City. It's joining one of our tours is not only a great opportunity to discover Mate Drinking Tradition but also for you to ask any question you may have about our life style or to talk about anything that may calls your attention.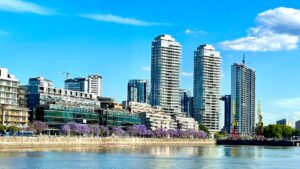 Here at Biker Street, we designed the best self-guided routes to visit Buenos Aires. We steered the best paths according to how long your stay in Buenos
Read More »