BA Bike Tour: History & Local Culture - AM
"mate" (infusion) + "alfajor" (local snack)
sandwich + empanada from truly local places. *Veggie option available
+ with gears & suspension + helmet
500 ml bottle of water
English speaking local guide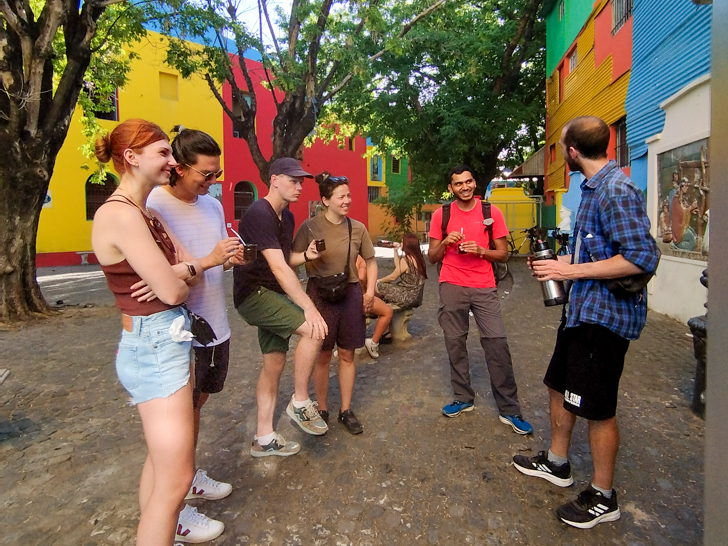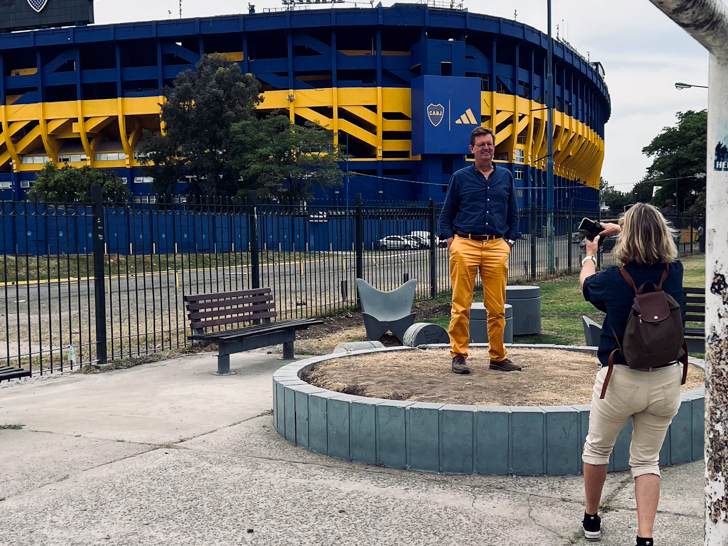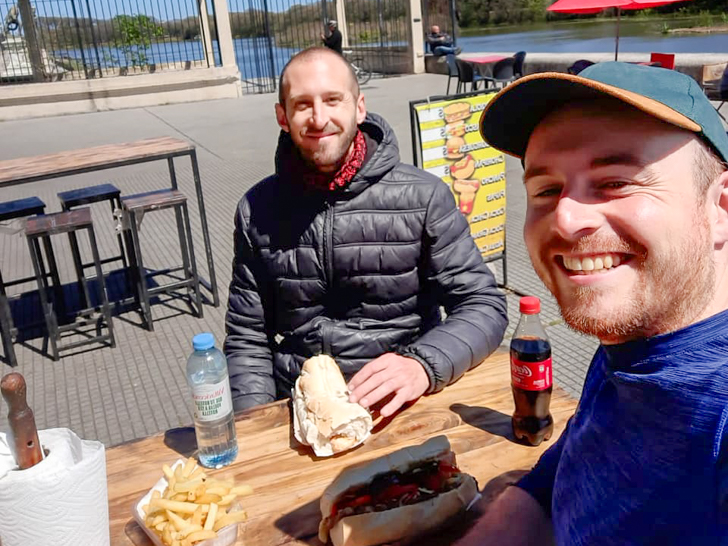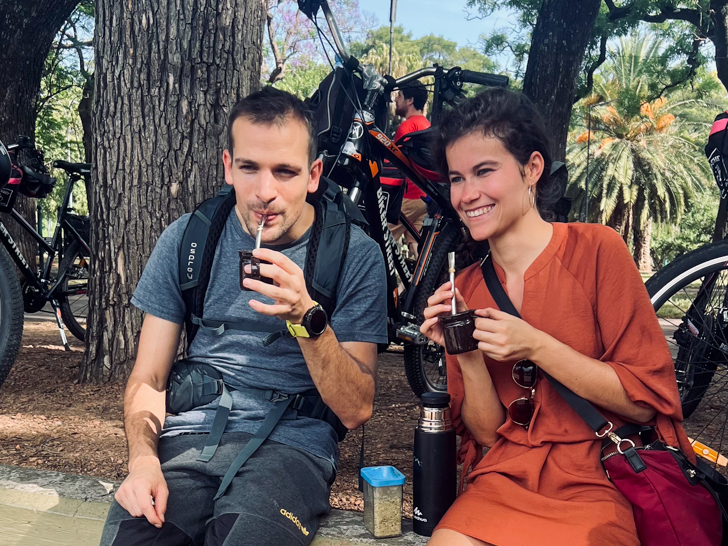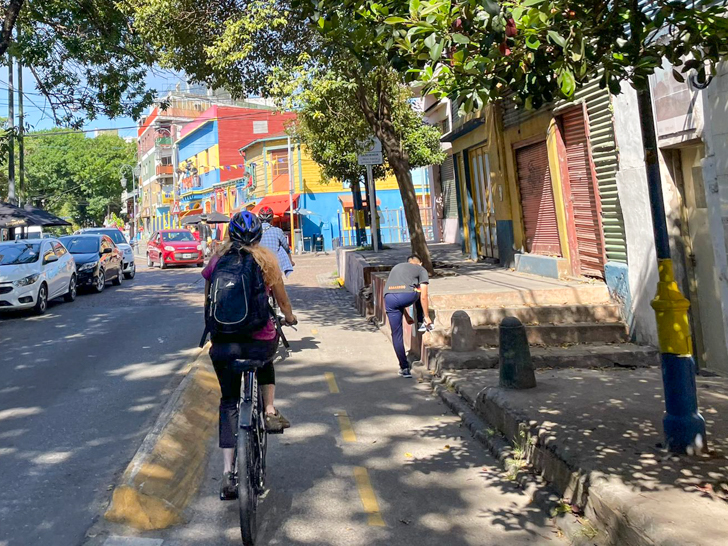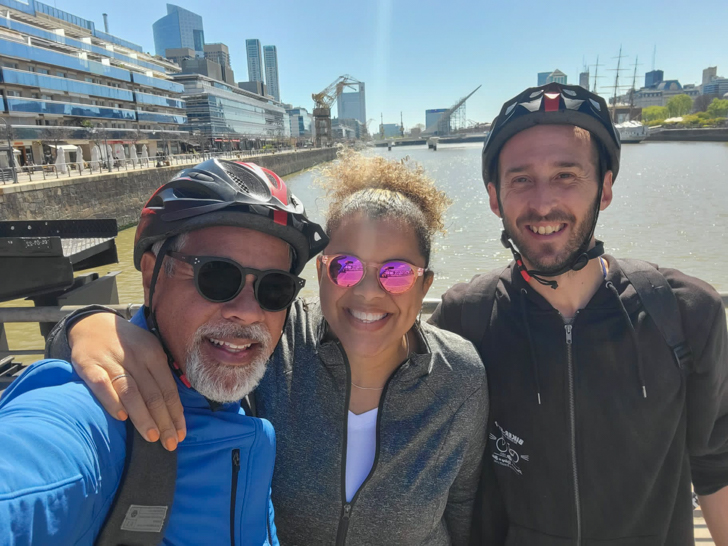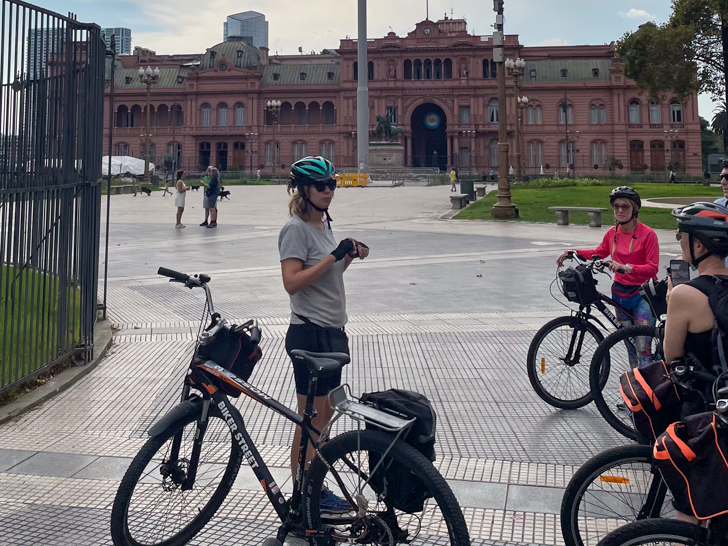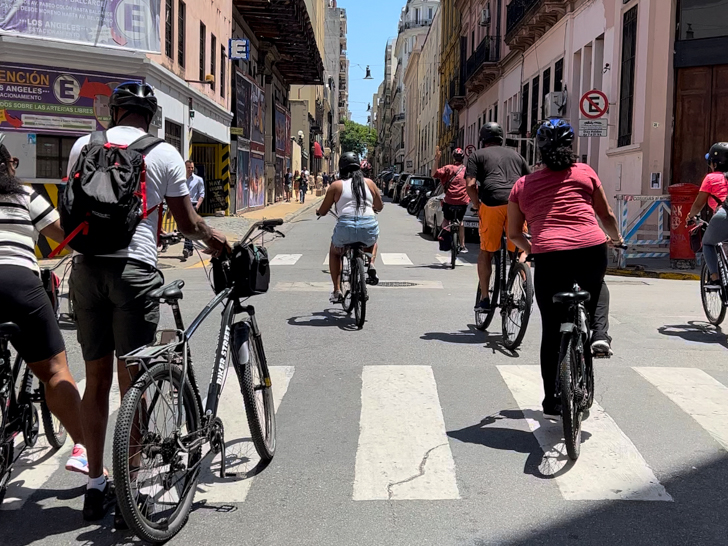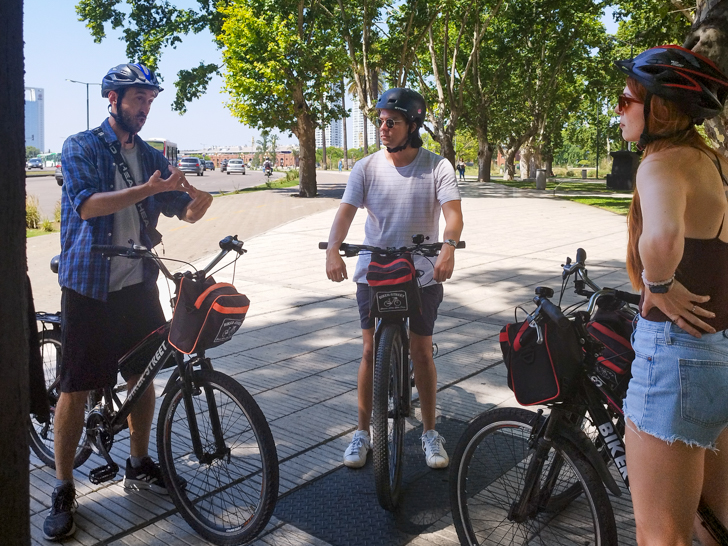 BA Bike Tour: History & Local Culture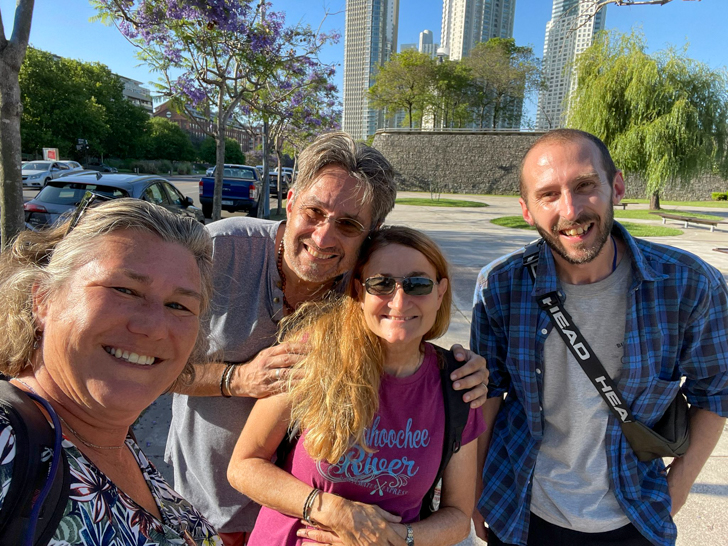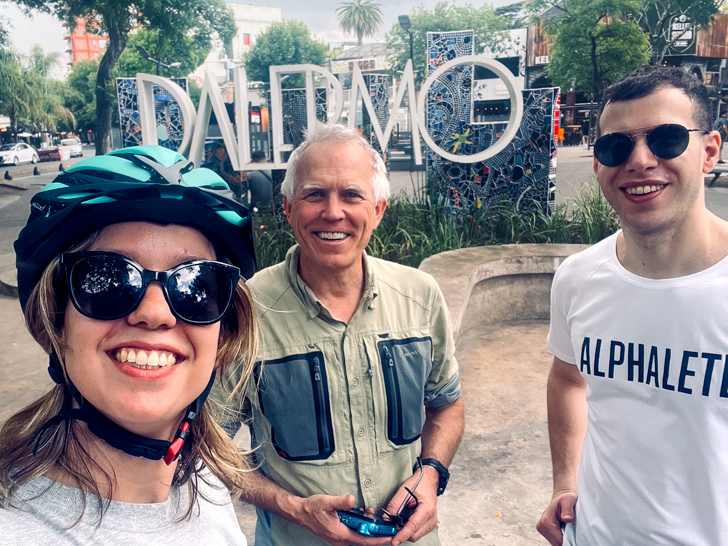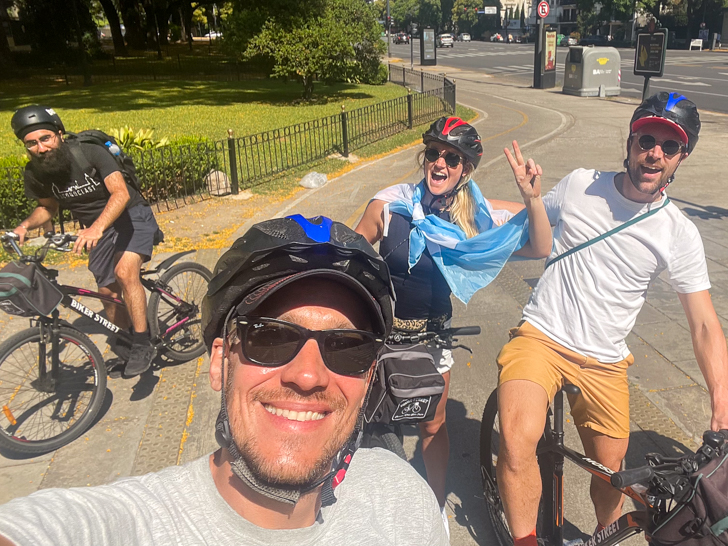 Encounter Carlos, Julián, or Gilda at 762 Hipolito Yrigoyen Avenue to embark on an enthralling bike tour in Buenos Aires that delves into its History and Local Culture. We'll reveal how the porteño culture took shape in a city initially founded by the Spanish and later enriched by immigrants from various corners of the globe, with a predominant influence from Spain and Italy. Through this journey, we'll uncover the imprints left by these immigrants on our contemporary customs and the underlying reasons for our practices.
A single language per tour
Our tours are guided in only one language, ensuring you don't lose time listening to content you might not comprehend or waiting for others to catch up with what you've already heard. This way, we ensure that everyone understands and can fully engage in the conversation.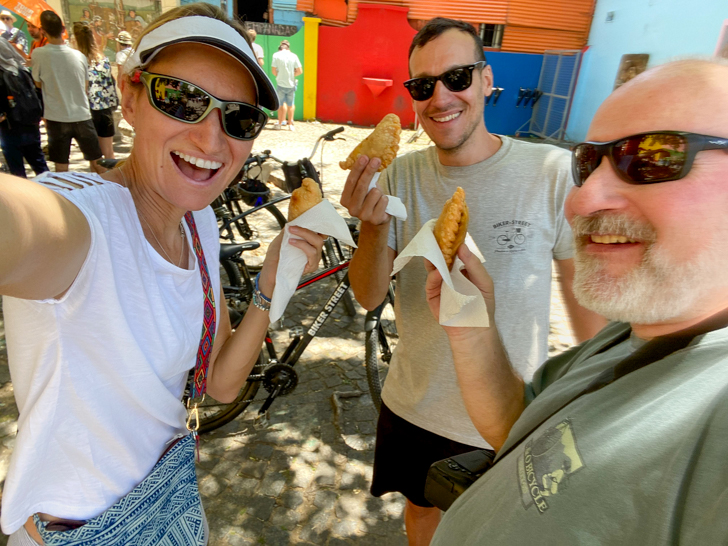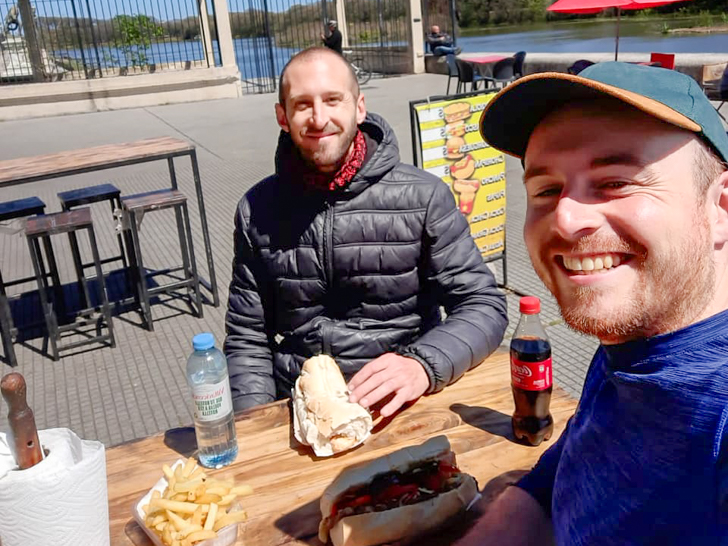 During our journey, we will make a few longer stops to indulge in Argentina's most renowned experiences. Firstly, we'll immerse ourselves in the world of "mate," a hot infusion sipped from a cup using a metal straw. Additionally, we'll treat ourselves to the "alfajor," a delightful cookie sandwich filled with dulce de leche. Moreover, we cannot overlook the opportunity to relish one of Buenos Aires' most delicious empanadas at an authentic establishment. And let's not forget about the traditional food truck, where we'll savor an extraordinary sandwich that is often enjoyed by the locals for lunch. This will undoubtedly be a memorable culinary experience.
Highlights in our Bike Tour:​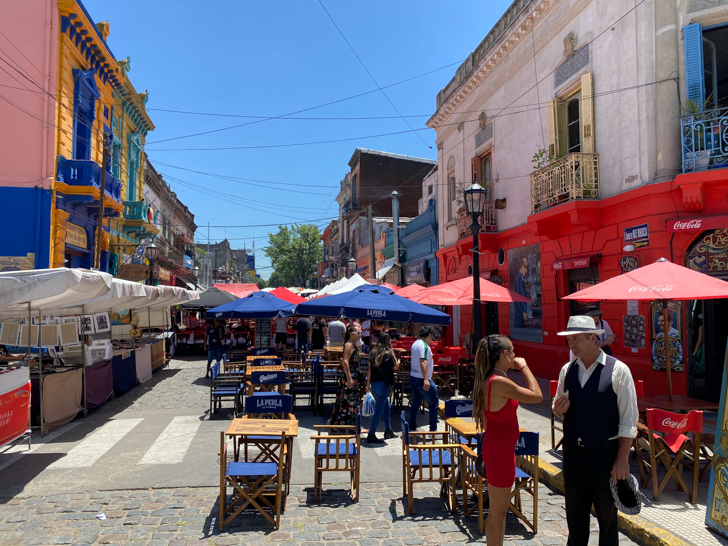 Prepare to step into Caminito, a dynamic open-air museum that pulses with the rhythm of Buenos Aires' heritage. Nestled in the southern quarters of the city, this iconic location is a treat for the eyes and the soul. During our visit, you'll have some time to soak in the lively ambiance. The streets are a canvas of vibrant colors and intricate artworks that invite you to explore and capture the moment. Take a leisurely walk, or perhaps savor a cup of coffee or beer (available for purchase) as you absorb the local spirit. Caminito's charm isn't just aesthetic—it's an insight into the lives of the immigrants who once inhabited this area.
Explore the captivating tapestry of La Boca—a district that encapsulates the ebb and flow of Buenos Aires' history. Once a haven for European immigrants in the 19th and 20th centuries, La Boca's character is steeped in the stories of its diverse inhabitants. Embracing its identity as a football mecca, La Boca proudly houses the illustrious "La Bombonera" stadium, home to the Boca Juniors. Amidst the neighborhood's cobblestone streets and quaint houses, street art blooms—a testament to its creative spirit. At the heart of it all lies Caminito, an emblem of La Boca's essence—an outdoor gallery where tango rhythms and artistic expression unite.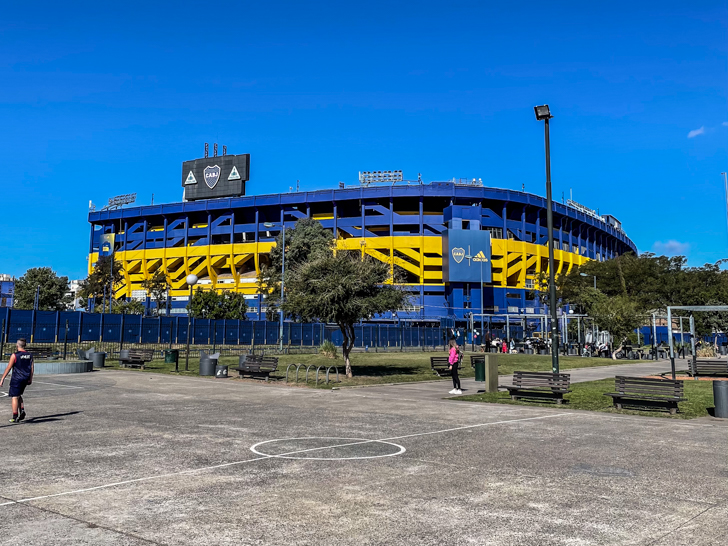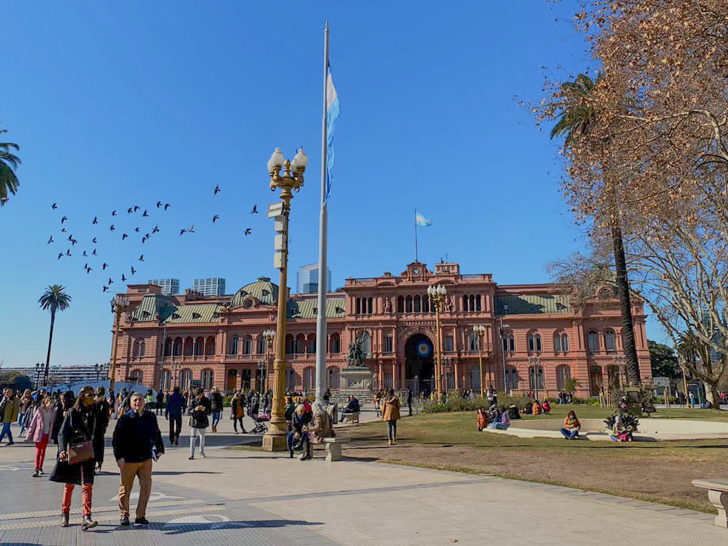 Plaza de Mayo, a historic city square and the birthplace of Buenos Aires, is a nucleus of cultural and civic significance. Revered as "the center" of the city, it embodies the spirit and evolution of Buenos Aires. This square isn't merely a point on a map—it's a gathering ground for collective expressions, where impassioned voices resonate during times of protest and jubilation alike. Encompassing Plaza de Mayo are the esteemed landmarks that shape the city's character—the Government House, National Bank, Ministry of Economy, and the stately Cathedral of Buenos Aires. This dynamic square encapsulates both the city's heritage and its ever-evolving narrative.
A short stroll from the iconic Plaza de Mayo, San Telmo stands as a bridge between history and the present. In this venerable district, the past comes alive through original cobblestone streets and architectural remnants that evoke the city's beginnings. Yet, don't let its historic façade deceive you—San Telmo is a bustling hive of contemporary energy. The streets pulse with the rhythms of modern life, filled with an array of bars, restaurants, and nightclubs that illuminate the night. Amidst this vivacity, the neighborhood remains loyal to its origins, serving as a sanctuary for antique enthusiasts and preserving the charm of bygone eras.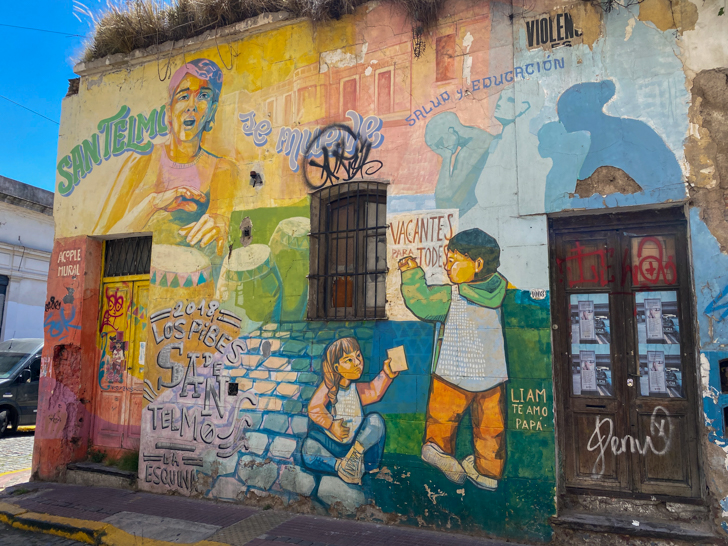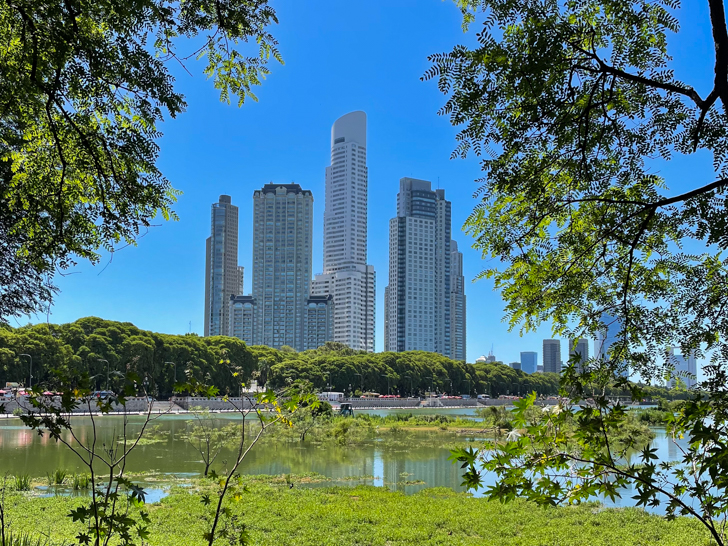 Step into the captivating narrative of Puerto Madero—a realm where the past and progress interweave. As the inaugural port building of Buenos Aires, it symbolized an era of affluence at the close of the 19th century. A testament to Argentina's aspirations, it soon evolved into a historical relic as its port functions dwindled. However, the 1990s breathed new life into this waterfront enclave, initiating an ambitious transformation that would redefine the urban landscape. Puerto Madero emerged from the cocoon of its history, metamorphosing into a modern barrio that encapsulates innovation and adaptability.
Embark on a captivating journey through the heart of Buenos Aires—the Montserrat District. This historic enclave is a treasure trove of the city's beginnings, where echoes of the past resonate through its architecture and landmarks. As you cycle through its storied streets, you'll be transported back in time, traversing the same paths as early settlers. The district's rich history is etched into every corner, from its grand government edifices to its charming squares and local markets. Montserrat's fusion of heritage and contemporary vitality creates a tapestry that reveals the essence of Buenos Aires' evolution.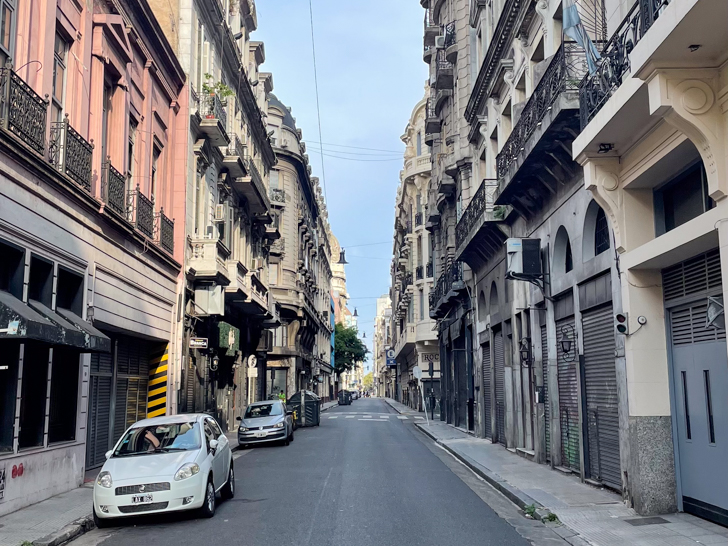 Bookings are online. If you'd like to book directly at the meeting point you should pay in cash with the exact amount of money. Without a previous reservation, we can't guarantee we'll have a spot available nor that the bike tour will run.
The approximate length of the BA Bike Tour: History & Local Culture – AM is around 5 hours. So, 99% of the times the tours end around 2 p.m. The duration of the bike tour is not exact since it will depend on several factors such as: traffic, the pace of the group, if we need to do a quick fix to a bicycle, change an inner tube, etc.
The tour is guided in only 1 language, so you don't waste time hearing a language you don't understand or listening twice to similar questions or information.
La Boca has a bad reputation, but the tourist areas of La Boca are usually covered and it's generally safe.
Inclusions:
The use of a bike with gears and suspension, as well as a helmet.
A 500ml bottle of water.
A drink (non alcoholic) + a sandwich at a traditional "parrilla" food truck, veggie option available.
Mate and alfajores.
Local guide (super friendly).
The price is USD 55. Payment is made online by credit card on our booking engine or through Paypal.
Bike tours are available from Monday to Saturday. If you are interested in doing this bike tour on a Sunday you can book this same option as a private bike tour, please contact us in that case.