BA Bike Tour: Elegance & Inequality Unveiled
Recoleta Cemetery Ticket.
"mate" (infusion) + "alfajor" (local snack)
+ with gears & suspension + helmet
500 ml bottle of water
English speaking local guide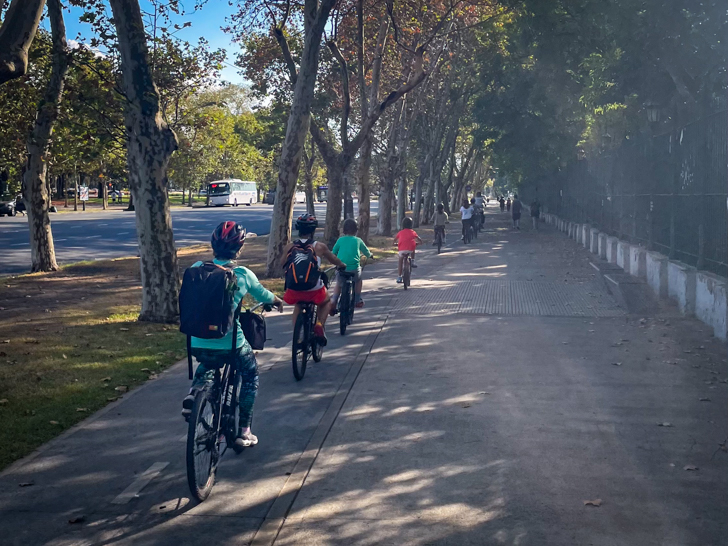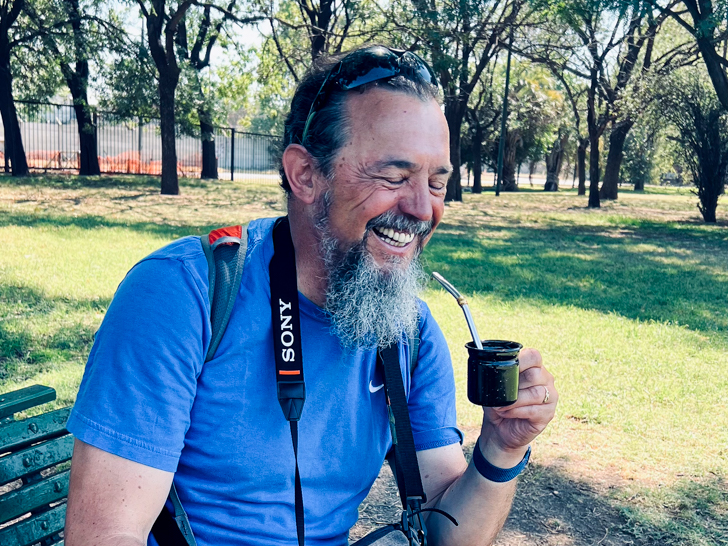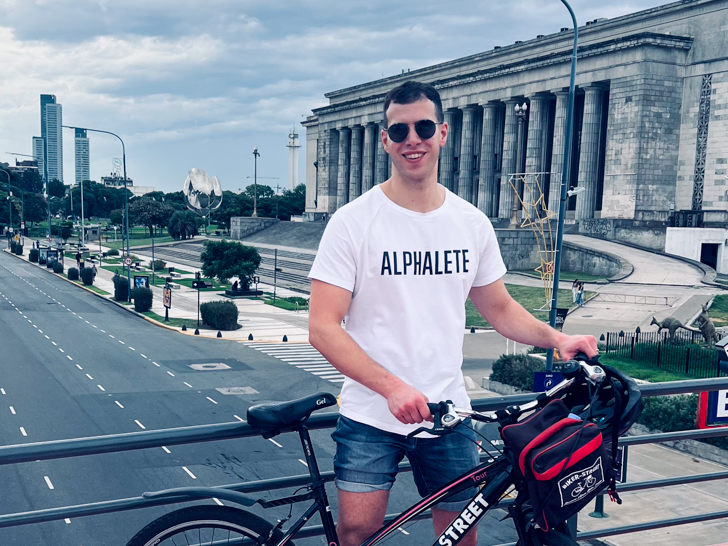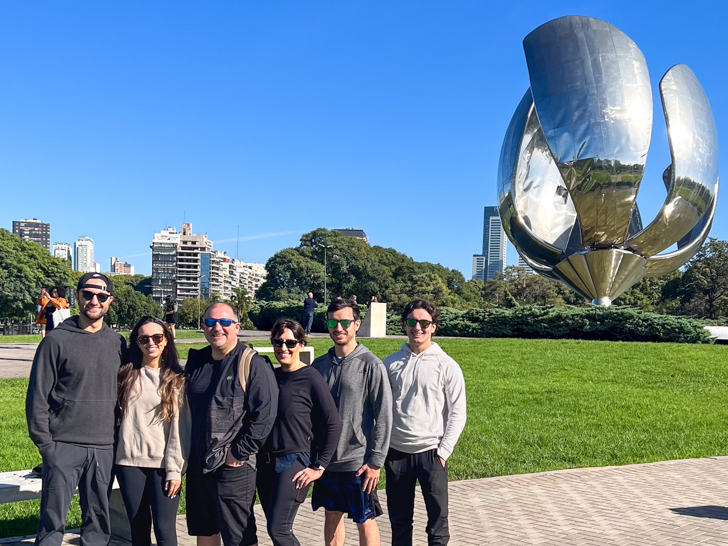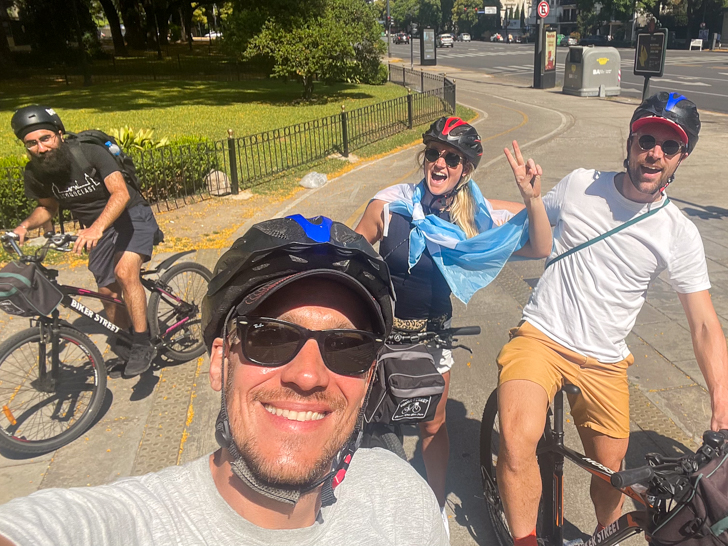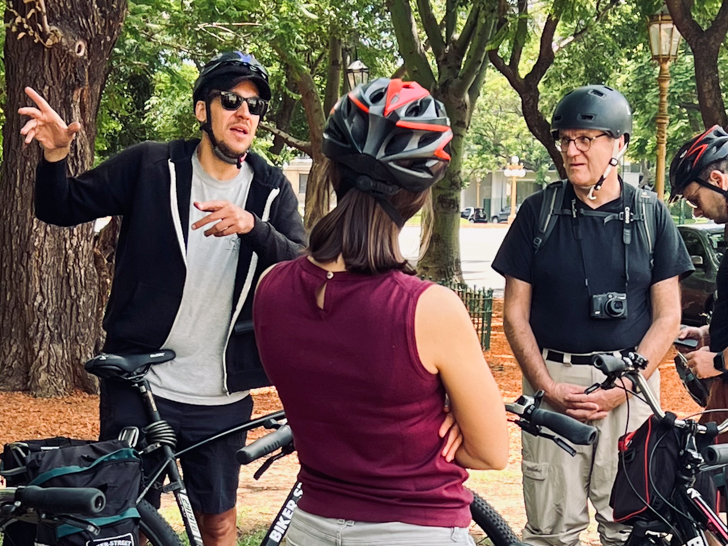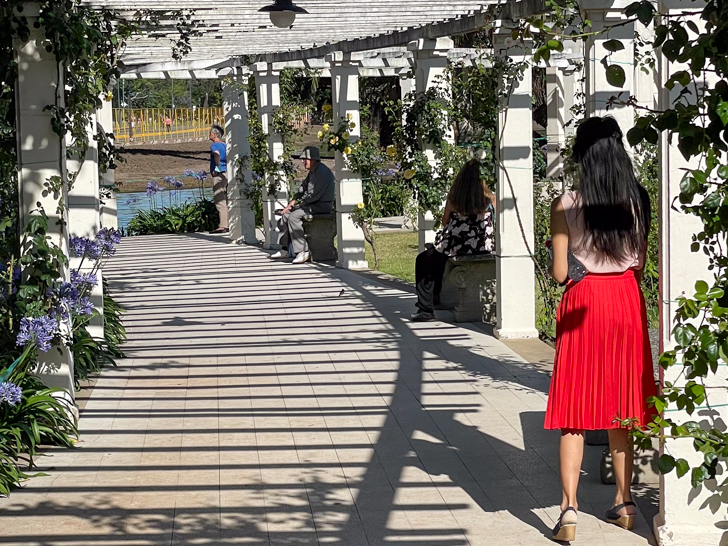 BA Bike Tour: Elegance & Inequality Unveiled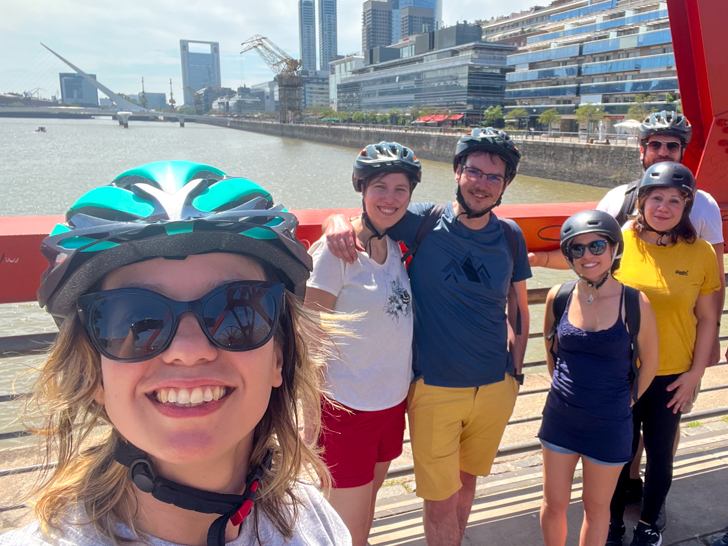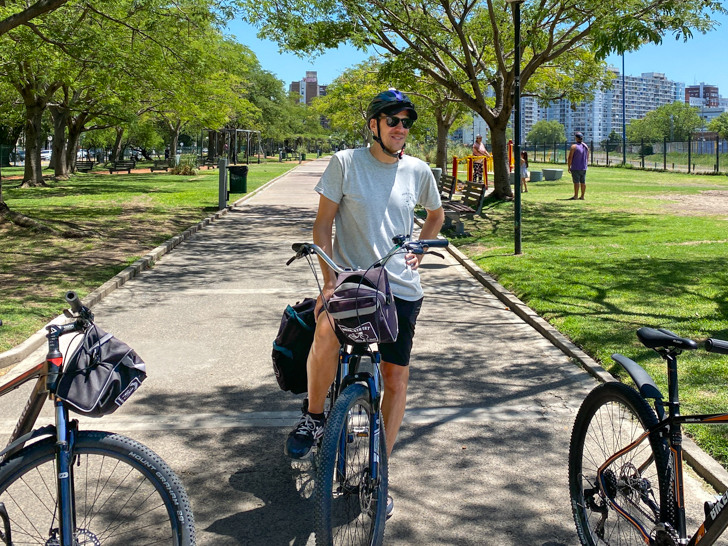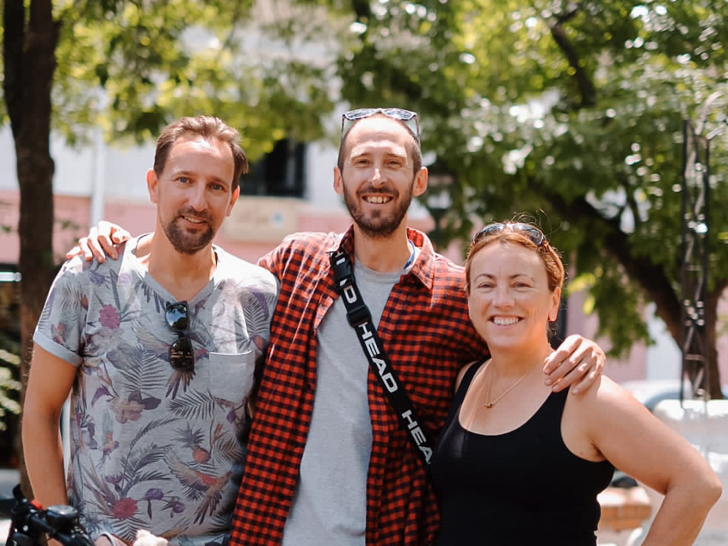 Join Carlos, Julián, or Gilda at 2269 Armenia St. to explore the most upscale facet of the city. A blend of history and modernity awaits us in the multifaceted Buenos Aires. Brimming with parks and verdant spaces, alongside splendid buildings boasting French-style architecture, you'll come to understand why BA is often referred to as The Paris of South America.
A single language per tour
We host our tours in only one language to eliminate the possibility of you spending time on content you can't comprehend or waiting for others to receive the same information. This way, we guarantee that everyone can actively partake in the discussion.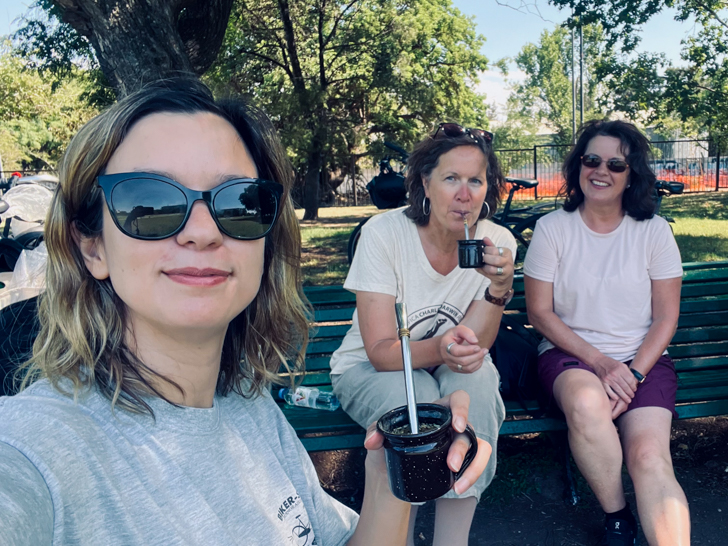 Join us for a unique "mate" session experience, the most cherished tradition in Argentina. Sip hot water infused with tradition through a slender straw, like tea with a twist. As we savor this traditional beverage, indulge in "alfajores," two cookies filled with dulce de leche, for a delightful treat. Let your taste buds and senses embark on a flavorful journey. Engage with the culture, savor the flavors, and create unforgettable memories. Don't miss out on this captivating adventure.
Highlights in our Bike Tour:​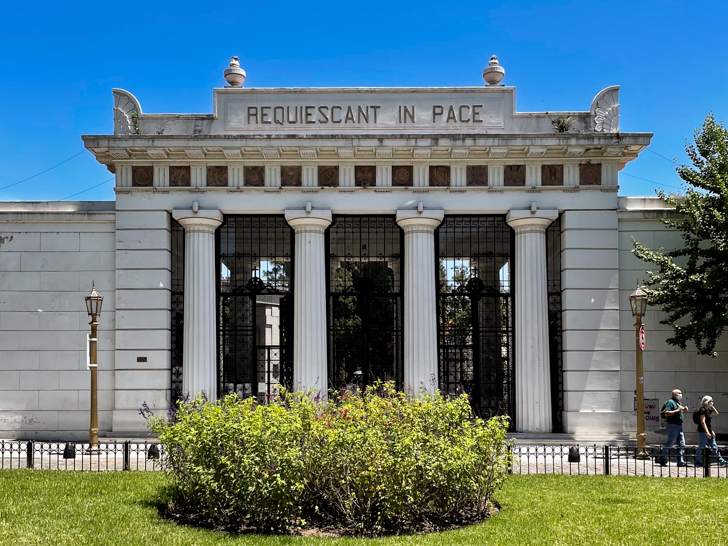 Our bike tour winds its way to a place of serenity and splendor, the revered Cementerio de Recoleta. Steeped in history and opulence, this burial ground, the oldest in Buenos Aires, stands as an emblem of the city's rich heritage. Amidst its hallowed pathways lie the ornate mausoleums of Argentina's elite families, a collection of architectural marvels that speak to a bygone era. These families once competed for distinction, each mausoleum a statement of wealth and influence. Spend around 30 minutes strolling through this remarkable space, where stories etched in marble come to life. Your journey is accompanied by the Recoleta Cemetery ticket.
Venture into the heart of modern Buenos Aires as you encounter the striking Floralis Generica. This colossal metal flower, formed from a staggering 18 tons of airplane metals, is a testament to both artistic vision and sustainability. A generous donation from Eduardo Catalano in 2002, this sculpture graces the landscape of the Recoleta neighborhood, harmoniously coexisting with the Universidad de Derecho (law university). Throughout the year, the sculpture's petals open and close, mirroring the rhythms of the city's pulse. Adjacent to the vibrant university, the park housing Floralis Generica is a meeting point for both students and travelers alike.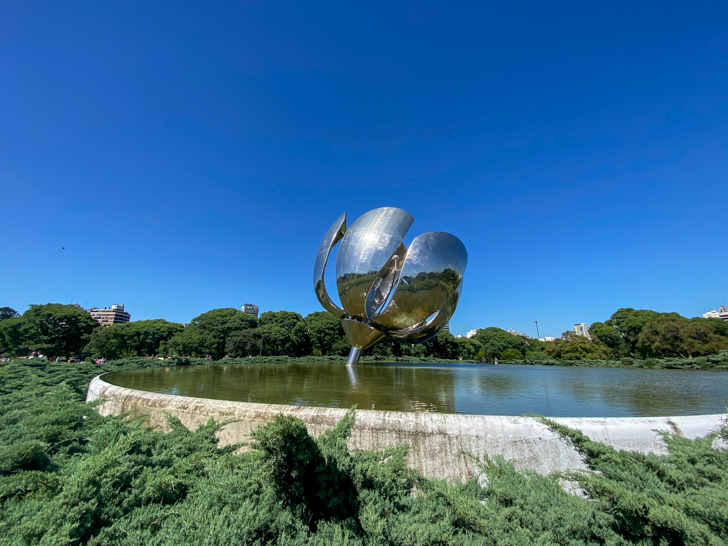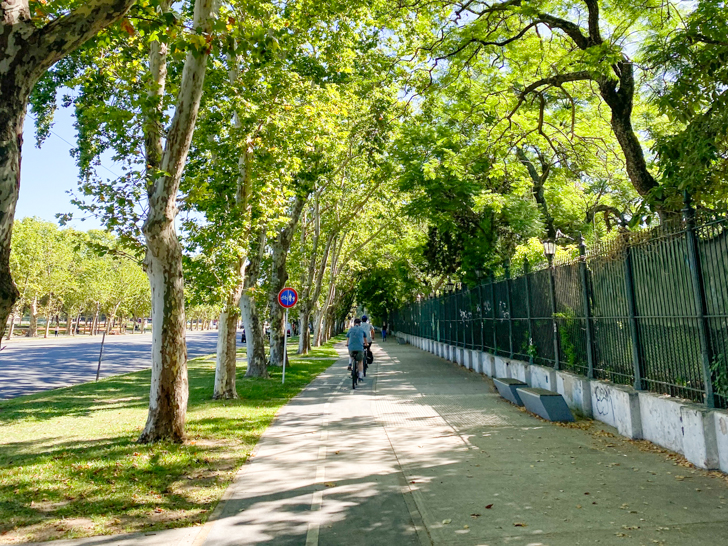 Escape to the sprawling embrace of Bosques de Palermo—a vast green sanctuary nestled in the northern heart of Buenos Aires. Known affectionately as "Bosques de Palermo" by locals, this expanse is a collection of interconnected parks, each with its unique character and name. Amidst this haven, artificial lakes glisten, offering a serene respite amidst the urban buzz. Discover the Rosedal—an enchanting rose garden that boasts more than 18 thousand rose plants, showcasing a mesmerizing tapestry of nearly 100 distinct rose varieties.
Step into the lap of luxury within Palermo Chico—an enclave also referred to as "Barrio Parque" or the "embassies area." Nestled within Palermo's embrace, this district stands as a testament to opulence and elegance. French-inspired palaces, once the residences of Argentina's affluent elite, now serve as the stately embassies of various nations—a reflection of its grandeur. As you wander through this enclave, marvel at the architectural splendor that transports you to a bygone era of sophistication. Palermo Chico's allure embodies the essence of Buenos Aires' moniker, "The Paris of South America."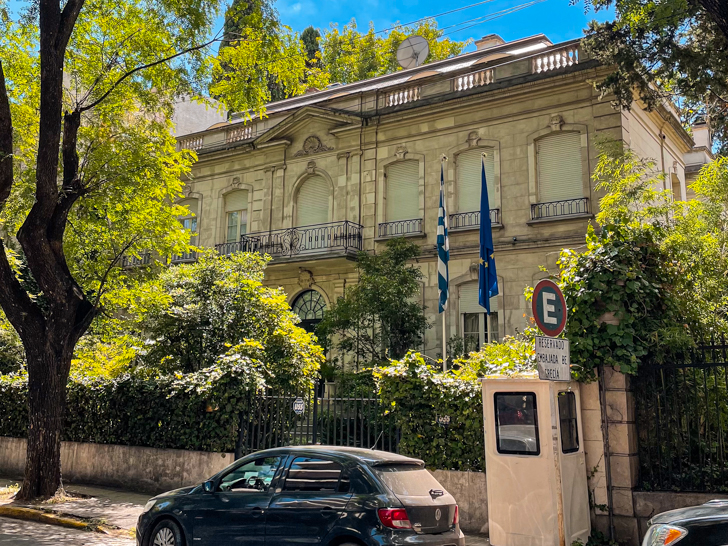 Embark on a journey through Palermo Soho—an area that has earned global acclaim as one of the "coolest" destinations on the map. A mere three decades ago, this district bore a different aura—a touch of edginess that added to its allure. An expanse of houses and scattered garages stood in place of the vibrant landscape you encounter today. Through a swift process of gentrification, Palermo Soho has transformed into an emblem of the city's spirit—a hub brimming with artistic expression, culinary delights, and vibrant nightlife. Stroll through its streets and witness the convergence of creativity and culture, where bars, restaurants, art galleries, boutiques, hotels, and nightclubs coalesce amidst a backdrop of captivating street art. Palermo Soho stands as a testament to reinvention, a vibrant counterpart to the Soho districts of New York and London.
Bookings are online. If you'd like to book directly at the meeting point you should pay in cash with the exact amount of money. Without a previous reservation, we can't guarantee we'll have a spot available nor that the bike tour will run.
The approximate lenght of the BA Bike Tour: Elegance & Inequality Unveiled​ is around 4 hours. So, 99% of the the tours end around 6 p.m. The duration of the bike tour is not exact since it will depend on several factors such as: traffic, the pace of the group, if we need to do a quick fix to a bicycle, change an inner tube, etc.
The tour is guided in only 1 language, so you don't waste time hearing a language you don't understand or listening twice to similar questions or information.
Inclusions:
Recoleta Cemetery ticket.
The use of a bike with gears and suspension, as well as a helmet.
A 500ml bottle of water.
Mate and alfajores.
The price is USD 55. Payment is made online by credit card on our booking engine or through Paypal.
Bike tours are available from Monday to Saturday. If you are interested in doing this bike tour on a Sunday you can book this same option as a private bike tour, please contact us in that case.