Buenos Aires, the vibrant capital of Argentina, is a city where the passage of time is painted in the colors of its seasons.
Here, the transitions from one season to the next are not mere calendar dates but profound transformations that imbue the city with a unique character throughout the year.
From the awakening of spring's blossoms to the lively celebrations of summer, the tranquil charm of autumn, and the cozy embrace of winter, Buenos Aires showcases its distinct and markedly noticeable seasons.
In this guide, we'll take you on a journey through the seasons of Buenos Aires, unveiling the best times to visit, the weather you can expect, and the vibrant events that define each season in this captivating metropolis.
Discover how every season in Buenos Aires tells a different story, inviting you to become a part of its ever-evolving narrative.
October - Spring Awakens 🌼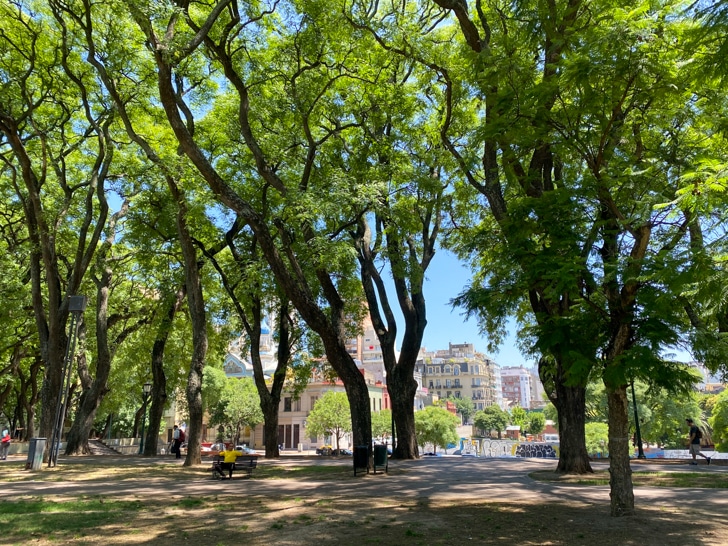 October heralds the full splendor of spring in Buenos Aires.
This month represents a transition marked by increasing warmth, brighter days, and the gradual awakening of the city from its winter slumber.
As spring blossoms, Buenos Aires transforms into a vibrant and welcoming destination, setting the stage for an influx of tourists from around the world.
October brings more warmth and fewer showers than September.
The transition to spring is palpable as each day becomes brighter and more inviting, making it an ideal time for outdoor activities and cultural exploration.
This month is a perfect opportunity to embrace the changing seasons while enjoying the city's rich cultural offerings.
As the weather turns more inviting, it's an excellent time to take leisurely walks in the parks, visit the botanical gardens, and explore the charming neighborhoods of Buenos Aires.
With each passing day, you'll notice a growing number of tourists as the city prepares for its peak tourist season.
Average Temperature: 13°C (55ºF) – 23°C (73ºF)
November - The Fragrant Prelude to Summer 🌸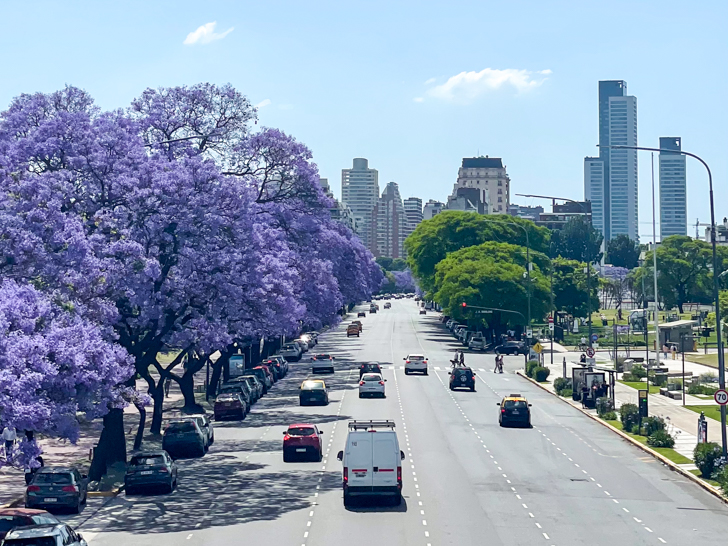 As October gives way to November, Buenos Aires transforms into an enchanting haven for travelers.
This period, which spans the end of October and November, is a treasured gem in the city's seasonal repertoire.
In fact, it's our personal favorite time to experience the charm of Buenos Aires.
During this enchanting period, Buenos Aires is decked out in a riot of color, making it the perfect time to visit El Rosedal, Palermo's exquisite rose garden.
As you stroll through this botanical wonderland, you'll be greeted by the intoxicating scent of flowers that can be smelled from 100 meters away.
But it's not just the roses that paint the city in vibrant hues; jacaranda trees are in full bloom throughout the city, turning the streets into a picturesque purple canopy.
And if you're lucky, you might catch a glimpse of the pink blossoms of the lapacho trees, which usually bloom in October but sometimes extend their show into early November.
The weather during this time is lovely, allowing both locals and visitors to spend a considerable amount of time outdoors.
The atmosphere is filled with happiness and vitality, making every corner of the city come alive.
Buenos Aires Pride: Buenos Aires Gay Pride is celebrated with exuberance, advocating for LGBTQ+ rights and showcasing the city's inclusive spirit. This vibrant and colorful parade spreads love and acceptance throughout Buenos Aires.


Primavera Sound Buenos Aires Festival: Music lovers have reason to rejoice during the internationally renowned Primavera Sound Buenos Aires Festival. This event boasts a diverse lineup of artists from various genres, guaranteeing an unforgettable sonic experience.


Buenos Aires Jazz Festival: This is the place to be for jazz lovers. This festival brings together talented musicians for a series of electrifying performances that reverberate throughout the city.


Free Music Events: Throughout November, Buenos Aires hosts numerous free music events and festivals. These gatherings showcase the city's passion for music and are perfect for those looking to immerse themselves in the local culture.


Wateke Food Festival: For foodies, the Wateke Food Festival is a gastronomic delight. It's a celebration of Argentine cuisine, where you can savor traditional and contemporary dishes crafted by talented chefs.
December - The Lively Kickoff to Summer 🌞
December in Buenos Aires marks not only the culmination of the calendar year, but also the school year, turning it into a time of great celebrations and gatherings.
From joyful asados (barbecues) to spirited graduation parties and festive workplace gatherings, the city buzzes with excitement.
Bars, restaurants and nightclubs are filled to capacity as residents and visitors alike revel in the festive spirit. The atmosphere is electric and the mood is nothing short of exuberant.
Even supermarkets become bustling hubs as families prepare for Christmas and New Year's celebrations.
As December marks the official start of summer in Buenos Aires, the city basks in the warmth of the sun.
In fact, these are some of the longest days of the year, providing ample opportunities for outdoor exploration.
As December sets the stage for summer, Buenos Aires comes alive with a vibrant energy that's truly infectious.

The city's calendar is packed with events and concerts featuring both local and international artists.

From music festivals to cultural gatherings, there's something for everyone to enjoy during this festive season.
Average Temperature: 19°C (66ºF) – 29°C (84ºF)
January and February - Tranquil Summer Retreat 🏖️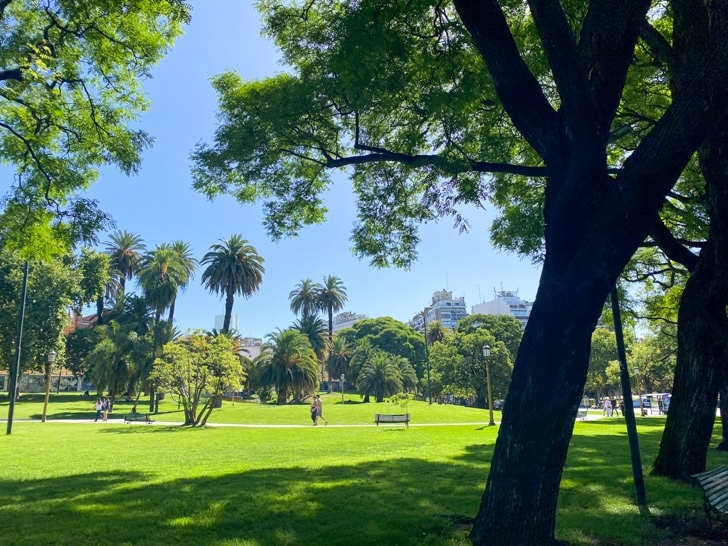 January and February in Buenos Aires offer a unique contrast between locals and travelers.
While many porteños embark on their summer vacations to escape the city's scorching heat, it's the peak season for foreign travelers drawn by the lure of Argentina's summer wonders, including majestic Patagonia and Antarctica.
As a central travel hub, Buenos Aires welcomes these adventurers, if only for a few days.
The absence of school and the mass exodus of locals on work holidays transform the city. Traffic becomes unusually quiet, making getting around a breeze.
Buenos Aires takes on a calm, relaxed atmosphere as residents seek cooler destinations.
For travelers, January and February are a gateway to Argentina's natural wonders, but it's also a time to enjoy Buenos Aires in a unique light, with fewer crowds and a more relaxed atmosphere.
Whether you're exploring the city or using it as a starting point for your Argentine adventure, the summer months offer a distinctive experience not to be missed.
All tourist attractions are packed with foreign travelers during these months.
Whether you're exploring historic neighborhoods, enjoying cultural activities, or sampling local cuisine, you're likely to share the experience with fellow adventurers from around the world.
Fortunately, bars and restaurants remain open, offering a respite from the heat and a chance to sample Argentina's renowned culinary delights.
January and February bring intense heat and humidity to Buenos Aires. The city experiences long hours of sunlight, making it a sunseeker's paradise.
However, be prepared for sweltering temperatures that can border on uncomfortable. Occasional short, heavy storms in February provide a brief respite from the heat.
January and February Events:
While the city is quieter and many locals are away, there are still opportunities to enjoy summer festivals that add a burst of energy to the ambiance.
One such event is "Amor de Verano" at the Centro Cultural Recoleta, a celebration of art, music and culture that adds a touch of vibrancy to Buenos Aires' summer tranquility.
Average Temperature: 20°C (68ºF) – 30°C (86ºF)
March - A Balmy Transition to Autumn 🍂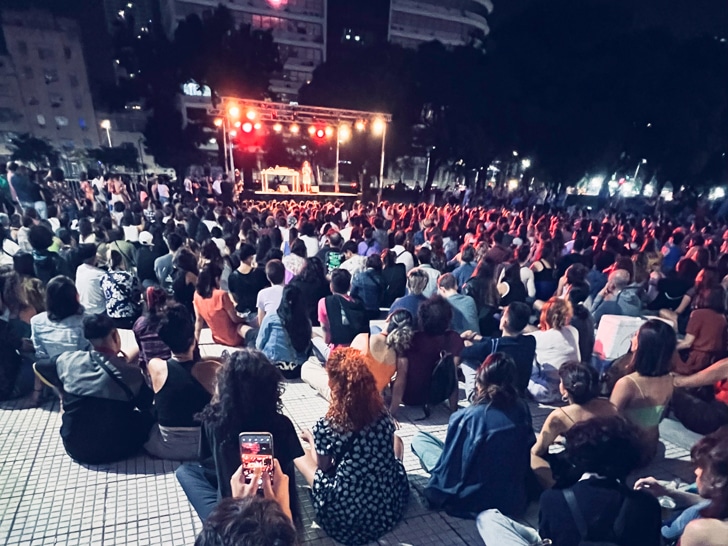 March in Buenos Aires marks the gradual transition from summer to fall, offering a unique blend of pleasant weather and a city in transition.
As the high season begins to wind down, it's still a great time to 
experience the Argentine capital.
As the weather cools down from the scorching heat of January and February, March is a delightful time for 
outdoor activities.
It's a season of change, both in terms of weather and cultural events.
You'll notice the leaves falling from the trees, painting the city with autumnal hues, and the vibrant colors of the flowers of the "palo borracho" tree add a touch of charm to the landscape.
The temperature in March is quite pleasant, making it an ideal time to explore the city without the intense summer heat.
However, occasional showers are part of the transitional weather, so it's a good idea to pack an umbrella or raincoat for those days.
Locals prepare for the start of the work and school year, bringing new energy to the city.
You'll see busy streets and the return of the 
city's signature traffic.
 The sense of activity is palpable as Buenos Aires comes back to life.
Tourist areas
 are a little less crowded than in December, January and February, as this marks the end of the high season for foreign travelers.
Don't miss the chance to explore Buenos Aires' historic neighborhoods, visit its renowned museums, and immerse yourself in the local way of life.
The city's parks and green spaces are especially inviting during this mild and pleasant season.
Lollapalooza Buenos Aires Festival: 
This internationally acclaimed music festival is a magnet for music lovers of all tastes. With an eclectic lineup spanning multiple genres, Lollapalooza Buenos Aires promises to be an unforgettable sonic journey.
Average Temperature: 18°C (64ºF) – 27°C (81ºF)
April and May - Embracing Autumn's Tranquility 🍁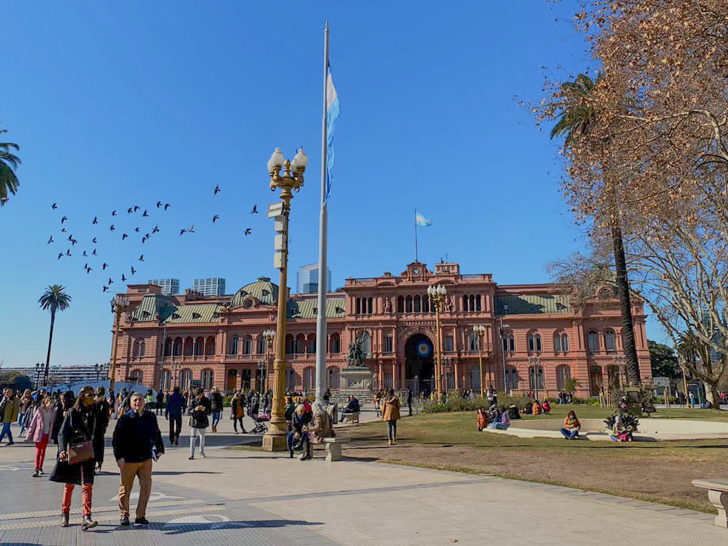 As the vibrant colors of summer begin to fade, Buenos Aires slips into the tranquil embrace of autumn in April and May.
This season brings a unique charm to the city, characterized by cooler temperatures, the possibility of rain and a quieter atmosphere.
As summer gives way to fall, you'll see the city's landscape change. The leaves fall from the trees and carpet the streets in a colorful mosaic.
Autumn is indeed noticeable in Buenos Aires, and the city's parks and avenues take on a serene beauty.
Although it's no longer the peak tourist season, it's an ideal time to experience the rhythm of local life.
Autumn is known for its changeable weather. While the temperature cools down, especially at night, the daytime can still be pleasantly warm.
However, be prepared for the possibility of rain, as these months are part of Buenos Aires' rainy season.
The skies may not be as sunny as in the summer, but the city takes on a cozy and inviting atmosphere.
It's a season of mild temperatures where you may experience beautiful sunny days or a few consecutive rainy, gray days – it's all a matter of luck.
Visiting Buenos Aires in April and May allows you to experience the normal daily life of the city.
With fewer tourists, all the attractions are less crowded, offering a more intimate experience. It's a time when you can truly immerse yourself in the local culture.
BAFICI Festival: A Cinematic Journey 🎥 The Buenos Aires Festival Internacional de Cine Independiente, affectionately known as BAFICI, is a cinematic treasure trove for film lovers.

This renowned independent film festival showcases a diverse array of films from around the world, offering attendees a unique cinematic journey.

Feria del Libro: A Literary Feast for the Mind 📚 The Feria del Libro, or Book Fair, in Buenos Aires is a literary celebration that attracts professional writers, professors, and avid readers alike.


Average Temperature: 11°C (52ºF) – 23°C (73ºF)
June, July, August, and September - Buenos Aires Winter ❄️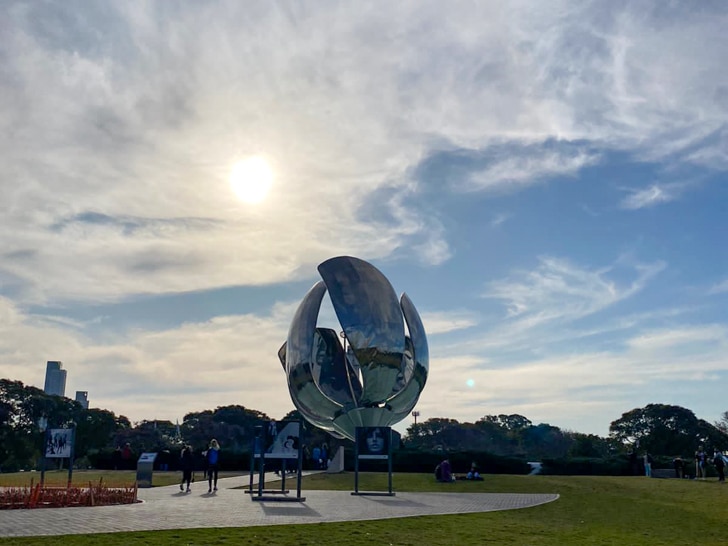 Buenos Aires experiences winter and the first signs of spring from June to September.

This season offers a unique blend of cool weather, cultural events, and the promise of brighter days ahead.

Winter in Buenos Aires may not be as cold as you expect, with temperatures rarely dropping below 10°C (50°F).

However, the presence of humidity can make it feel colder than it actually is.

While there are sunny days, it's common to experience cloudy periods, with the occasional hot day due to climate change, where temperatures can soar to summer-like levels (sometimes over 30ºC).

June, July, and August: These months are typical of the Buenos Aires winter, characterized by cool temperatures and the possibility of cloudy skies.

It's an excellent time to explore indoor attractions such as cafes, museums, cultural centers and theaters. The city's cultural scene remains vibrant throughout the colder months.
Average Temperature: 8°C (46ºF) – 16°C (61ºF)
September: As September rolls in, Buenos Aires marks the beginning of spring.
But don't expect sunshine and warmth just yet.
As the city begins to thaw from its winter chill, rain is common and temperatures can be relatively cold.
Average Temperature: 11°C (52ºF) – 20°C (68ºF)

These months are the perfect time to enjoy traditional local dishes known for their richness and warmth, such as guiso de lentejas (lentil stew), locro (a hearty stew) and pastel de papas (potato pie).
These comforting dishes will keep you warm and satisfied.
Buenos Aires Tango Festival: Typically held at the end of August, it's a celebration of Argentina's most iconic dance and music style, with performances, workshops, and milongas (tango dance events) throughout the city.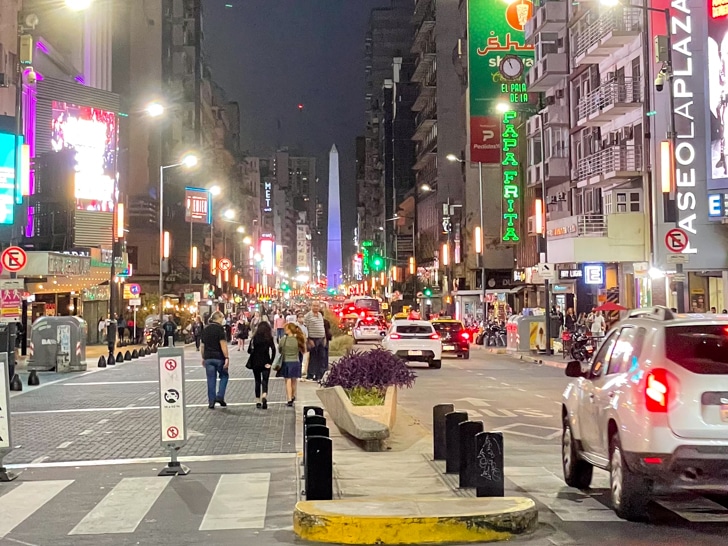 Buenos Aires, with its ever-changing seasons, promises a year-round tapestry of vibrant experiences.
Each season reveals a unique facet of this remarkable city, inviting you to immerse yourself in its rich culture, explore its iconic landmarks, and engage with its welcoming people.
From the lively streets of summer to the cozy corners of winter, Buenos Aires offers unforgettable memories, no matter when you choose to visit.
The beauty of this city awaits, year-round.