What would you like to eat?
In Buenos Aires you will find a varied gastronomic offer. It is due to the diverse cultural inheritance of the city and the multiple international culinary influences. So, here are some Buenos Aires local food recommendations so that you know what to eat and where to find it. 
They just come from our experience as locals, these are the places we like to go to. We're sure there always new options to discover. 
In any case, they can be located in tourist areas or not, but we consider them all an authentic Buenos Aires offer.
Argentine Beef: Parrillas​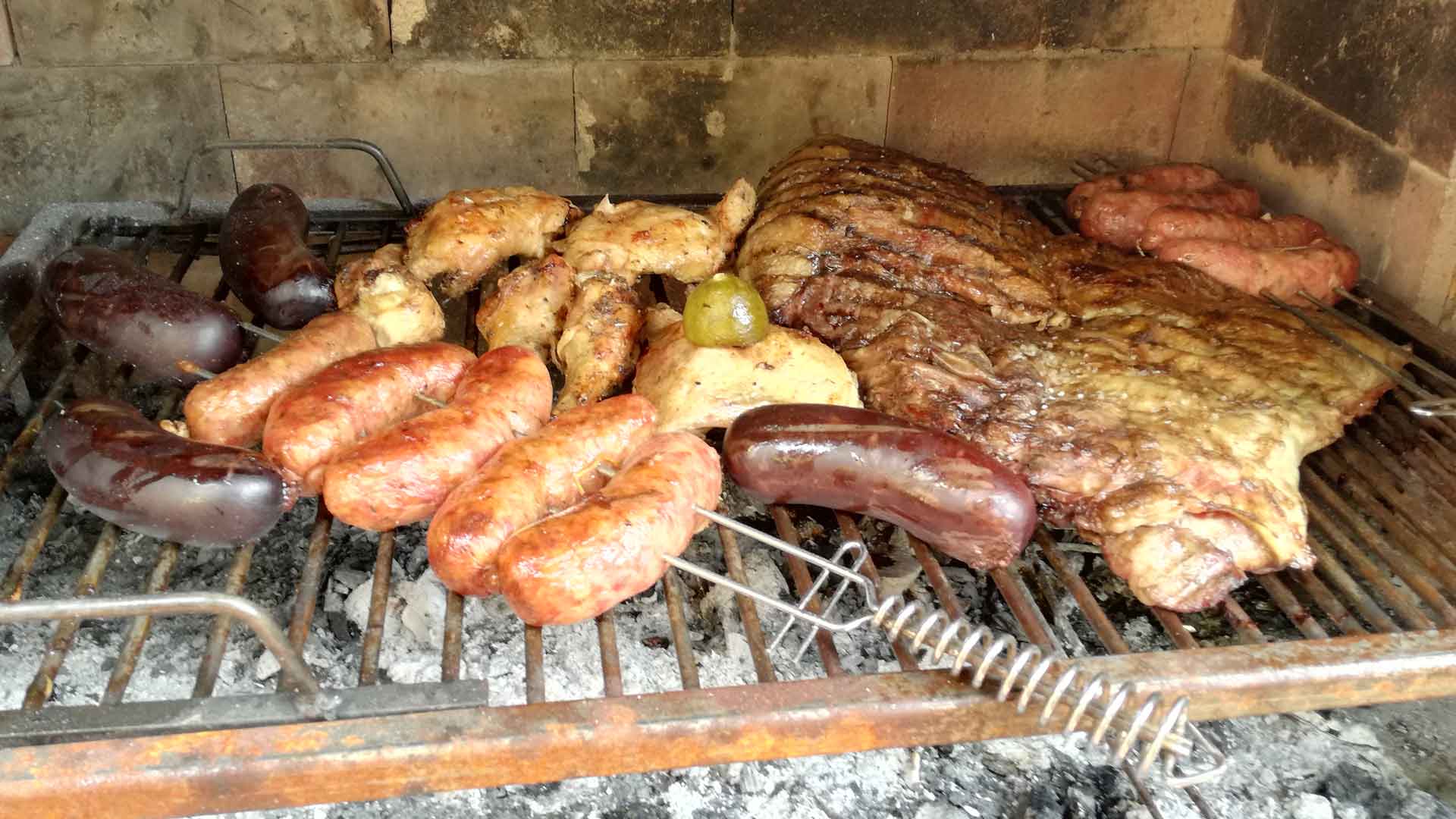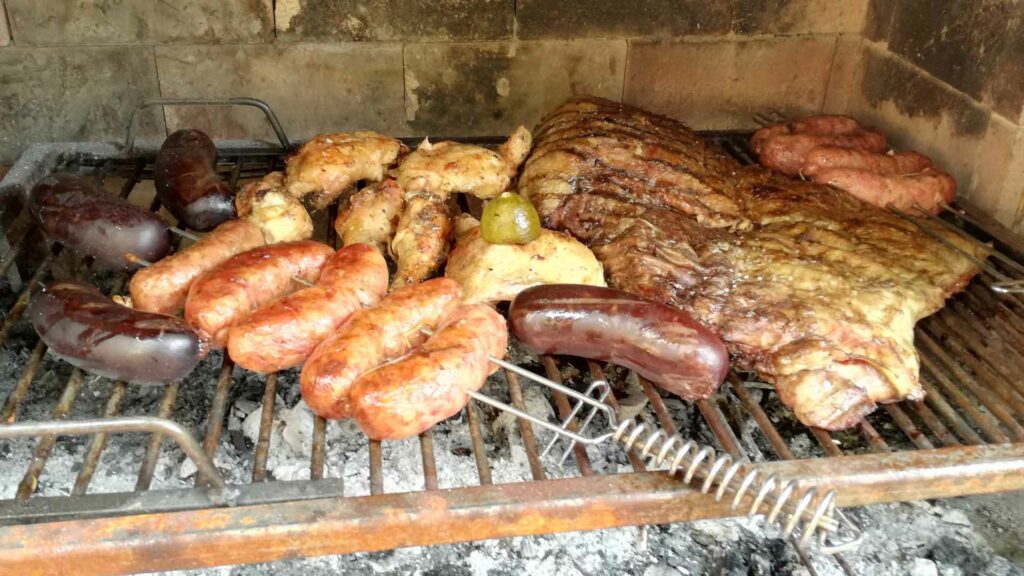 If there is a meal that identifies Argentines, it is without any doubt beef.
Of course there are restaurants that are dedicated exclusively to offer roasted meat: the "Parrillas", which is the same name as in the device where the meat is cooked.
Prices at these "Parrillas" can vary considerably, and generally for a higher price, we would get better quality.
We eat everything from the cow, and we encourage you to ask for "achuras", which is what we love the most! They are basically different organs of the cow. Many times it is better to eat them without knowing exactly what it is, to avoid prejudices. In a restaurant menu you will find them as: "Riñones", "Chinchulines", "Mollejas".
The most classic option to order as a starter is a "Matrimonio" that is a sausage and a blood sausage. Another must to eat on a parrilla is the "Provoleta", a cheese melted on the grill, with an unforgettable texture and flavor.
Where to get the Argentine Beef in Buenos Aires
This is our selection of Parrilas in Buenos Aires: the places where you could enjoy the most exquisite Argentine Beef. We have recommendations in different Buenos Aires neighborhoods and for different types of budgets:
Don Julio Steak House (Palermo)
Don Julio is located in the heart of Palermo Soho. And it is probably one of the most famous parrillas in Argentina. Therefore, they receive visits from personalities from all the world that would like to taste the famous Argentine beef and make the most of their stay in Buenos Aires.
Although it is important to say that it is not a cheap place, the quality of the meals is worth every cent you'll pay for it.
You usually have to book in advance or be willing to spend a long time until you get a table.
Recommendations to order: "bife ancho" (juicy) and provoleta. Always with a Malbec wine.
La Brigada - Fancy Parrilla (San Telmo)
This parrilla from the south of the city, San Telmo neighborhood, is also one of the best places in the city to order a steak.
Prices are a bit expensive, especially for Argentines, indeed, but the quality is superlative.
Again, we recommend you book as early as possible to guarantee there will be a spot for you.
Recommendation to order: lomo, bife especial, provoleta de cabra.
Lo de Jimena - Popular option for locals (Villa Crespo)
This is what we call a "Parrila de barrio".
It is a bit far from the tourist places but very close to Palermo Soho.
Its main charm are the tables on the street. You'll be able to see the grill where the delicacies are prepared, just next to the entrance door.
Certainly, do not expect any luxury in furniture or in the decoration of the place. This is a most authentic place to visit. A locals choice.
So, this parrila is quite cheap, suitable for any budget.
Recommendation to order: bife de chorizo.
La Cabrera - Most famous Argentine beef (Palermo)
This parrila has actually two restaurants in Palermo neighborhood. One just 1 block away from the other.
Maybe the best positioned parrilas on social networks, its prestige is well deserved.
Although it is not a cheap place, you'll enjoy eating here.
Recommendation to ask: chorizo criollo, lomo, bife. For dessert: volcan de chocolate.
Don Zoilo - Traditional Argentine beef (Caballito)
Above all, Don Zoilo is a traditional Buenos Aires parrila, typically familiar. It is located between the neighborhoods of Villa Crespo and Caballito, in the geographical center of the city.
Their portions are abundant, of good quality and accessible prices.
They don't take reservations and it fills up quite quickly. So we recommend you go early, before 8:30 p.m., to make sure you'll have a place.
Recommendation to order: tira de asado, bife de chorizo, provoleta.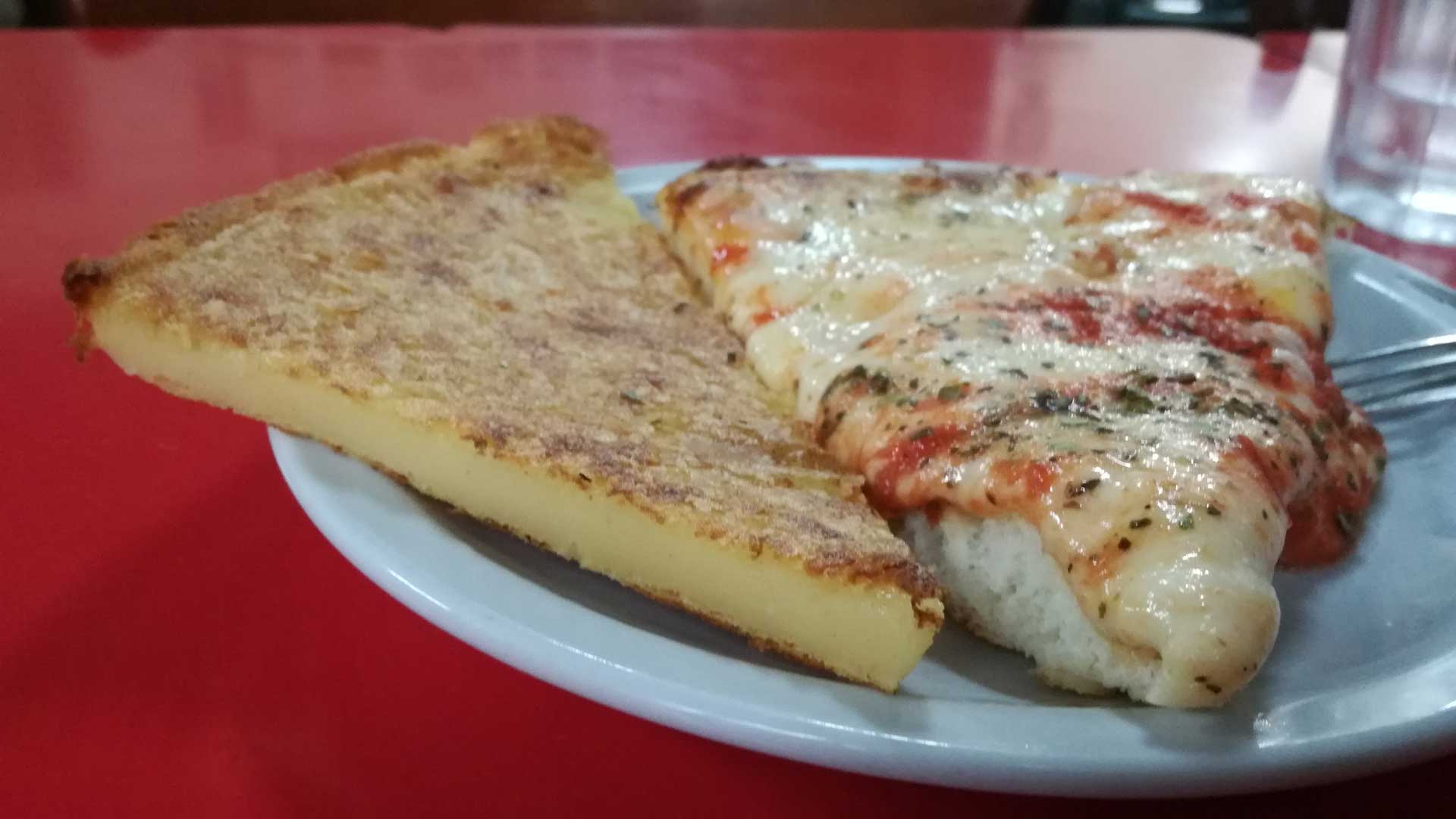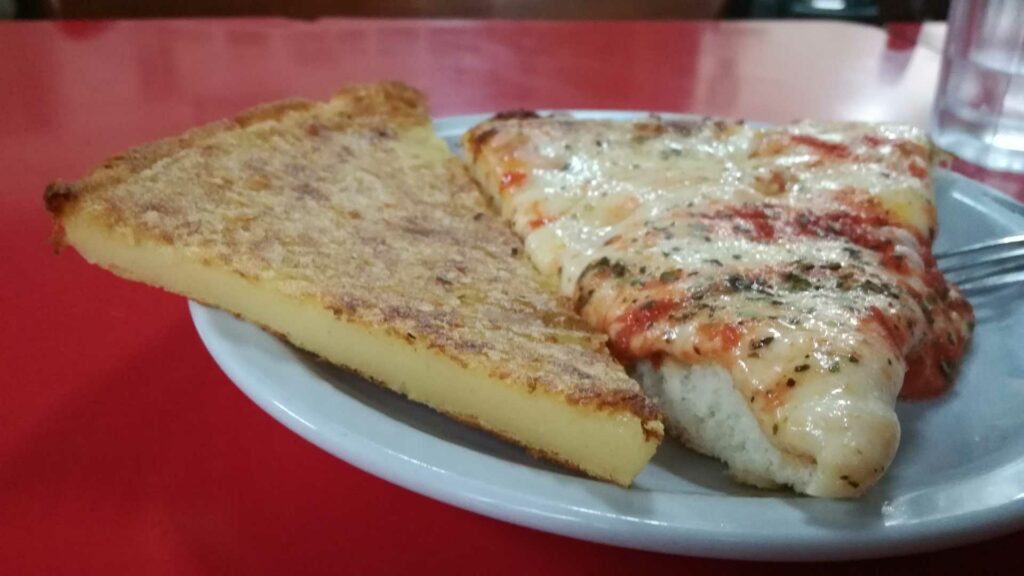 Buenos Aires pizza, we could say, is different from all pizzas around the world. They all have cheese, and some of them have a lot of cheese, which makes them delicious for the Argentine palate.
In Porteños' pizzerias, you will find that fainá is offered, but you may wonder what it is. It's a dough made with chickpea flour, baked and cut into slices to put on top the pizza slice. Try it!
The typical drink to order at a traditional pizzeria in Buenos Aires is "Moscato", a very sweet white wine that is drunk cold.
Where to get Pizza in Buenos Aires
This meal is what best represents our Italian roots. It's super easy to find pizza in Buenos Aires, there are lots of pizzerias all over the city. But we have our favorite ones, those magic places that combine a great atmosphere with delicious food.
Pizza is usually cheap, and it is sold in slices. So don't miss the opportunity to try as many as you can!
Almost all the pizzerias have a bar and there you can eat standing up. Specially in the city centre, you may see lots of people eating on the rush at midday. It is a very good alternative if you do not have time or do not want to wait, since the service is immediate.
El Cuartito (Barrio Norte)
Located in Barrio Norte, very close to Recoleta, this is a typical Buenos Aires pizzeria.
The atmosphere and decoration there is very characteristic of the pizzerias of Buenos Aires. You could discover the popular culture: our passion for football, the tango roots, etc.
El Cuartito is a popular place to visit during the weekend or just any evening, so you may need to wait a bit in order to get a table or a place at the bar to eat standing.
Recommendation to order: Fugazzeta, fainá. To drink: Moscato. Dessert Tarantella.
This is undoubtedly the best pizzeria in San Telmo. It has a precious space with tables on the sidewalk, so it is ideal for summer evenings and to be in contact with the cobblestones and the atmosphere of the neighborhood.
The chairs and tables do not match each other, that gives a touch of originality, which was undoubtedly not planned.
It is located in a small passage, but with the help of google maps you will not have problems in arriving.
Recommendation to order: Fugazzeta rellena, Napolitana, Provolone, Fainá. Drink: Moscato
The pizzeria Angelin is one of the references of Villa Crespo neighborhood. It works there since 1938.
The decoration and distribution of the place is a typical Buenos Aires pizzeria. Without a doubt, visiting this pizzeria is like a trip to the past.
The attention of the waiters is also to highlight, it resembles the waiters of the 80 ', of those who did not need to write at the time of taking the order.
Recommendation to order: pizza canchera, fugazzeta rellena, muzzarella. Drink: Moscato
If you are willing to get away from the tourist area of San Telmo, this is a very good option.
Located in the neighborhood of Monserrat, this pizzeria remains the same as when it first opened back in 1981. Even some of its clients seem to have been caught in time.
If you have the opportunity, eat at the bar and see the dynamics between waiters, cooks, all staff. Far from using systems that include screens, tablets or any technology to register the order, the staff seems to communicate by telepathy.
The waiter approaches the bar, it seems that he recites his order on the air, all the rest of the staff records it. But while they keep talking with their customers, prepare orders and continue cooking. Then the order is perfect (no errors due to system crashes).
Recommendation to ask: fainazzeta, fugazzeta rellena, muzzarella. Dessert: flan with dulce de leche and cream.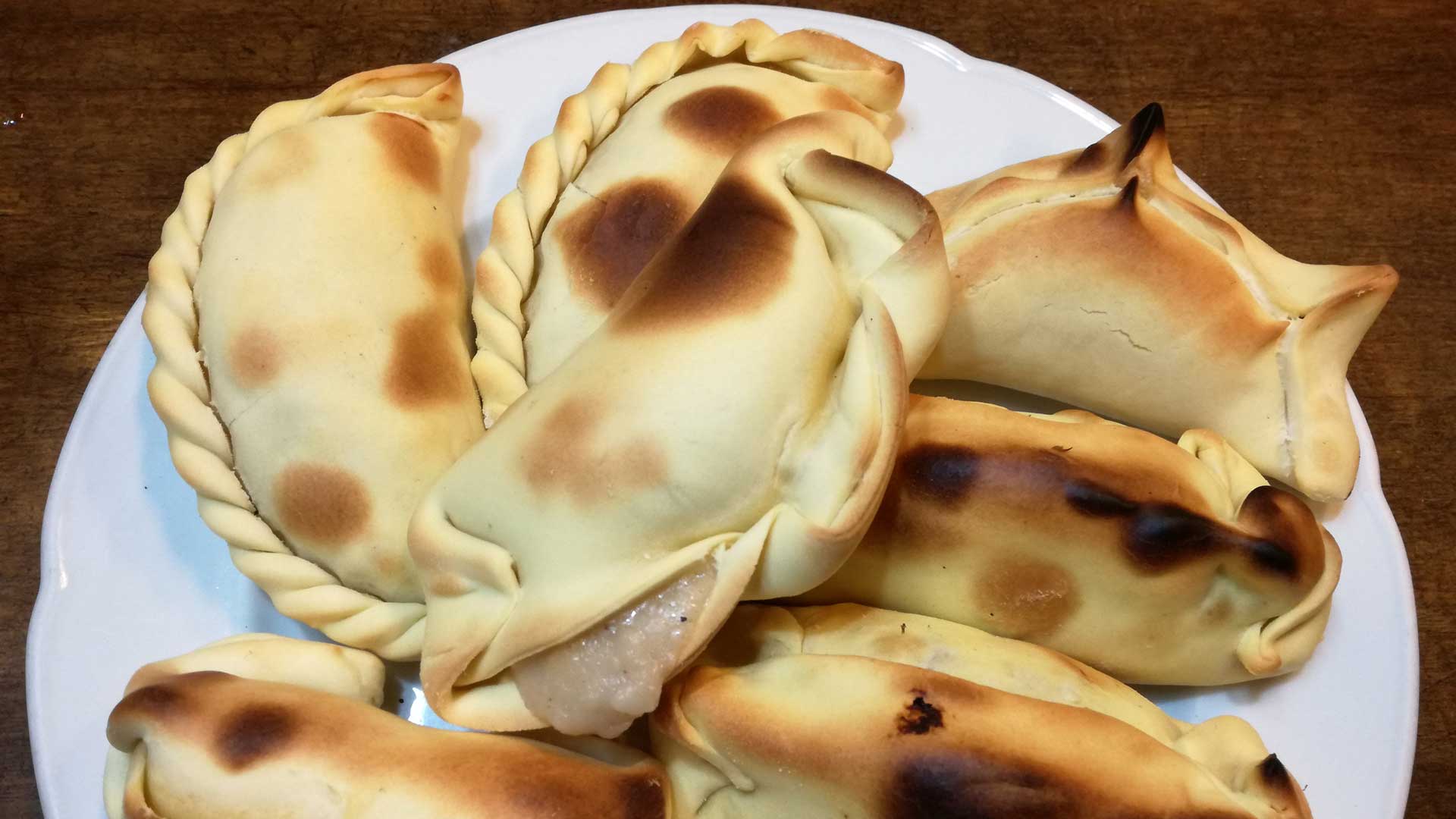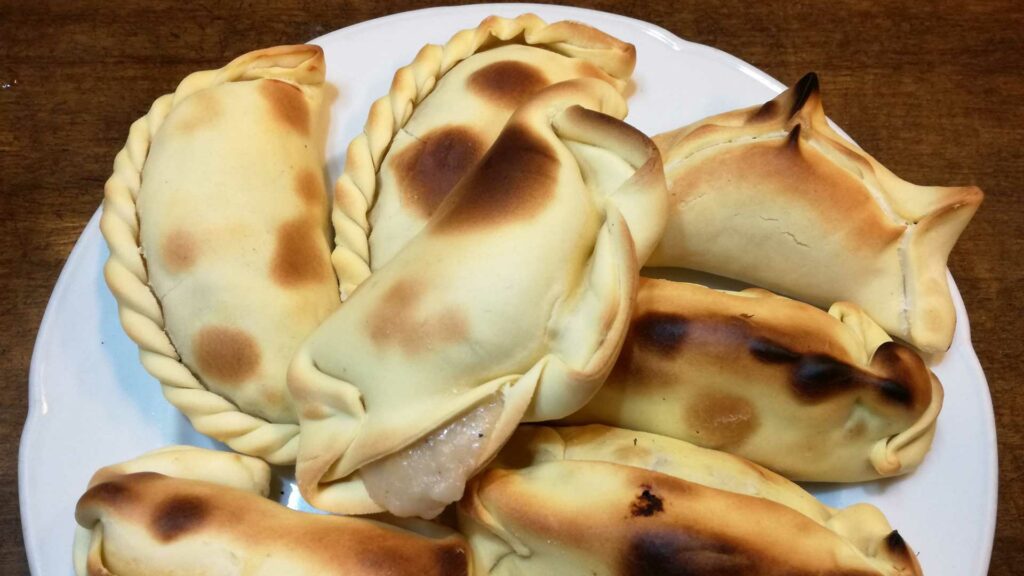 Empanadas are an Argentine classic. Each province of the country has a different recipe for making empanadas, and so both the taste of the dough and its ingredients change.
Of course everyone says that the best empanadas are those of their own region, but the good news are that you won't need to travel all over Argentina to taste them. In Buenos Aires you could find empanadas with recipes from all over the country.
It is very common to find that pizzerias also sell empanadas, but there are also restaurants dedicated exclusively to empanadas.
They can be baked or fried, but you would most likely distinguish one from another one by the filling.
The classic empanadas are: "Carne" (beef), "Pollo" (Chicken), "Jamon y Queso" (Ham and Cheese), "Humita" (cream of corn), "Caprese" (cheese, tomato and basil), "Roquefort", "Queso y cebolla" (Cheese and Onion) and "Atún" (Tuna).
Empanadas are a very characteristic product of Argentine cuisine.
The difference between empanadas is not only in their filling, the dough clearly also makes the difference as well as if they are fried or baked.
You will find thousands of places that offer empanadas, in practically all pizzerias they offer empanadas. If the pizza there is good, the quality of the empanadas is usually good too.
We are very demanding when it comes to empanadas, that's why we don't have many recommendations.
I think this is the best place in the world to eat empanadas. They are baked, the dough is excellent and their fillings very tasty.
They have 2 shops, one in the neighborhood of Monserrat (a few blocks from Plaza de Mayo) and another in Barrio Norte.
The Monserrat store only opens at noon during the week and remains closed on weekends. Its public is clearly the office workers in the area.
Visiting this Monserrat place is an experience. Not only is it a restaurant, it is also a museum.
Its walls are covered by vintage products such as: dolls, posters, bottles, photos, etc.
Recommendation of empanadas to order: roquefort apio y nuez, carne picante, caprese, humita, muzzarela panceta y ciruela.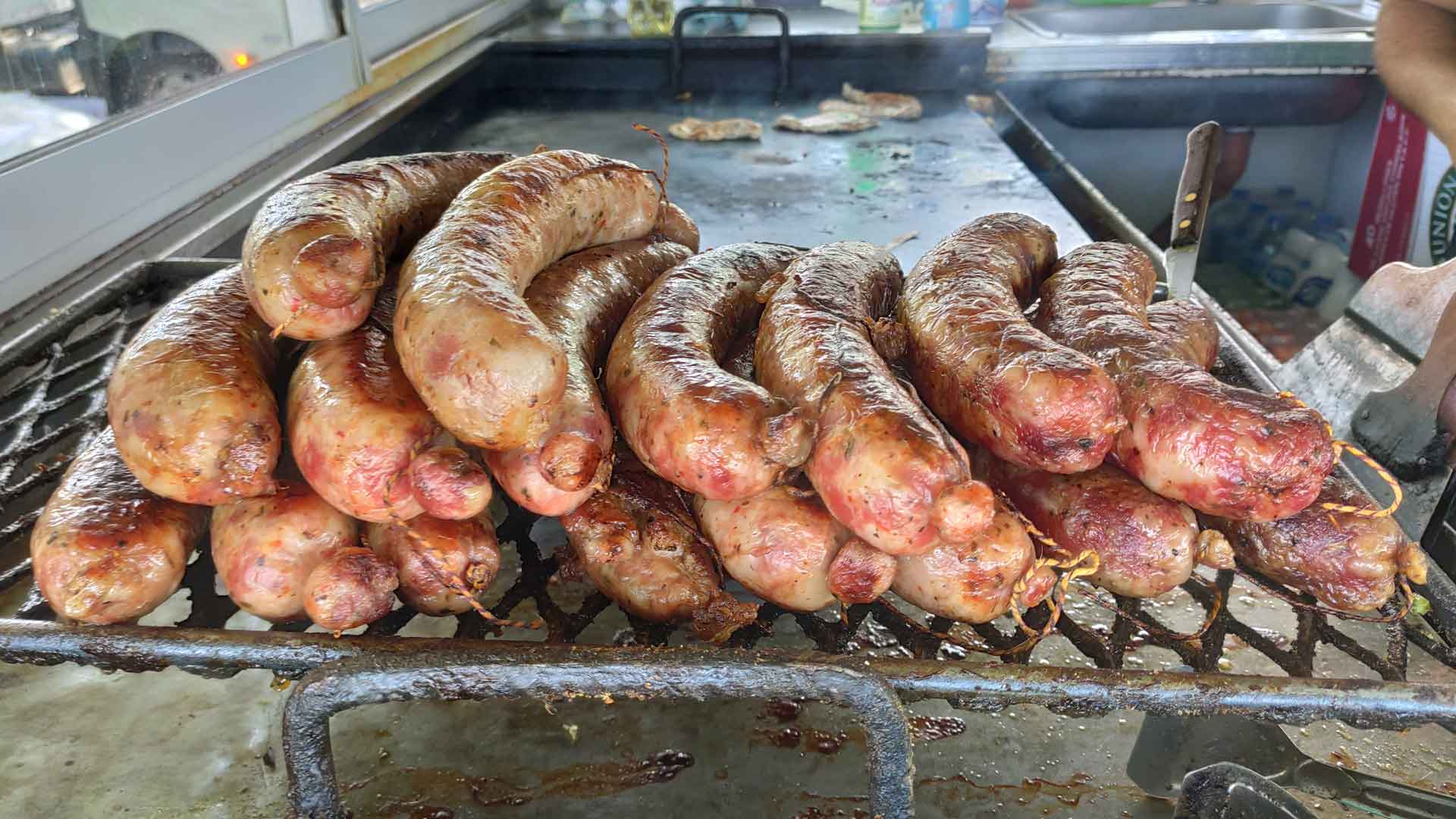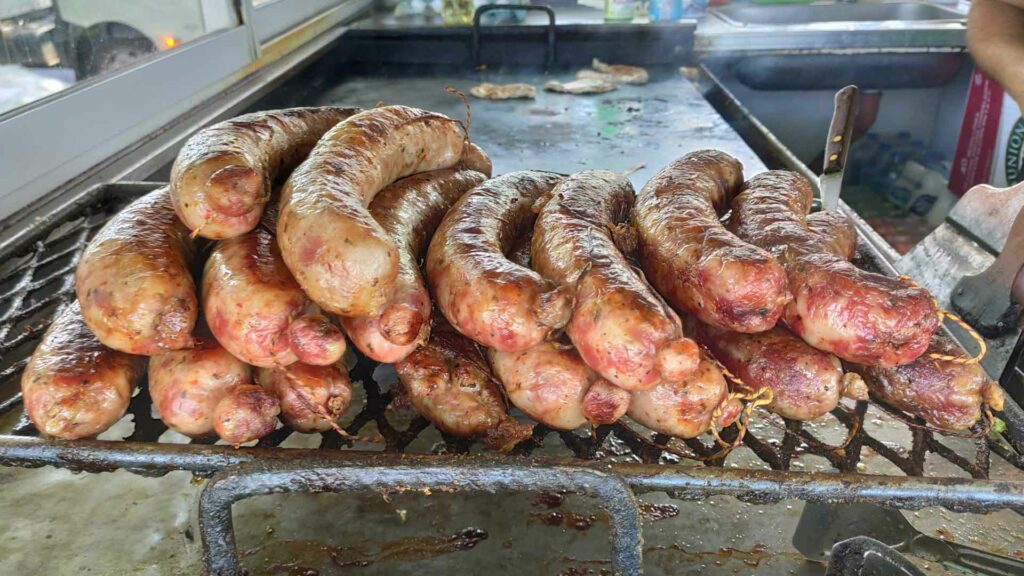 The most popular street food of Buenos Aires is the famous "Choripan" (chorizo sandwich).
It is very common to see someone who installs a "mobile grill" and starts selling sandwiches at different public places: close to a soccer stadium, when there is a festival or in demonstrations or in other crowded events.
But there are also shops or food trucks that you can find every day in the city at the same place and they offer sandwiches with different kinds of meat prepared on the parrilla.
The most traditional options are: the "Choripan", as we've already mentioned, the "Churrasquito" (beef cut very thin) and the "Bondiola" (pork meat cut very thin), but it is also common to find sandwiches of other cuts of meat such as "vacio".
Where to get street food in Buenos Aires
Something that frightens travelers a bit, is where to eat Street Food. In Buenos Aires or anywhere else. It is difficult to know the origin of the ingredients, and nobody wants to get sick. However, truth is they are usually fresh products that are bought (as ingredients) and sold (as meals) on the same day.
Furthermore it's also truth that one can consume a product in a bad condition at any restaurant in the world.
So if you dare to put aside prejudices, here we give you recommendations on where to eat the best sandwiches Buenos Aires has to offer.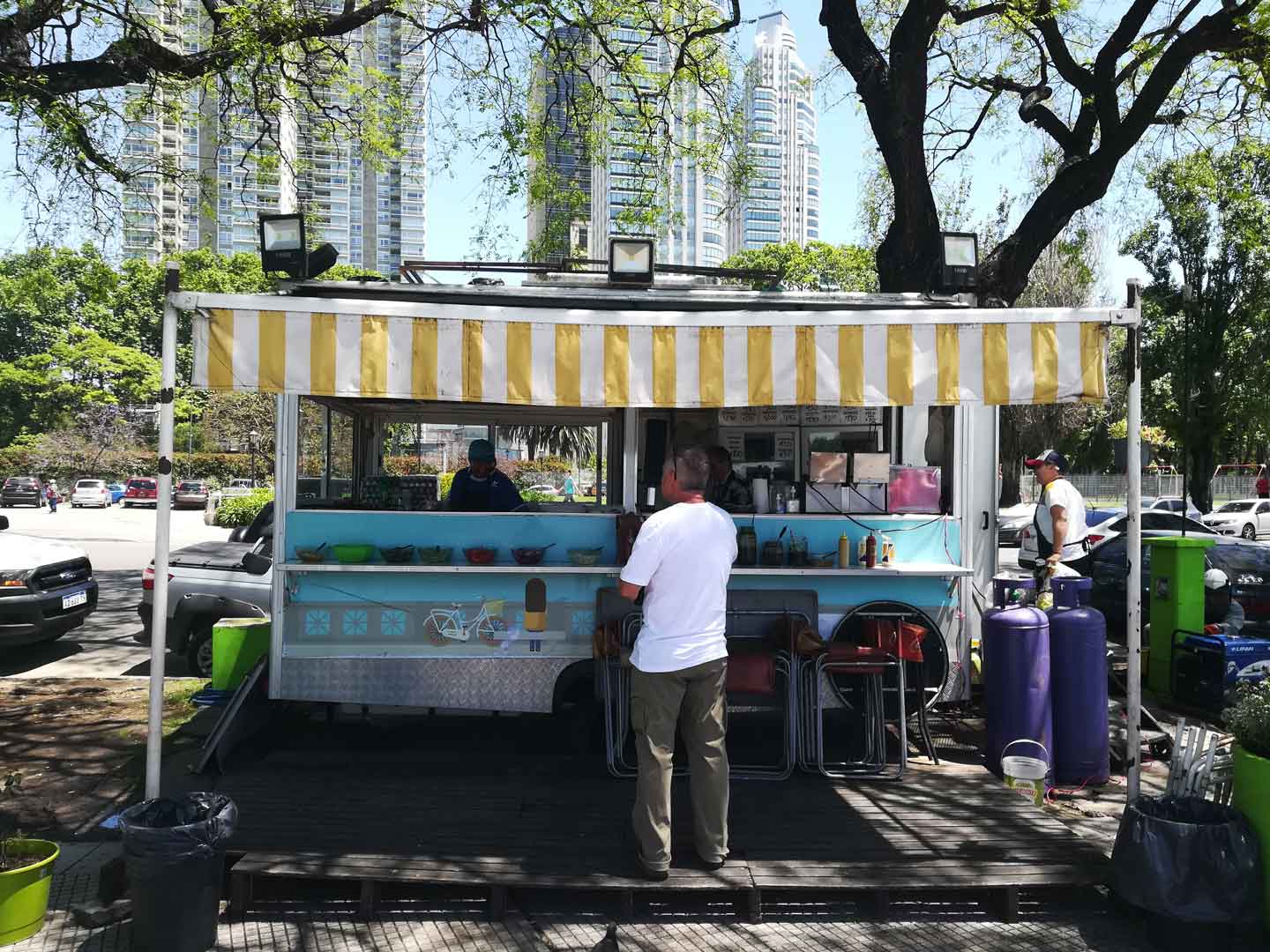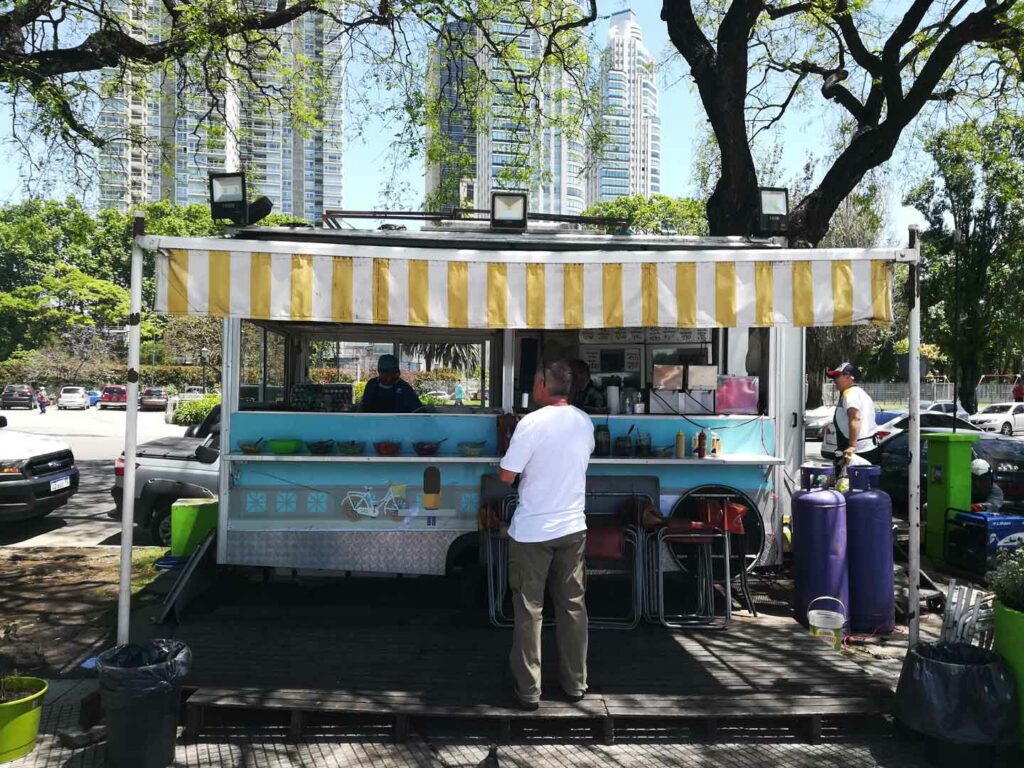 This food truck located in Costanera Sur, is the best in the area without a doubt.
If you visit the Costanera Sur (where Puerto Madero ends at its limit with the Río de la Plata) you will find many food trucks, the funny thing is that they are open 24 hours a day, 365 days a year.
They all have the same proposal of sandwiches, but of course the qualities of the products are not the same.
You will find on the bar of this food truck that have an important amount of topings such as eggplants, lettuce, tomato, cucumbers, chimichurri, etc.
Something else to highlight about La Doña, is that it has a precious space under the trees, whose shadow is very grateful in the summer days.
Recommendation to order: choripan, bondiola sandwich, lomito sandwich.
Nuestra Parrilla (San Telmo)
It is a historic "Parrilla al paso" of San Telmo.
It is quite an experience to visit this place. The opening and closing time of the place is always uncertain, which makes it even more Buenos Aires.
While in recent years it became a popular place for tourists, it still retains its usual customers, which are the neighbors of the area.
The aesthetics of this "Parrilla" is very characteristic of the less and less "Parrillas al paso" that remain in Buenos Aires
Recommendation to order: choripan, bondiola sandwich, vacio sandwich.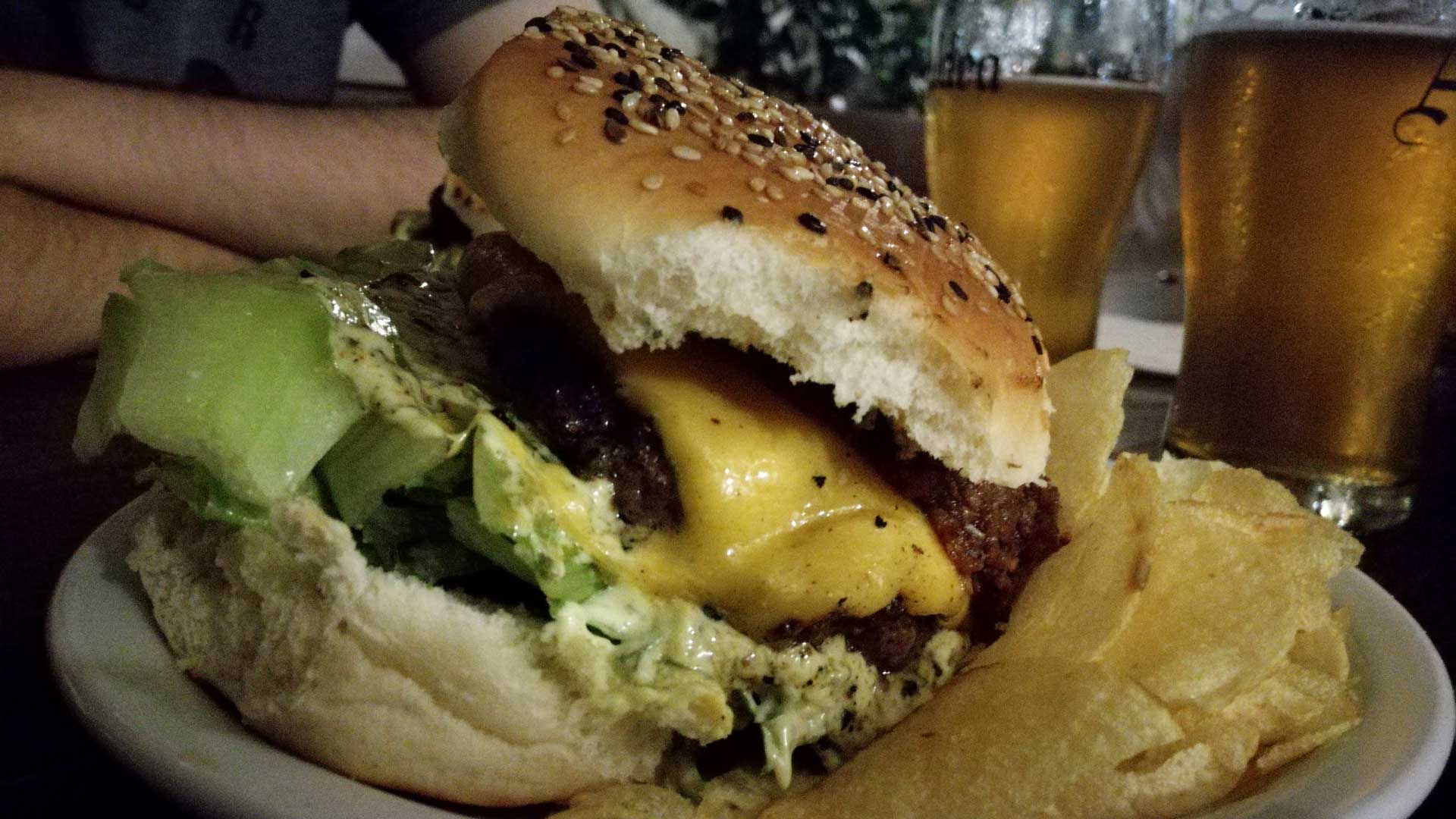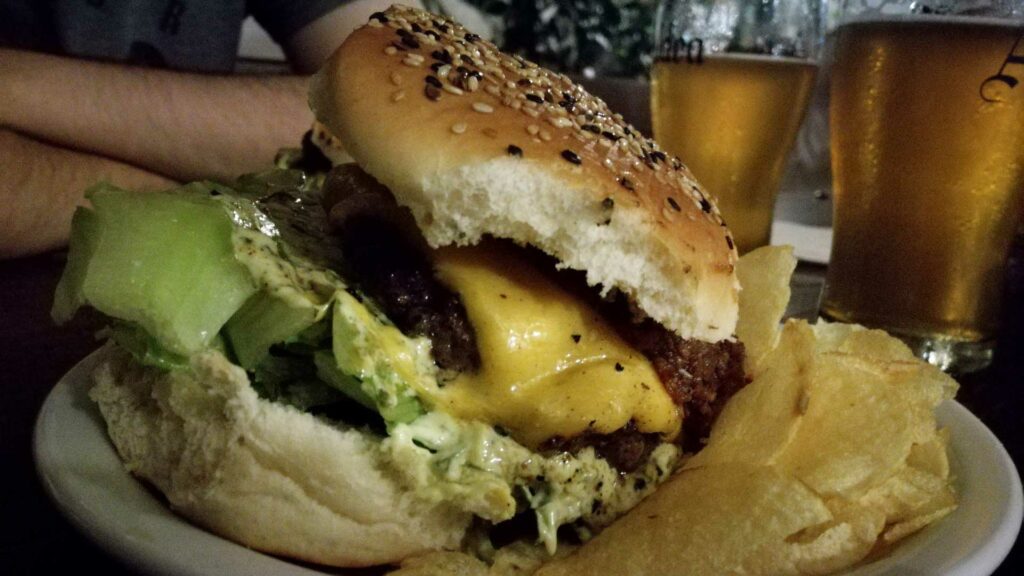 In recent years the hamburger became very fashionable, and nowadays you can find up to 2 hamburger shops per block in neighborhoods like Palermo or San Telmo.
We can't forget to mention the extraordinary "Milanesa" sandwich. Milanesa is a beef covered with bread crumb and fried. Usually the sandwich comes with lettuce, tomato and some dressing like mayonnaise, mustard or ketchup.
Where to get good fast food in Buenos Aires
There is a very wide range of fast food in Buenos Aires. This offer ranges from inedible products to very good products.
Of course our recommendations will only be the ones we consider very good.
As expected, fast food in Buenos Aires, is mainly related to beef. 
These are our recommendations.
El Banco Rojo (San Telmo)
Pioneers in San Telmo of fast food gourmet food.
It is usually a fairly busy place and many times it is not easy to find a place to sit, but it does not stop being a nice place to visit.
Their menu changes week by week, they always have a hamburger that changes their condiments. They also offer vegetarian options.
Recommendation to order: the hamburger of the week, tiramisu dessert.
This hamburger shop has already become a classic of Palermo Soho, just a few meters from Plaza Serrano.
Its offer is limited to about 5 varieties of hamburgers with different ingredients, and its menu changes from time to time.
It is a good option if you are in the neighborhood and want to eat a hamburger and solve your food in a few minutes.
The way of delivery of the products, after placing the order, is quite particular, they call you by a megaphone that is not always very well understood …
Recommendation of what to order: varies according to the menu of the week.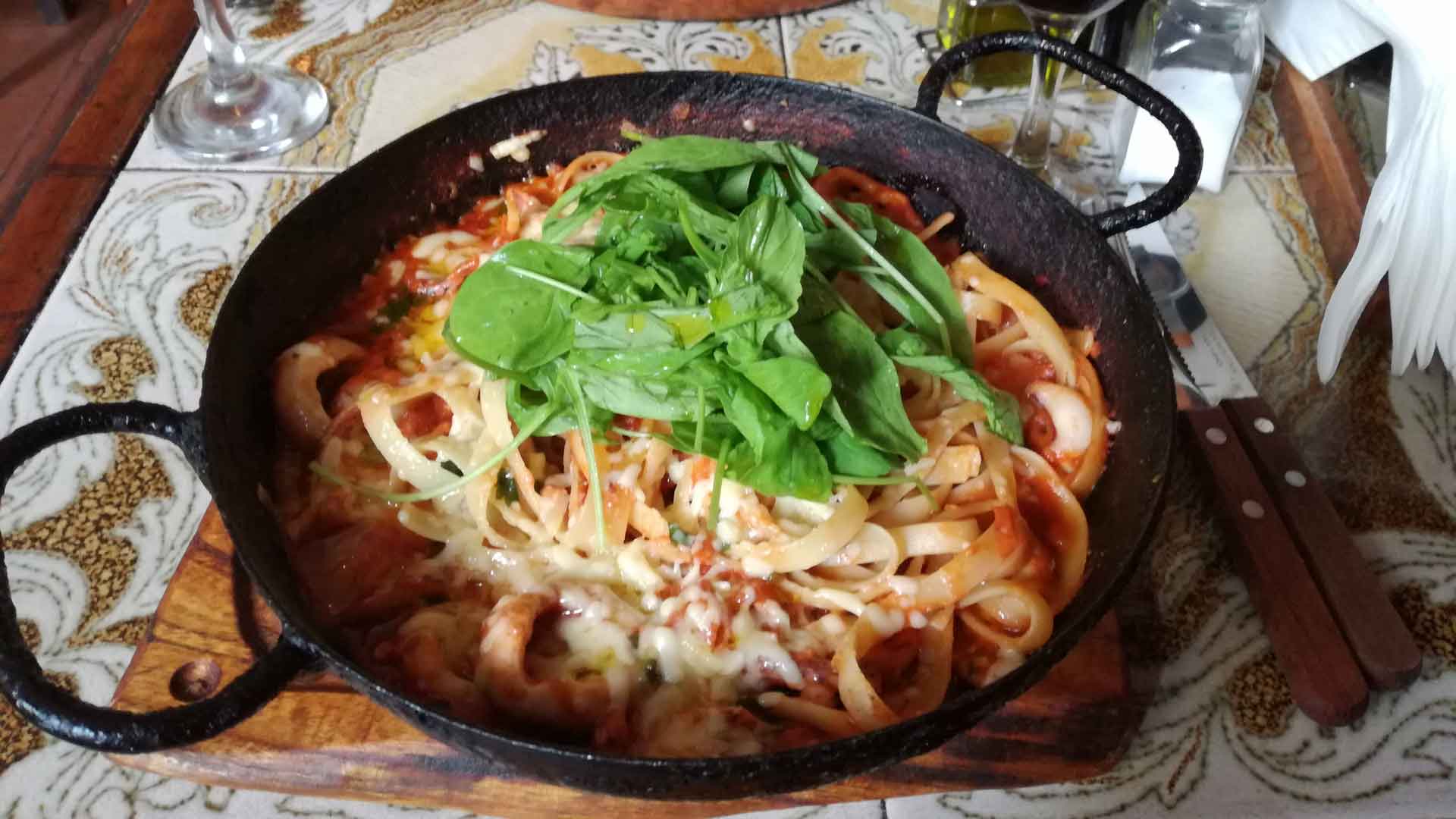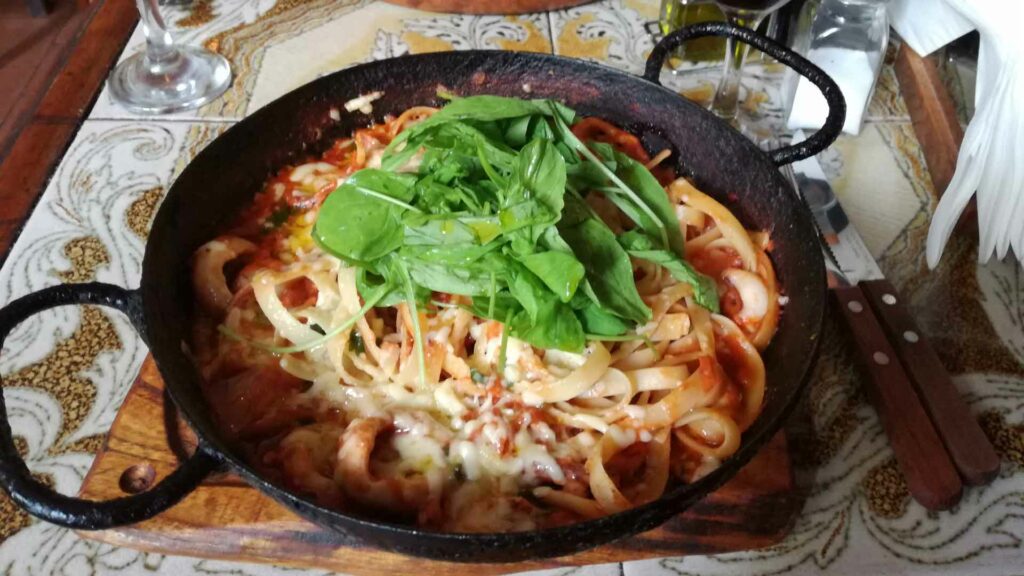 Bodegones are the typical Porteños restaurants. They offer a wide variety of food like pasta, fish, beef, pork, chicken, etc. If you're looking for some special Buenos Aires local food recommendations, going to a Bodegón may be something that's not heard as frequently as you'll hear that you can't miss eating a steak during your stay in the city.
The most interesting thing of these restaurants is to visit them, because entering there is like traveling in time.
There is a list of Bodegones, which are protected by law under the name of "Bares Notables". In other words, these places must keep their original façade and interior decorations, and any changes to be made must be first authorized by the city government.
If you want to visit a typical Buenos Aires restaurant, you have to visit a Bodegon.
Many of these bodegones were declared sites of cultural interest under the motto of "remarkable bars."
These places seem detained in time, and far from modernization, they decided to leave their dishes with the original recipes that were prepared many years ago.
It is not only the experience of eating in these places, but also the environment, the staff and the customers, make visiting these places a cultural immersion.
El Refuerzo is our favorite restaurant in Buenos Aires for many reasons, mainly for the quality of their dishes.
Its look recalls the old bars of San Telmo, nothing luxurious, but with very good taste.
Their portions are very generous, quietly to share. Our strategy, for 2 people, is to order a starter to share and then a main dish to share, it is more than enough.
The prices are totally in accordance with the quality of the food, neither expensive nor cheap.
Although the menu is not very extensive, there is a wide variety that ranges from salads, sandwiches, pastas and meats.
Recommendation to ask: ojo de bife with potatoes and grilled vegetables, comes with chimichurry and salsa criolla. Dessert, flan with dulce de leche.
A classic of Montserrat, the staff has been the same for at least 20 years. The attention is very good.
It has tables on the sidewalk that are very useful. If you sit inside it is likely that you leave with a bit of a fried smell, that's the bodegones …
His menu is very varied and the dishes usually to share. The price is very affordable.
Recommendation to ask: rabas, tortilla, milanesas. Dessert flan with dulce de leche
Spiagge di Napoli (Boedo)
In the heart of Boedo, a tango neighborhood, is this old Bodegon with more than 90 years of history.
It is still in the hands of the founding family, which is already in its fourth generation in the attention of this restaurant.
The closest thing to an Italian canteen that can be found in the city. They knew how to maintain their style and quality in the dishes throughout the years.
It is a reference when we talk about pasta, with a wide variety of pasta and sauces to combine, from the most classic and traditional, to those with snails.
The quality of their products is similar to that prepared by any Italian grandmother.
Recommendation to ask: fusilli al fierrito with scarparo sauce. Dessert: budin de pan, postre de la nona.
Witness to the history of San Telmo neighborhood, with its more than 150 years, the Federal was mutating and adapting to each era.
It tells the story that in its origins it was a pantry, at some point it housed a brothel and finally established itself as a bodegon.
This is one of the places you should visit in Buenos Aires, if you do not have time to eat something offered by your menu, at least sit down for a coffee and contemplate the architecture and decoration of this place.
Recommendation of what to order. Milanesas, tortilla.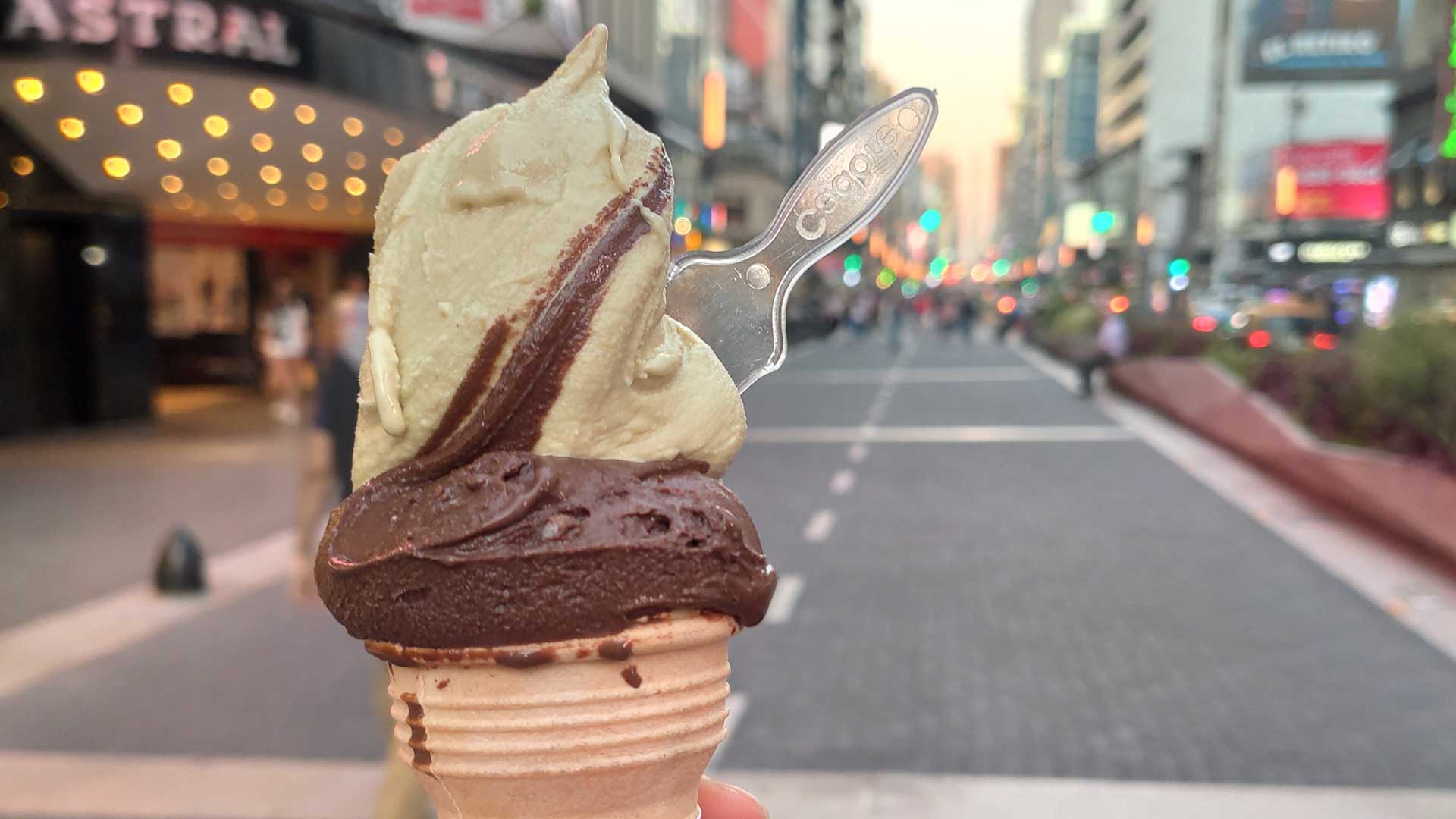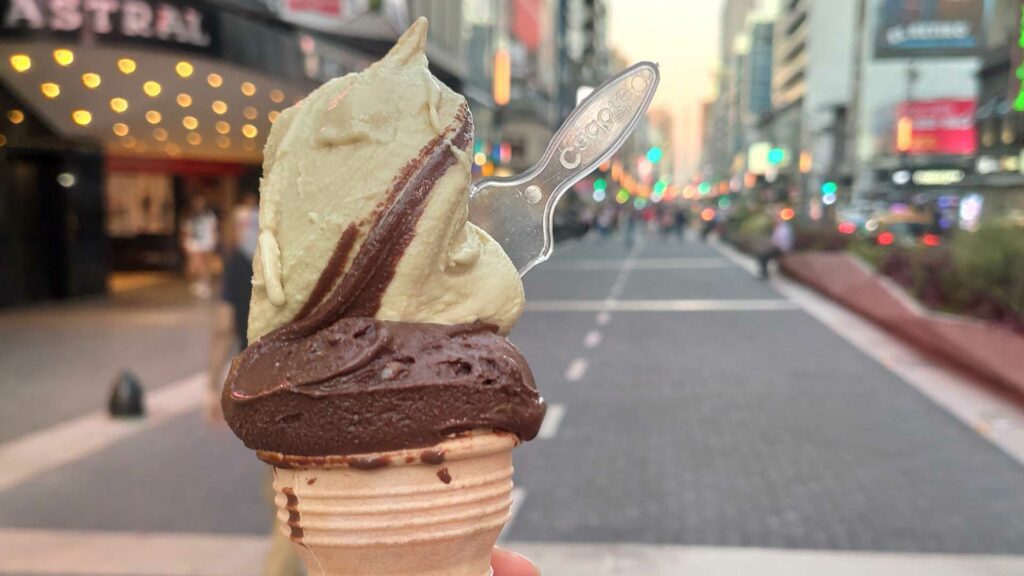 We dare to say that Buenos Aires ice creams are the best in the world, and we say it without shame because they are really very good!
There are many "heladerias artesanales" in the city, which means they produce their own ice cream right there. This gives a touch of personality to each ice cream flavor.
It is probably what we celebrate the most of our Italian roots, the heritage of making ice cream.
The most popular ice cream taste is undoubtedly "Dulce de Leche", it could not be otherwise because of our fanaticism for dulce de leche.
Personally we are very demanding with ice cream, so we do not have a wide variety of recommendations, only the ice cream shop we consider the best.
Where to get ice cream in Buenos Aires
Ice cream is a classic Porteños' dessert. Many times the plan for a family on weekends in Buenos Aires is just going out for an ice cream.
As mentioned before there are many and very good ice cream parlors in Buenos Aires.
Our problem is that we tried the best ice cream shop in the world, which is Cadore, so then it is impossible to go to another place …
My hand does not shake when I write that Cadore is the best ice cream shop in the world, or at least it is in the top 10.
It is not something that only we say, Cadore was ranked several times as one of the best ice cream parlors in the world by different prestigious organizations, such as National Geographic.
Since its founding in 1957, the ice cream shop is in the hands of the same family. The family environment is very noticeable, those who work there are united by a family or emotional bond, which makes them commit to their work and the product is extraordinary.
Flavor recommendations you´ll love to order: dulce de leche, sambayon, chocolate amargo.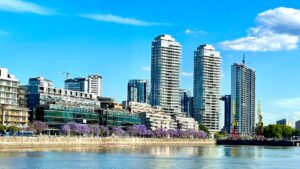 Here at Biker Street, we designed the best self-guided routes to visit Buenos Aires. We steered the best paths according to how long your stay in Buenos
Read More »