Total BA Full Day City Bike Tour
Recoleta Cemetery Ticket
"mate" (infusion) + "alfajor" (local snack)
sandwich + empanada from truly local places. *Veggie option available
+ with gears & suspension + helmet
500 ml bottle of water
English speaking local guide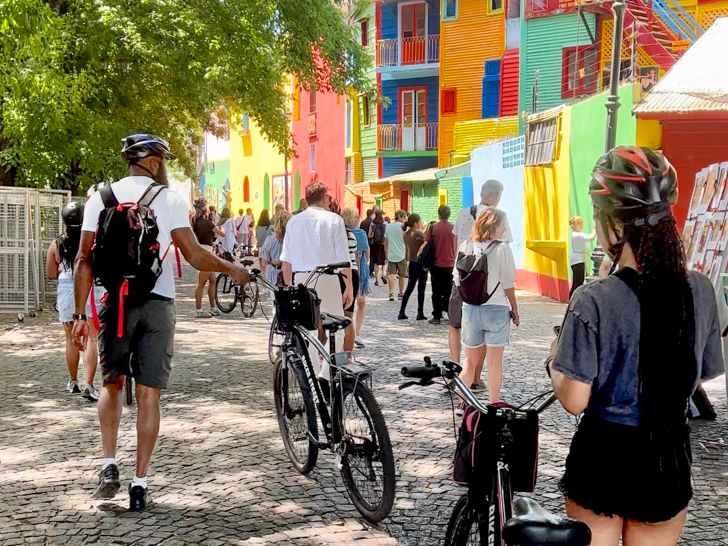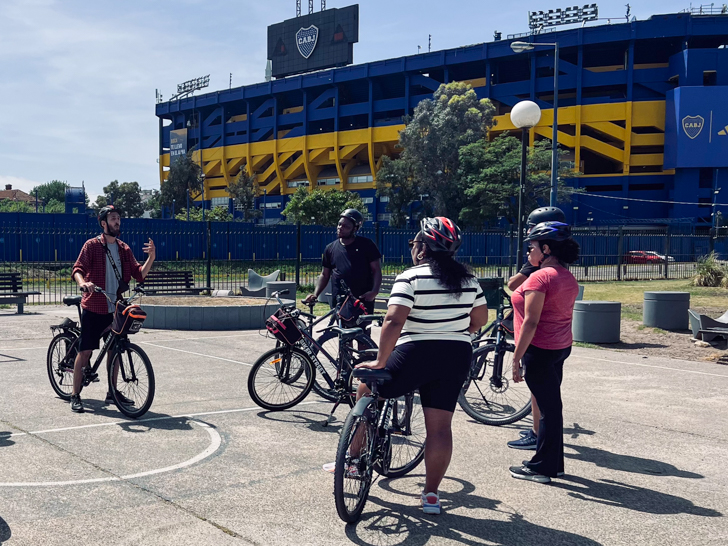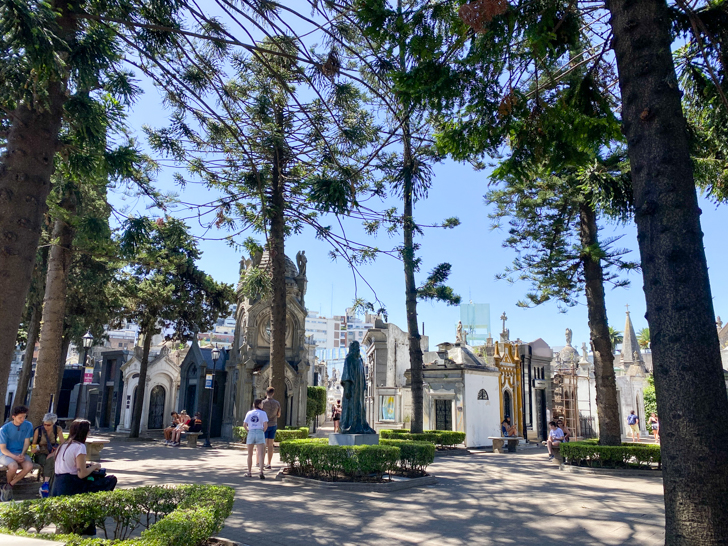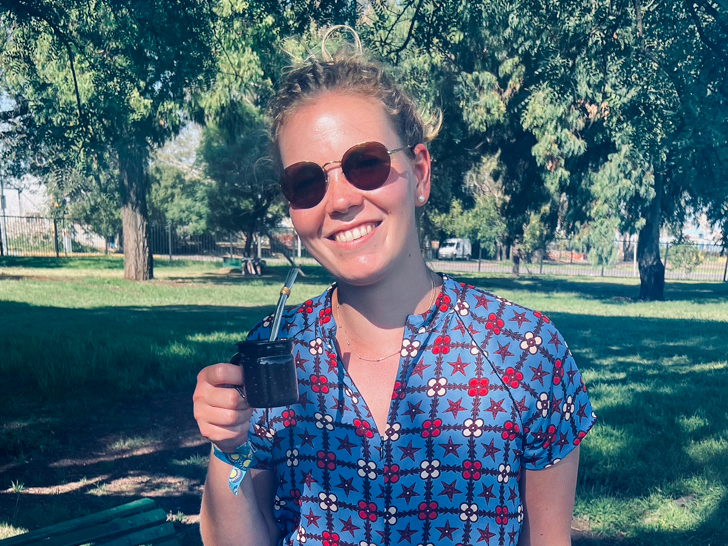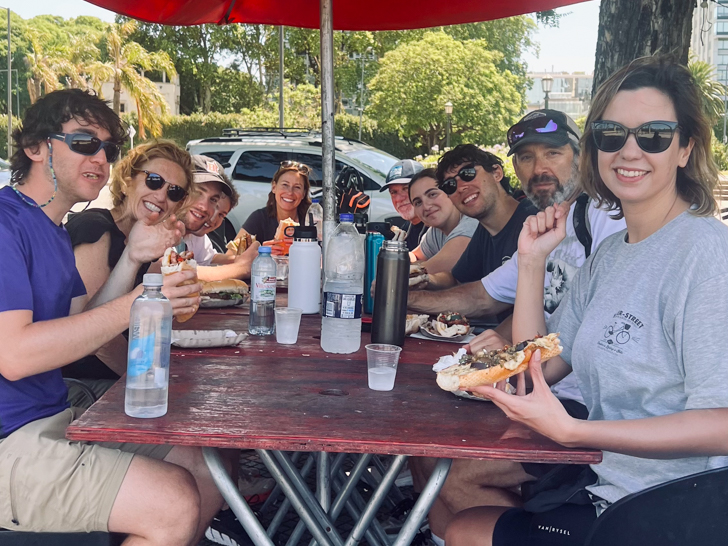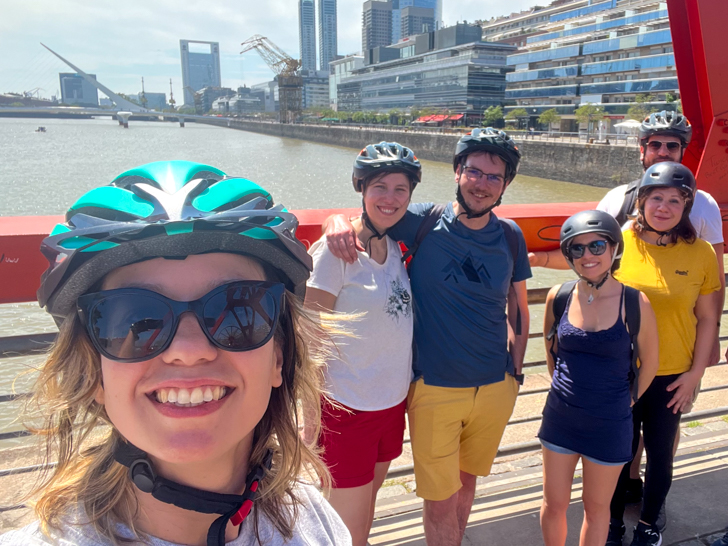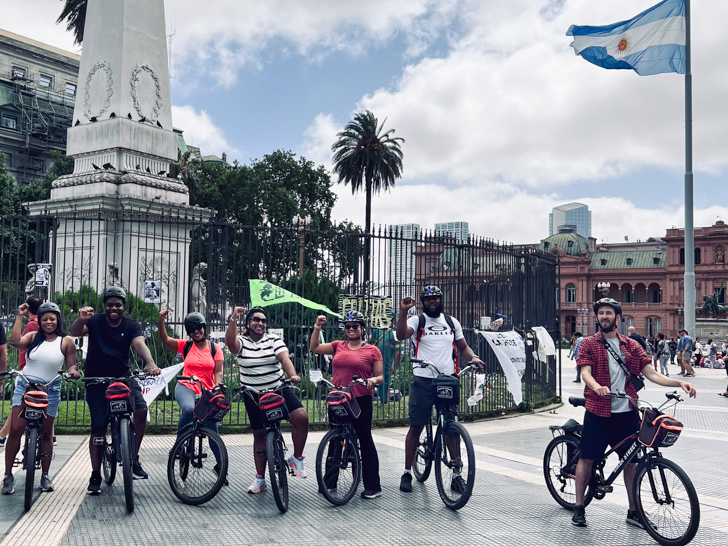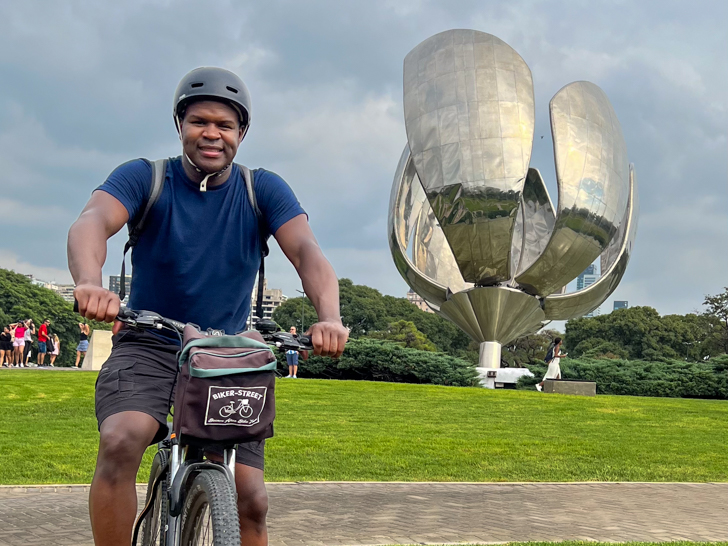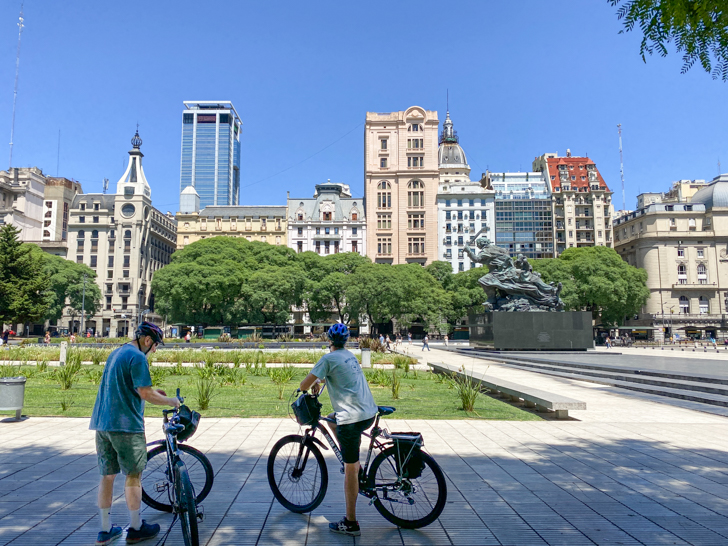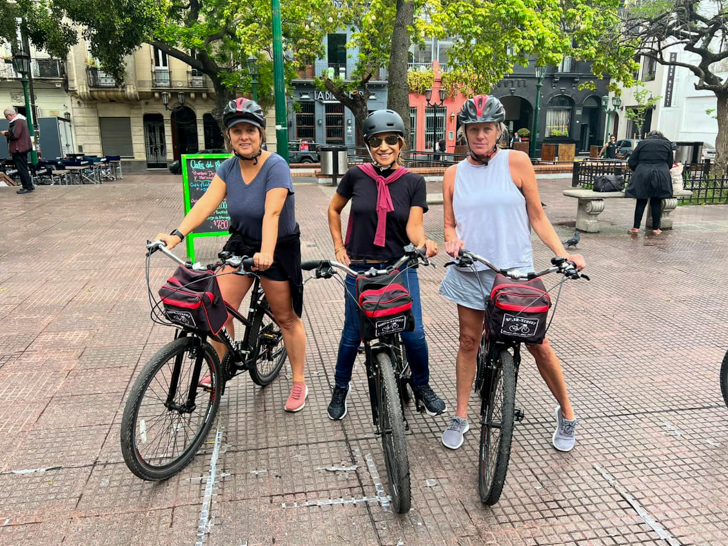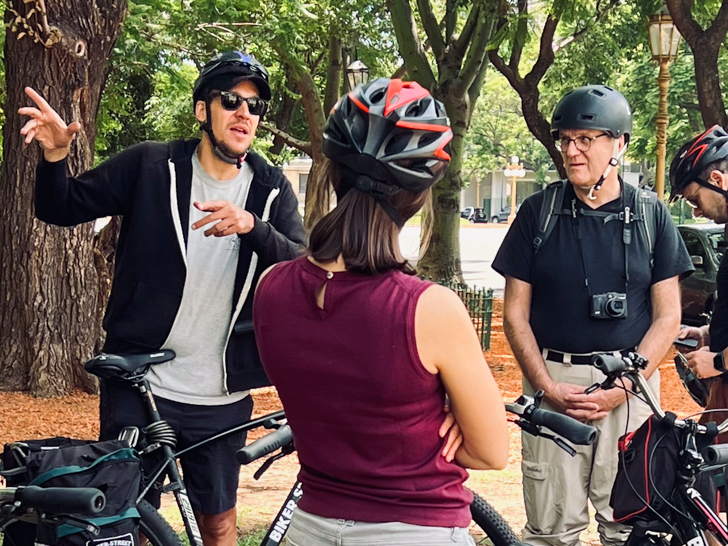 Total BA Full Day City Bike Tour​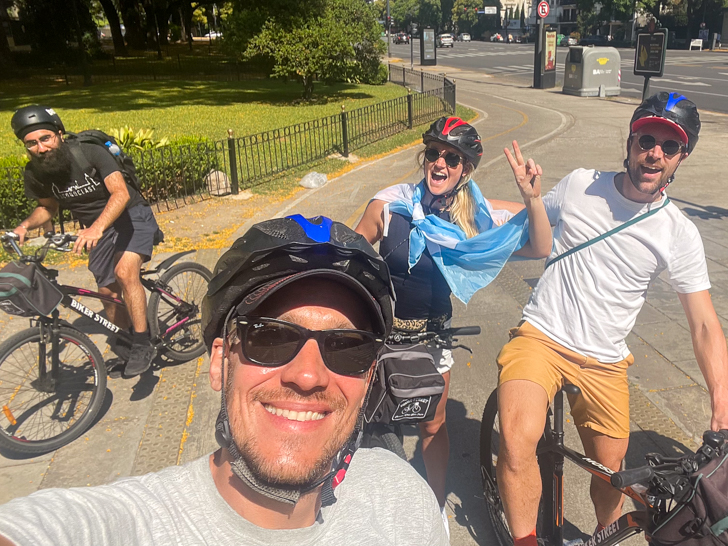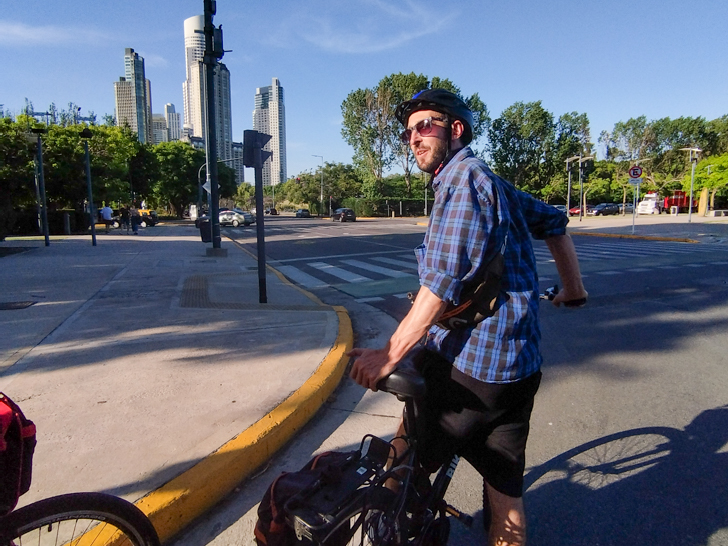 Meet Carlos, Julián, or Gilda at 2269 Armenia Street to embark on our full-day bike tour. We will explore the contrasts of a city often associated with European culture, yet marked by the inequalities characteristic of Latin America. This comprehensive city tour will showcase both the newest and oldest aspects of Buenos Aires, taking you through working-class neighborhoods as well as affluent areas. Undoubtedly, this is the ideal way to kick off your journey in the city.
A single language per tour
Our tours are conducted in a single language to ensure you don't spend your time listening to something you don't understand or waiting for others to catch up on the information you've just received. This approach guarantees that everyone comprehends and can actively engage in the conversation.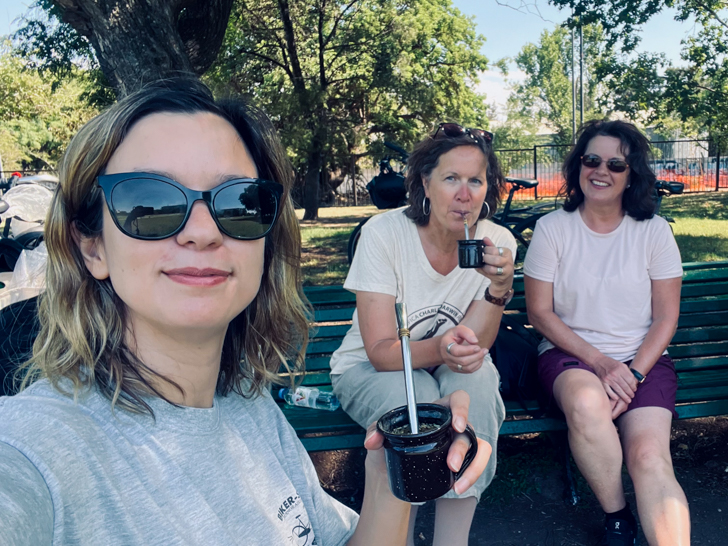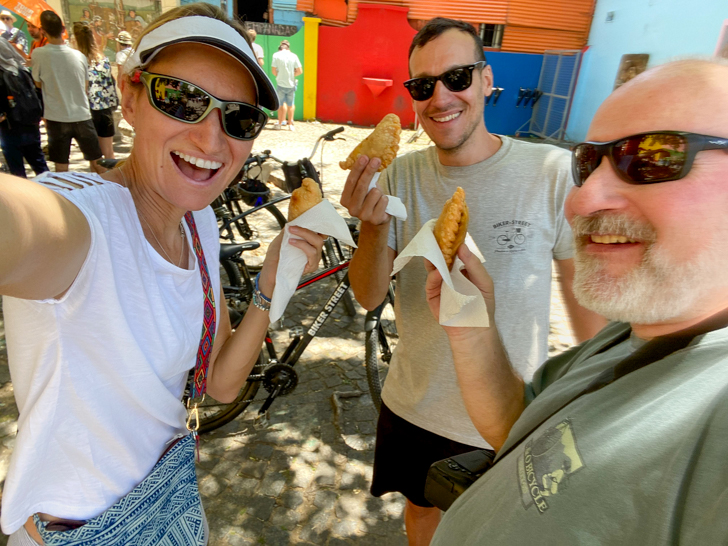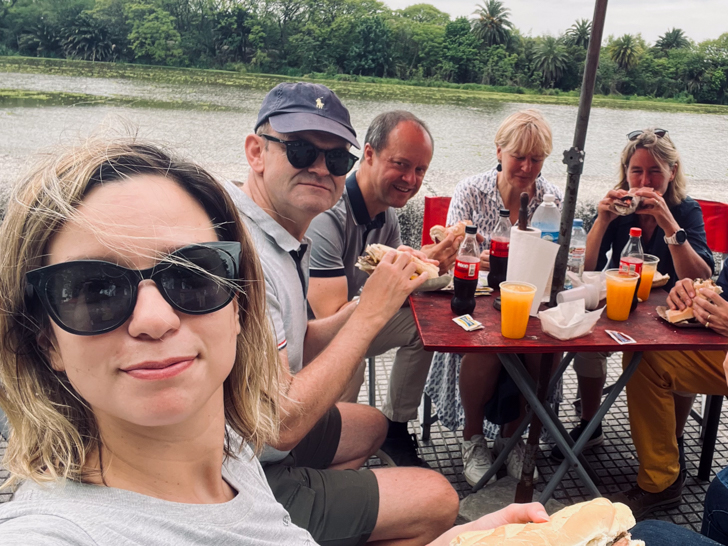 During our journey, we will make a few longer stops to indulge in Argentina's most renowned experiences. Firstly, we'll immerse ourselves in the world of "mate," a hot infusion sipped from a cup using a metal straw. Additionally, we'll treat ourselves to the "alfajor," a delightful cookie sandwich filled with dulce de leche. Moreover, we cannot overlook the opportunity to relish one of Buenos Aires' most delicious empanadas at an authentic establishment. And let's not forget about the traditional food truck, where we'll savor an extraordinary sandwich that is often enjoyed by the locals for lunch. This will undoubtedly be a memorable culinary experience.
Highlights in our Bike Tour:​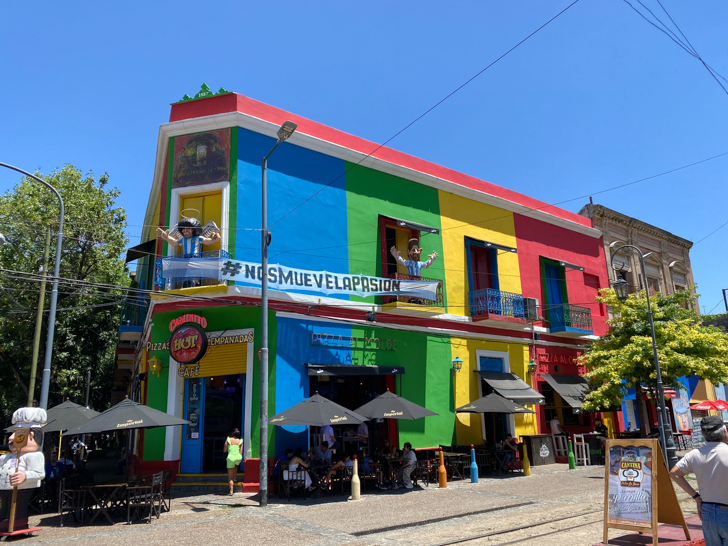 Caminito, situated in the vibrant south of Buenos Aires, is more than just a stop on our bike tour—it's an open door to a living museum of colors and culture. As we arrive, you'll be greeted by a kaleidoscope of hues that paint the very streets beneath your feet. We'll spend some time here, allowing you to immerse yourself in this picturesque haven. Take your time to stroll along its vivid lanes, capturing countless moments through your lens. While here, consider indulging in a coffee or beer (available for purchase) to truly savor the atmosphere. As you explore, reflect on how immigrants once called this area home, and imagine the stories hidden within its walls.
As we pedal through the enchanting streets of Buenos Aires, our journey takes us to the timeless Cementerio de Recoleta, the city's oldest and one of the most renowned cemeteries worldwide. Here, history finds its eternal home, and each corner is a chapter waiting to be discovered. This hallowed ground was divided among Argentina's affluent families, who erected opulent mausoleums that stand as testaments to their legacy. Owning a resting place here once bestowed "status" upon these families, sparking a competition for the most lavish memorials. Spend approximately 30 minutes exploring this captivating site, where marble and history intertwine. The Recoleta Cemetery ticket is thoughtfully included.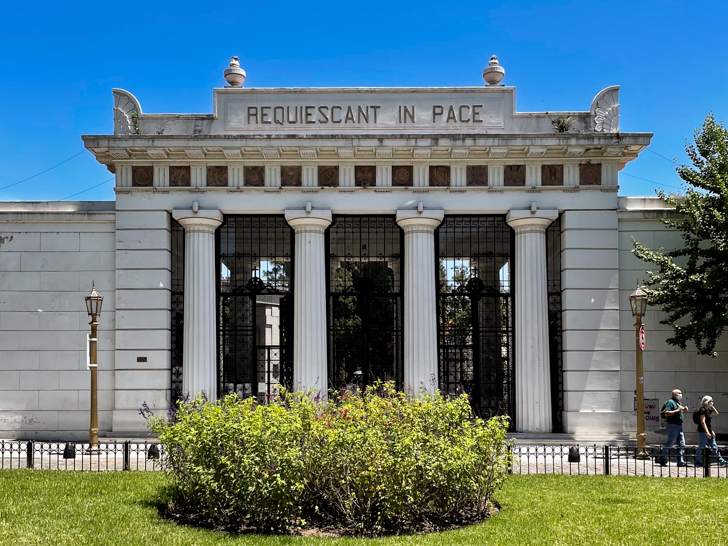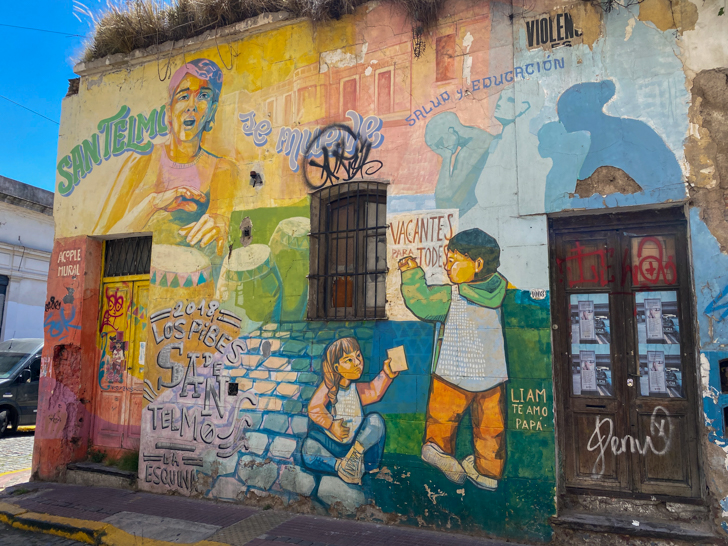 Nestled just a few blocks away from the iconic Plaza de Mayo, San Telmo beckons with its timeless allure. This historic neighborhood is a living testament to Buenos Aires' origins, where the echoes of the past still resonate. Ride through its streets adorned with original cobblestones and glimpse the city's architectural heritage that harks back to its inception. Today, San Telmo has evolved into a bustling hub, teeming with bars, restaurants, and nightclubs that infuse the streets with life after sundown. Yet, amidst this urban energy, the neighborhood remains steadfast in its traditions. It's a place where antique shops stand as guardians of the past, offering relics from a bygone era.
At the core of Buenos Aires lies Plaza de Mayo, a historic city square that serves as the very birthplace of the metropolis. Reverberating with the echoes of its foundation, this iconic square is affectionately known as "the center" of the city. Plaza de Mayo isn't just a physical space; it's the pulse of Argentina, where emotions and events converge. It's where citizens gather to raise their voices, whether in protest or celebration of pivotal moments in the nation's narrative. Encircling the square stand the grand edifices that define Buenos Aires' identity—the Government House, National Bank, Ministry of Economy, and the resplendent Cathedral of Buenos Aires, among others.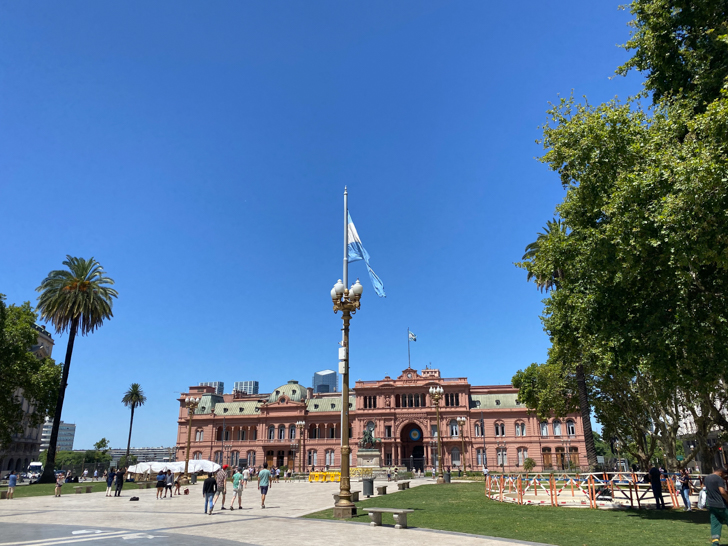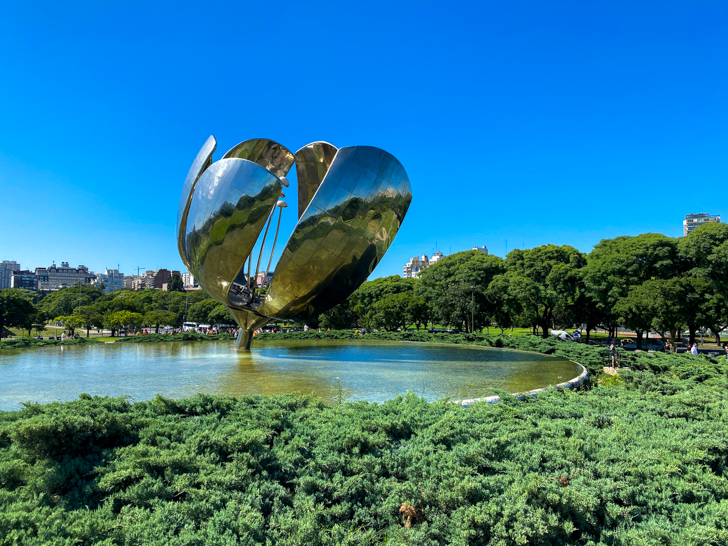 Amidst the timeless charm of Buenos Aires, stands the contemporary marvel known as Floralis Generica. This monumental metal flower, composed of 18 tons of recycled airplane metals, has become an emblem of modernity in the city. Gifted to Buenos Aires by Eduardo Catalano in 2002, this awe-inspiring sculpture graces the Recoleta neighborhood, nestled beside the Universidad de Derecho (law university). Here, the sculpture's petals are open during the day and close at dusk—a symbolic representation of the city's vibrant spirit. Adjacent to the university, the park where Floralis Generica resides is a dynamic hub of activity, bustling with students year-round.
Puerto Madero, once the epitome of Argentina's opulence at the turn of the 19th century, holds within its history the evolution of a nation. Originally conceived as Buenos Aires' premier port, it symbolized the affluence that defined the era. Yet, the tides of time led to its abandonment as a functioning port just years after its inauguration. In a remarkable turnaround, the 1990s witnessed the birth of a visionary project—one that would transform the area into one of the city's most contemporary neighborhoods. Today, Puerto Madero stands as a testament to the city's ability to adapt and reinvent itself.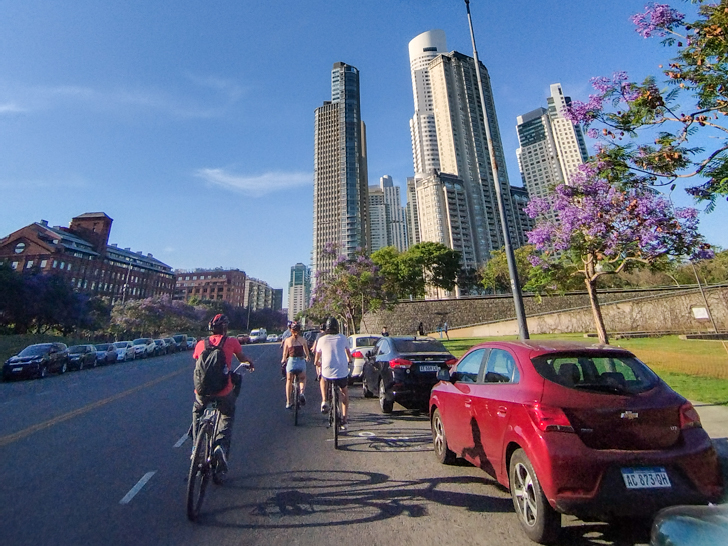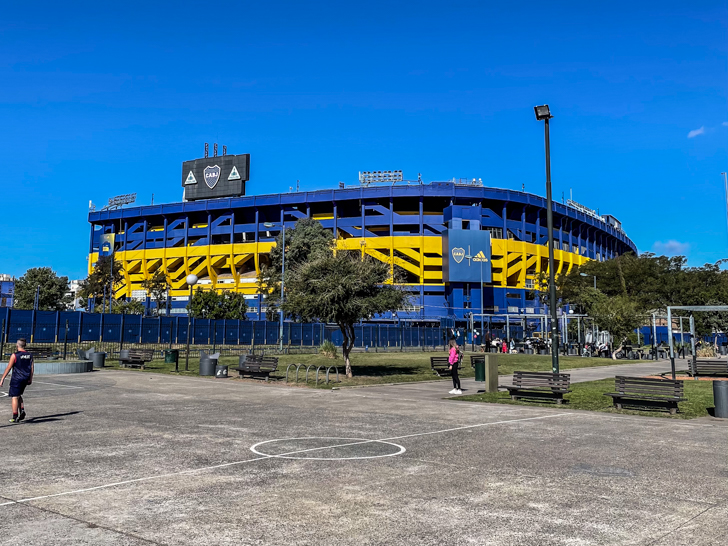 La Boca, a vibrant working-class neighborhood, stands as a testament to Buenos Aires' immigrant history. Rooted in the 19th and 20th centuries, European immigrants found their new home here, shaping the district's unique character. A heartbeat of football fervor, La Boca boasts the iconic "La Bombonera" stadium—the hallowed grounds of the Boca Juniors team. The streets of this district come alive with a vibrant canvas of street art that celebrates the spirit of the community. Amidst its vivid cultural tapestry lies Caminito—a colorful open-air museum and tango hotspot that embodies La Boca's dynamic essence.
Dive into the expansive embrace of Palermo—the largest district in Buenos Aires, where diversity thrives in every corner. Palermo's multifaceted identity is intricately woven from its distinct neighborhoods, each bearing its own unique charm. Traverse the sprawling Bosques de Palermo—a verdant oasis that invites relaxation and rejuvenation. Discover the avant-garde allure of Palermo Soho, a creative haven renowned for its artistic flair and trendsetting vibes. Unveil the elegance of Palermo Chico, where opulent residences stand as a testament to the district's affluence. And immerse yourself in the everyday rhythms of Palermo Viejo, where residential comforts meet a vibrant community spirit.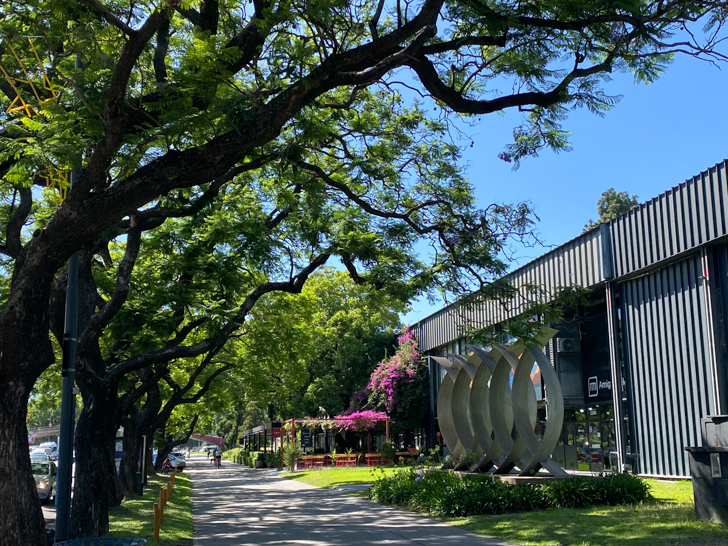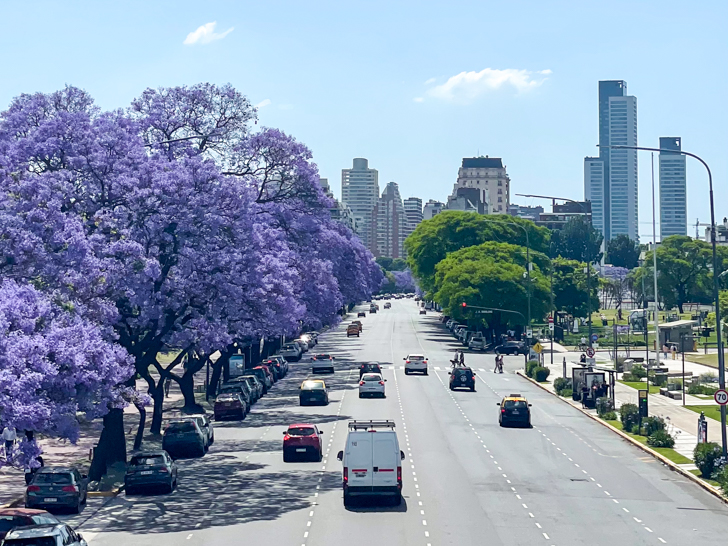 Unveil the epitome of elegance in the Recoleta district—an enclave where sophistication has found its abode for over a century. Nestled in the northern realms of Buenos Aires, Recoleta stands as a testament to the opulent aspirations of the late 19th century that endure to this day. The architectural grandeur of its buildings, the refined ambiance of its coffee shops, and the distinctive attire and mannerisms of its residents distinguish Recoleta as a realm apart from the city's norm. Here, a unique tapestry of life unfolds—a microcosm that encapsulates the social nuances of Argentina's classes.
Bookings are online. If you'd like to book directly at the meeting point you should pay in cash with the exact amount of money. Without a previous reservation, we can't guarantee we'll have a spot available nor that the bike tour will run.
The difficulty level for the Total BA bike tour is "medium". The city of Buenos Aires is flat, so it does not require a lot of physical effort, but this is a full day bike tour. We pedal around 30 km, so if you are not used to riding a bicycle, we recommend you do one of our half-day bike tours.
The approximate lenght of the Total BA city tour by bike is around 4 hours. So, 99% of the the tours end around 6:30 p.m. The duration of the bike tour is not exact since it will depend on several factors such as: traffic, the pace of the group, if we need to do a quick fix to a bicycle, change an inner tube, etc.
The tour is guided in only 1 language, so you don't waste time hearing a language you don't understand or listening twice to similar questions or information.
La Boca has a bad reputation, but the tourist areas of La Boca are usually covered and it's generally safe.
Inclusions:
Recoleta Cemetery ticket.
The use of a bike with gears and suspension, as well as a helmet.
A 500ml bottle of water.
A drink (non alcoholic) + a sandwich at a traditional "parrilla" food truck, veggie option available.
Mate and alfajores.
Local guide (super friendly).
The price is USD 90. Payment is made online by credit card on our booking engine or through Paypal.
Departure time for the Total BA full day bike tour is at 9:00 am. We recommend arriving 10 minutes earlier so that you have time to set the bike to your liking, choose the helmet, etc. Furthermore, since it is a group tour, we cannot wait for you more than 10 minutes after departure time and we will have to start the tour only with those who have shown up.
Bike tours are available from Monday to Saturday. If you are interested in doing this bike tour on a Sunday you can book this same option as a private bike tour, please contact us in that case.
In the Total BA full-day bike tour we visit: Caminito, Recoleta Cemetery, San Telmo, Plaza de Mayo, Floralis Generica, Puerto Madero, La Boca neighborhood, Palermo neighborhood, Recoleta neighborhood.