Here at Biker Street, we designed the best self-guided routes to visit Buenos Aires. We steered the best paths according to how long your stay in Buenos Aires is. If you stay for 1 day, 2 days, 3 days, 4 days or more, we'll have an option for you.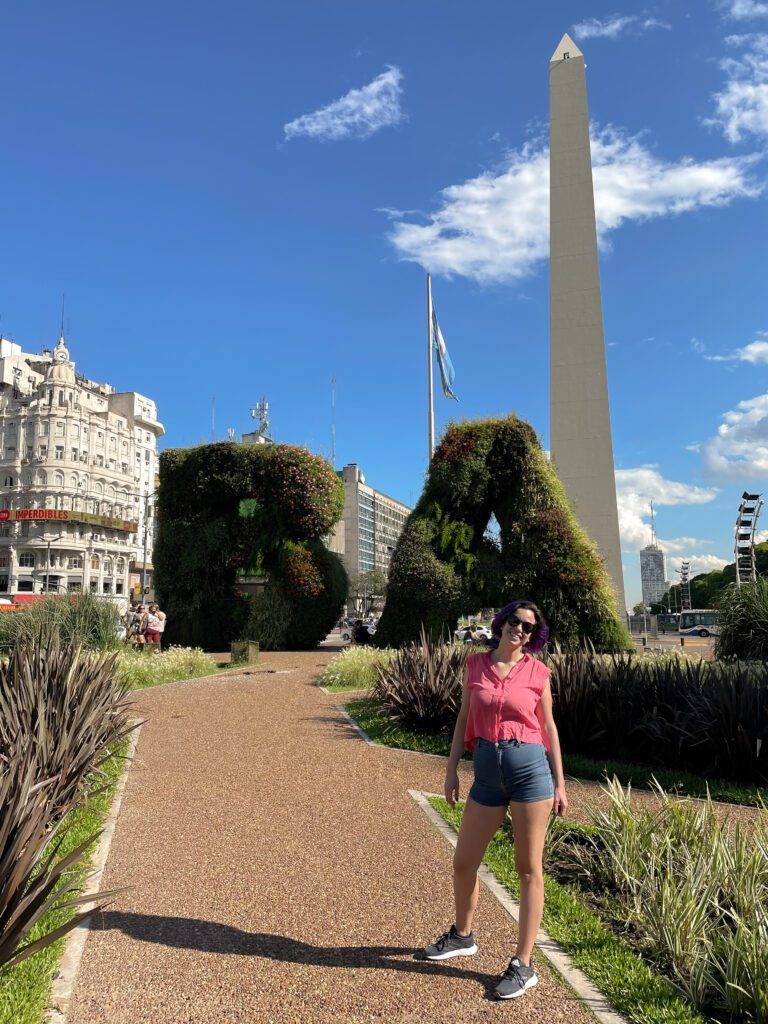 The tourist routes are organized by days so that you can make the best of your visit to Buenos Aires.
You'll find all the things to do in Buenos Aires in this post. We'll even offer you some extra tips so that you can visit places further away from the tourist areas and enjoy different activities in Buenos Aires City.
As this is the most complete guide to visit Buenos Aires, it also includes some food recommendations in each area. When you'll be exploring BA, if you'd like to eat or drink something, you'll have an option recommended by us.
In case you're staying in the city for 4 days or more, we recommend you do all paths and, thus, visit all the attractions in Buenos Aires. If you are going to stay fewer days, you can choose the one or those that are most interesting to you.
As we always say, the best way of getting to know Buenos Aires is on a bicycle tour. But, if bikes are not your thing, or if you just prefer a self-guided tour, you can follow these recommendations.

Buenos Aires City, The Origins
Puerto Madero is the newest and most exclusive neighborhood in Buenos Aires. There you will find Puente de la Mujer(Woman's Bridge) a modern icon of Buenos Aires.
Walk around its streets and be amazed by the modern towers and green spaces that are located beyond the dockstowards Río de la Plata.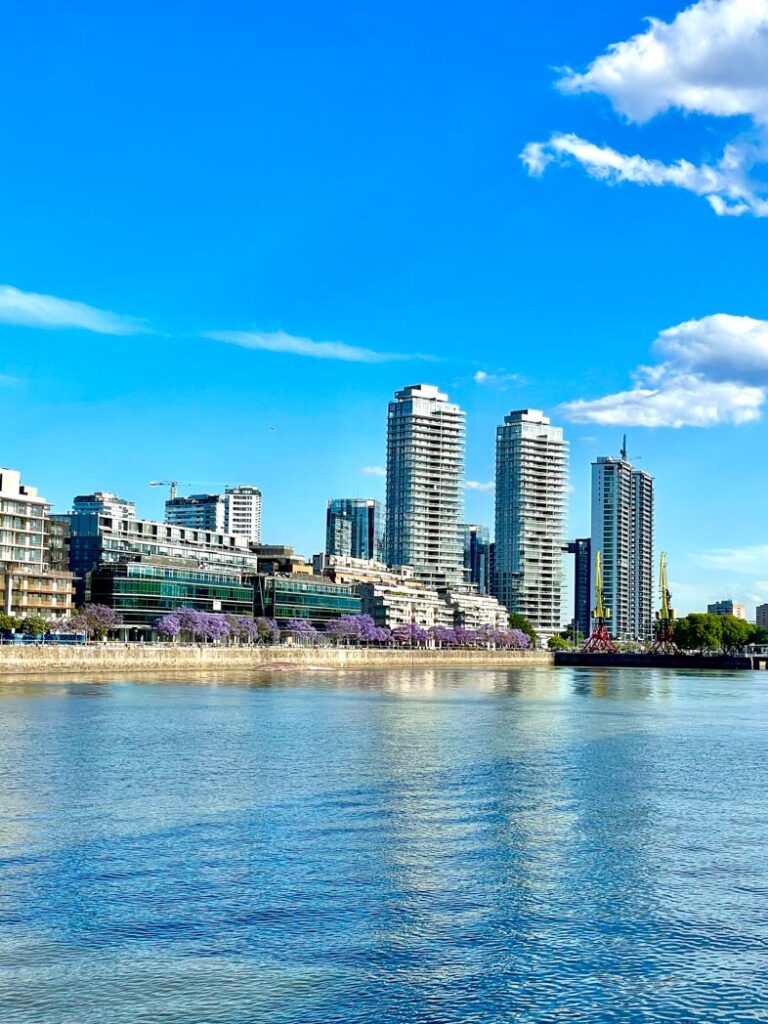 If you're already feeling hungry at the beginning of your tour, you may want to eat something the Porteños's way. If so, head to Costanera Sur in Puerto Madero neighborhood and try a choripán.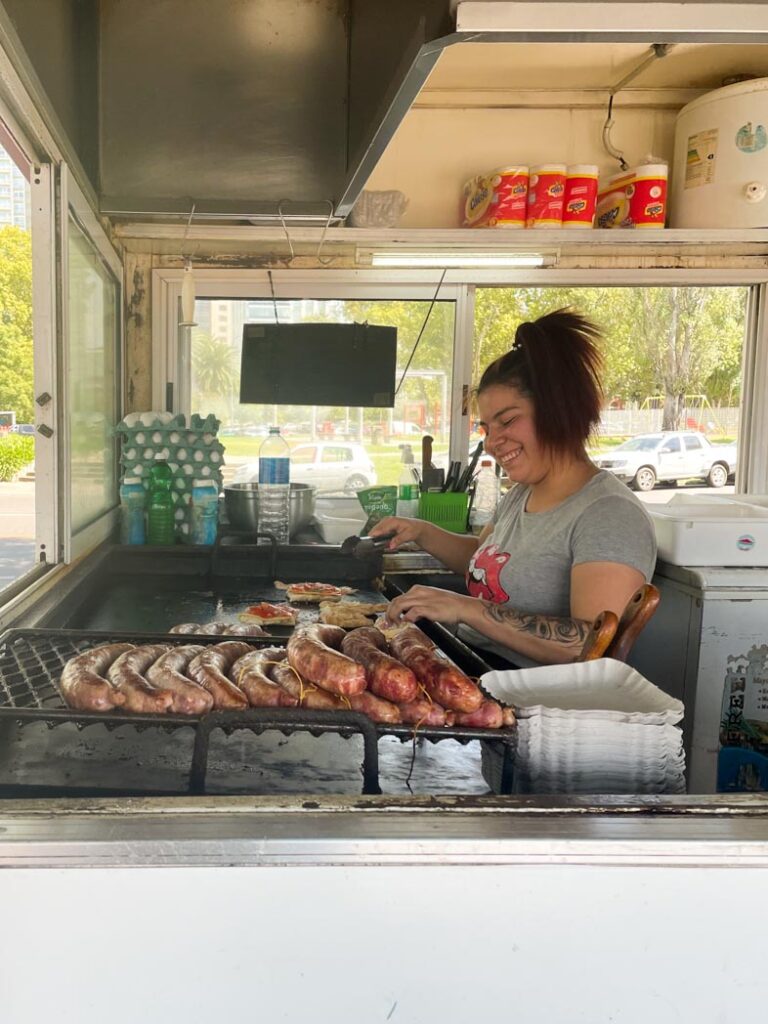 You will find many food trucks in the area, but our favorite one is called La Doña, because of their tasty ingredients and the great variety of toppings to add to your on top of your sandwich. This is a great plan. You'd eat under the shade of the trees, surrounded by green spaces in a relaxing environment.
If you are passionate about trekking and exploring parks, don't miss the chance to get into Reserva Ecológica (a nature reserve).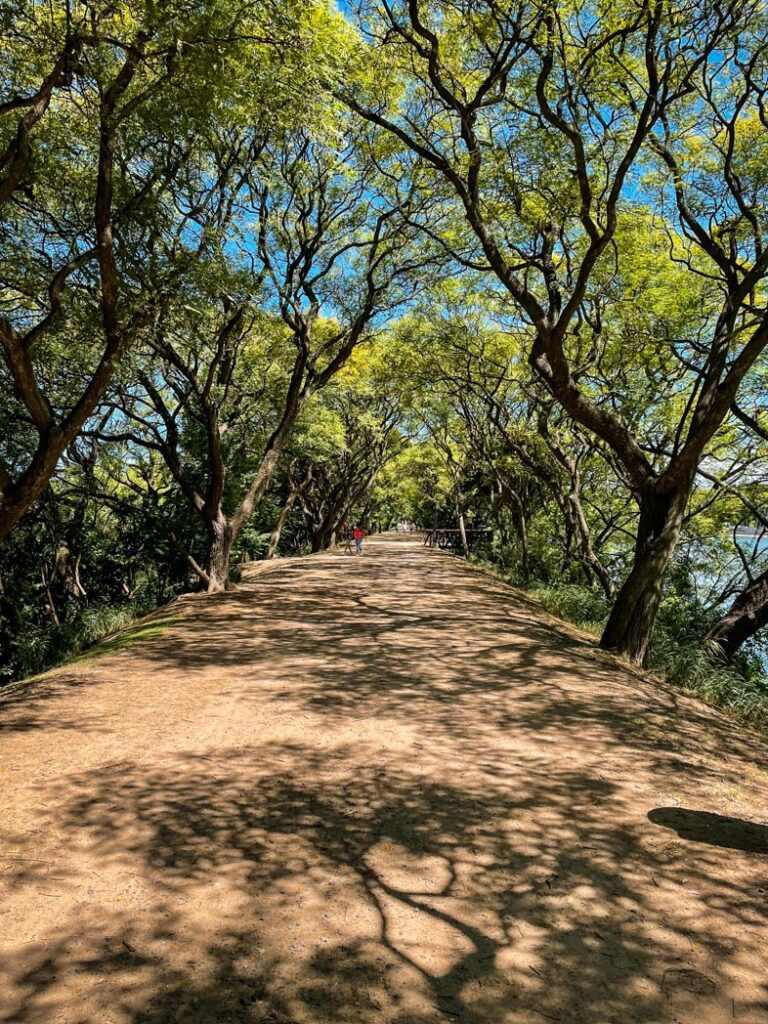 This green space was declared a protected area in the mid-1980s.
In the actual location of Reserva Ecológica, there used to be only water. In fact, these are lands reclaimed from Río de la Plata River, the widest in the world (that looks like a sea).
How is that possible? During the 1970s (during the last military dictatorship in Argentina) several kilometers of highways were built within the city of Buenos Aires.
For the construction of the highways, a huge number of houses were evicted and demolished. And the rubble of these demolitions were dumped on the riverbank.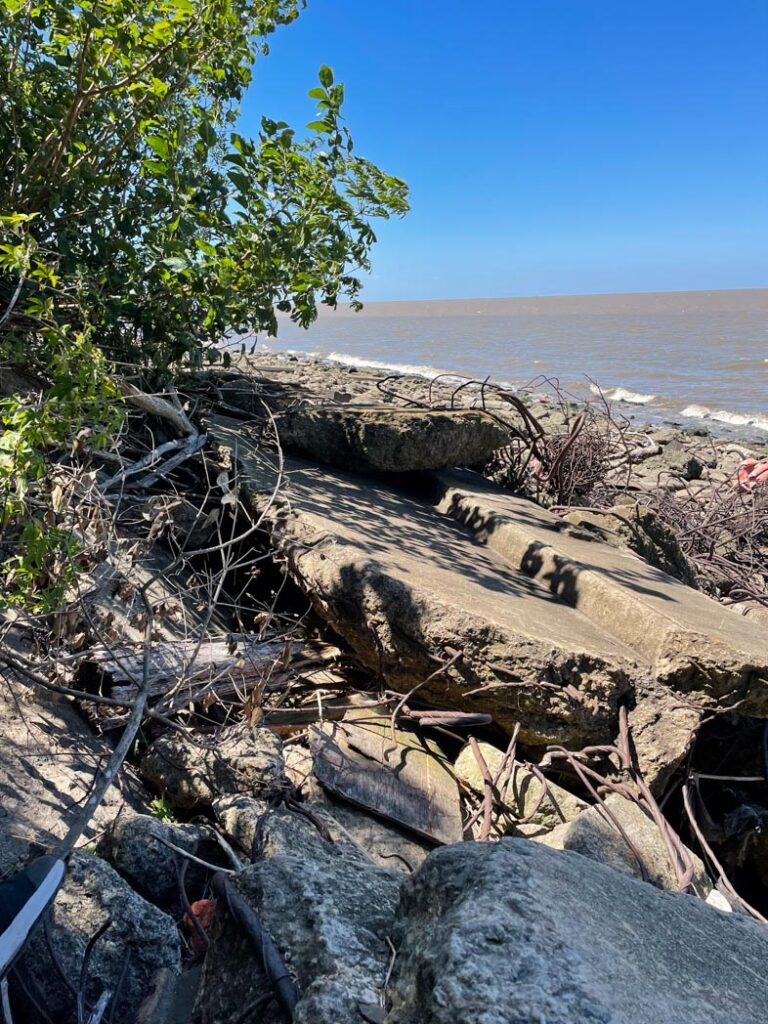 Thus, the river receded, plants that arrived there on the river flow began to grow on the rubble and animals began to settle there too. It's something interesting, as they are not the typical flora or fauna you'll see in the city.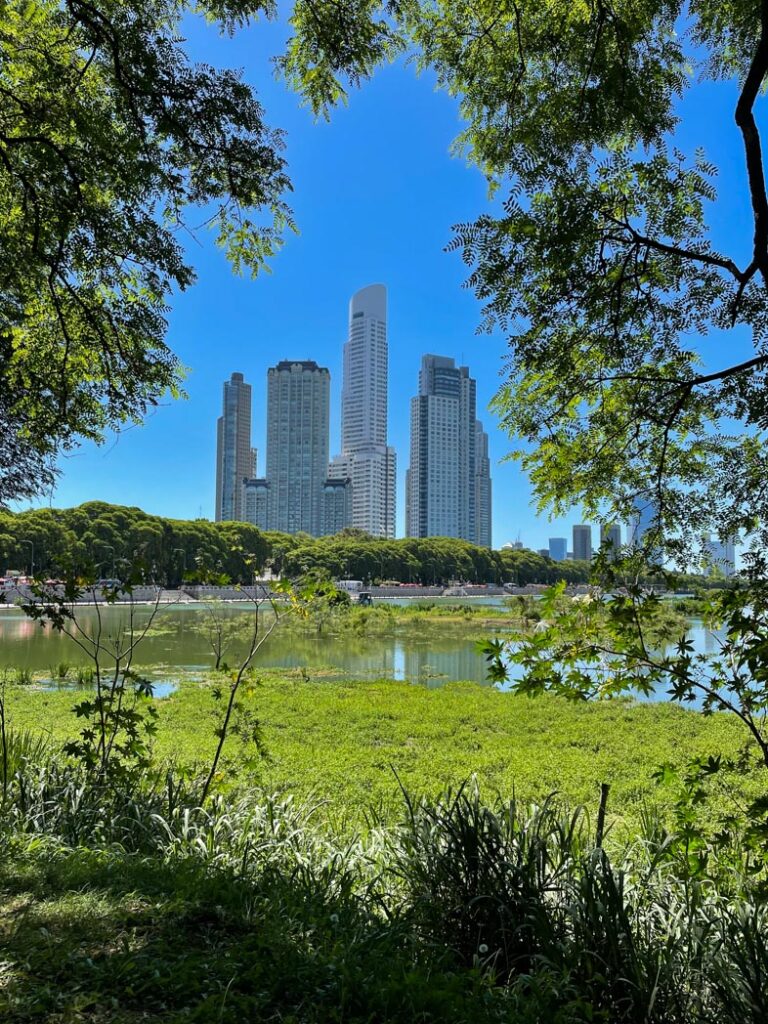 There are different trails within the Ecological Reserve.
The shortest path within the park, that takes you to the actual bank of Río de la Plata, is approximately 2km.
If it's a very hot day or if it's the time of the day when the sun is very aggressive, keep in mind that much of this route will be under the sun.
Apart from that, we only have one suggestion. Take advantage of the toilets at the Ecological Reserve. They are usually clean and in good condition.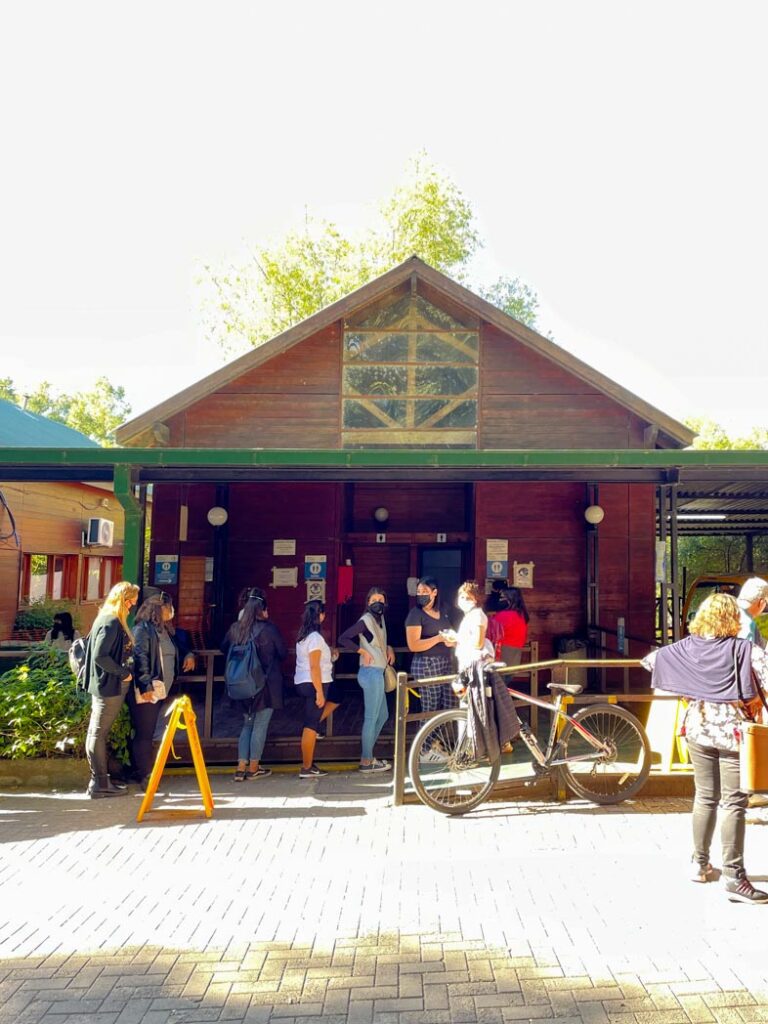 There are also showers in front of the bathrooms. So, you can cool off in case the heat is very intense.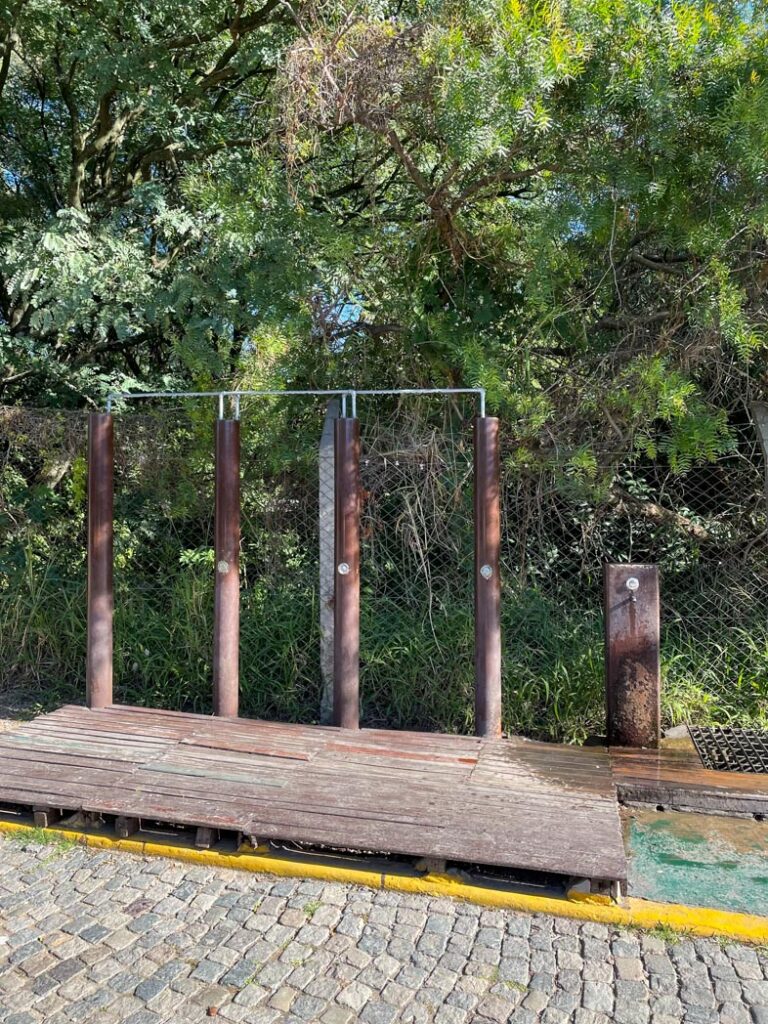 Caminito is an open-air museum in the heart of La Boca neighborhood and one of the most visited areas of Buenos Aires.
We recommend arriving after 9:30 a.m. and before 6:00 p.m., since afterwards everything is closed and there will be no one around.
It is a very colorful area where you will be tempted to take thousands of photos. You could discover there the old buildings where European immigrants used to settle when they first arrived at the city of Buenos Aires.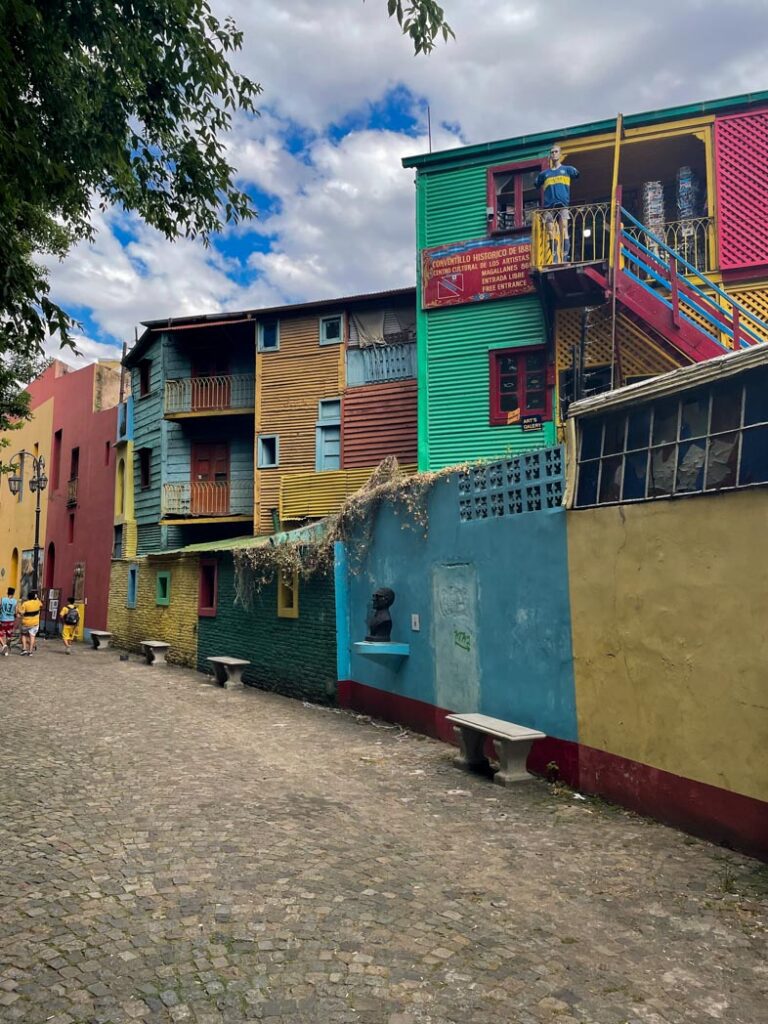 According to Instagram, it's one of the most photographed places in the world.
You will find a lot of crafts related to Tango music, since the neighborhood of La Boca is the place where this music style was born.
If you want to buy some art to take home, maybe a painting, a photo, or a sculpture, this is the place.
As you can see, Caminito is located at a walking distance from Puerto Madero, but we highly recommend arriving by taxi or uber.
Being an extremely touristy area, Caminito itself is very safe. There is a lot of security. But in the surroundings, there are many teenagers waiting for tourists to surprise them and steal whatever they can (phones, backpacks, cameras, etc.).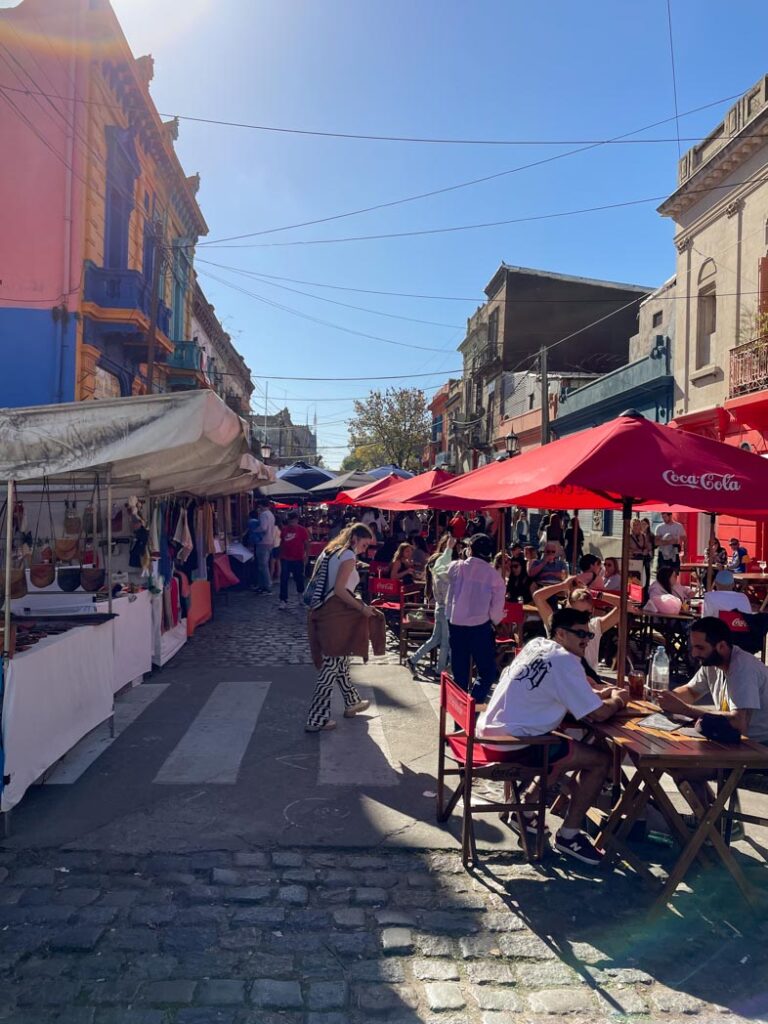 To avoid having a bad time, we think it's better getting to Caminito with some means of transport.
Fundación Casa Proa is located a few steps away from Caminito (still within the tourist area so you can go on foot).
This is a modern art museum with contemporary exhibitions. You'll also find there a theater and cinema auditorium, a library, and an interesting roof top coffee shop.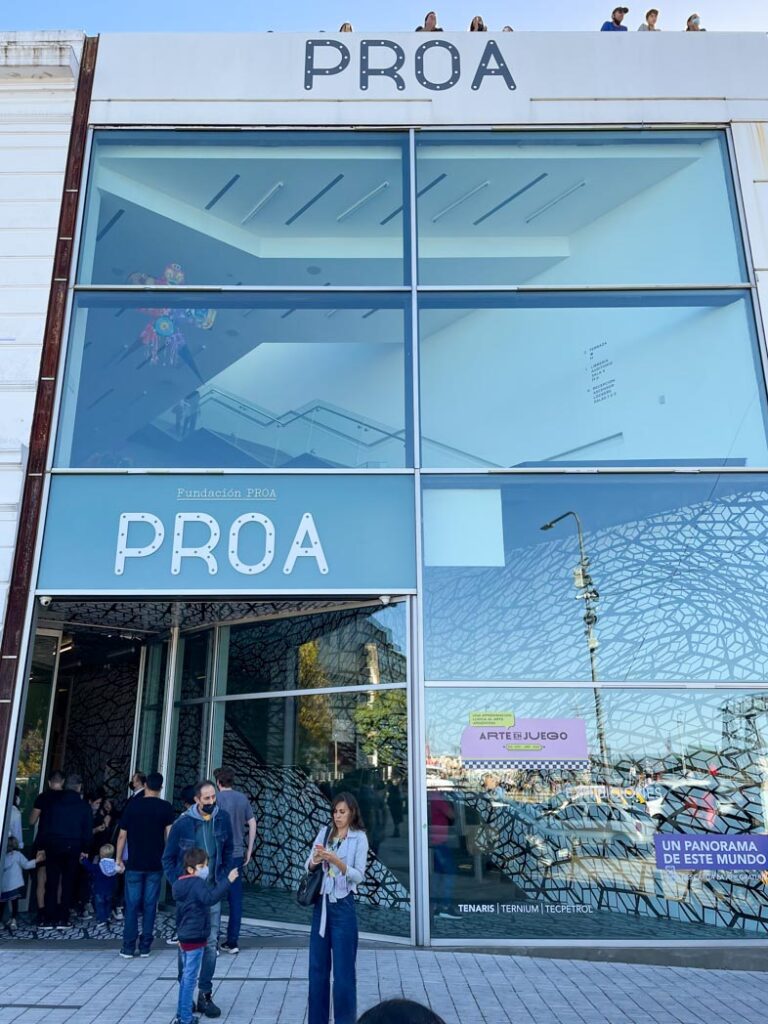 There are usually quite good exhibitions. One of our favorite works that was exhibited there is the Chinese artist Ai Weiwei's spectacular bicycle sculpture. Don't miss the opportunity to have a cup of coffee on the roof top, the view from this place is super nice.
You can follow the following link and check out what are the exhibitions at the time of your visit.
A few meters away from Caminito, there is Boca Juniors football stadium, also known as "La Bombonera".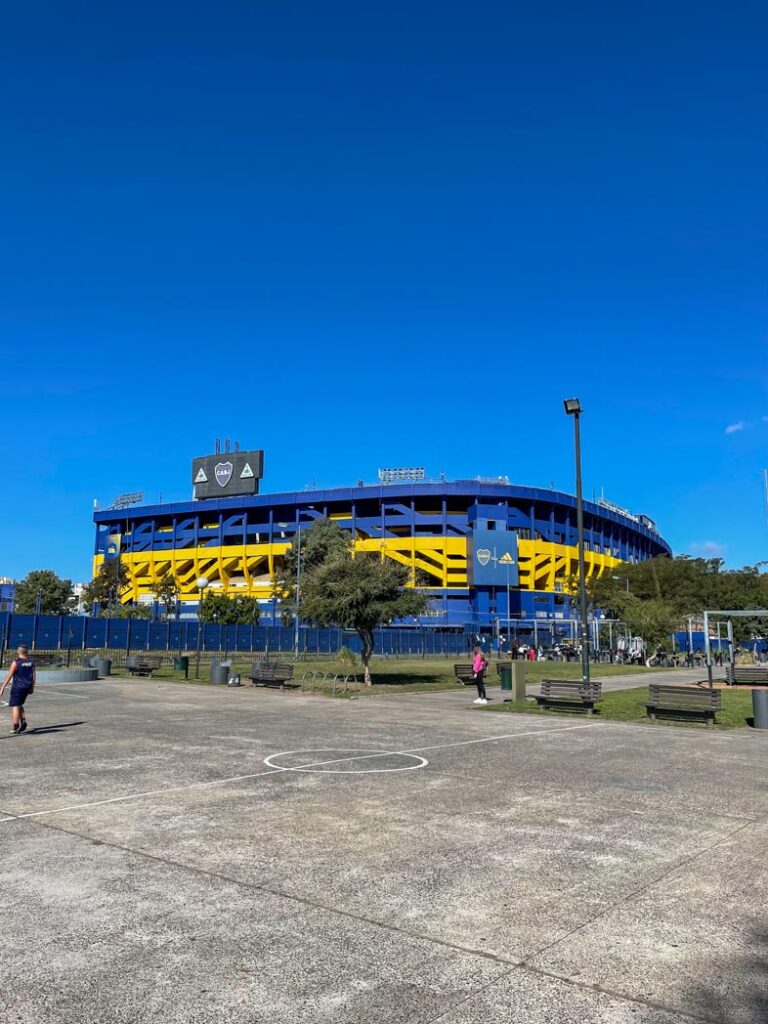 As you may already know, fútbol is the most popular sport in Argentina. It awakens passions that couldn't be easily explained.
During the last few years, Boca Juniors was greatly surpassed by its derby River Plate. River Plate left Boca Juniors out of the international tournaments held in 2014, 2015, 2018 (when River Plate won the final of the Libertadores Cup) and 2019.
Despite this, Boca Juniors team has gained some international popularity because of its past. The stadium is still one of the tourist attractions in Buenos Aires.
Inside the stadium premises, there is Boca museum that you can visit. And it includes a guided tour of the stadium.
San Telmo neighborhood is one of the oldest areas in Buenos Aires.
In this neighborhood you could get an idea of what Buenos Aires looked like 200 years ago.
It's one of the few places in the city where you could still find old houses, built in a Spanish architecture style with high ceilings and decorative art on their facades.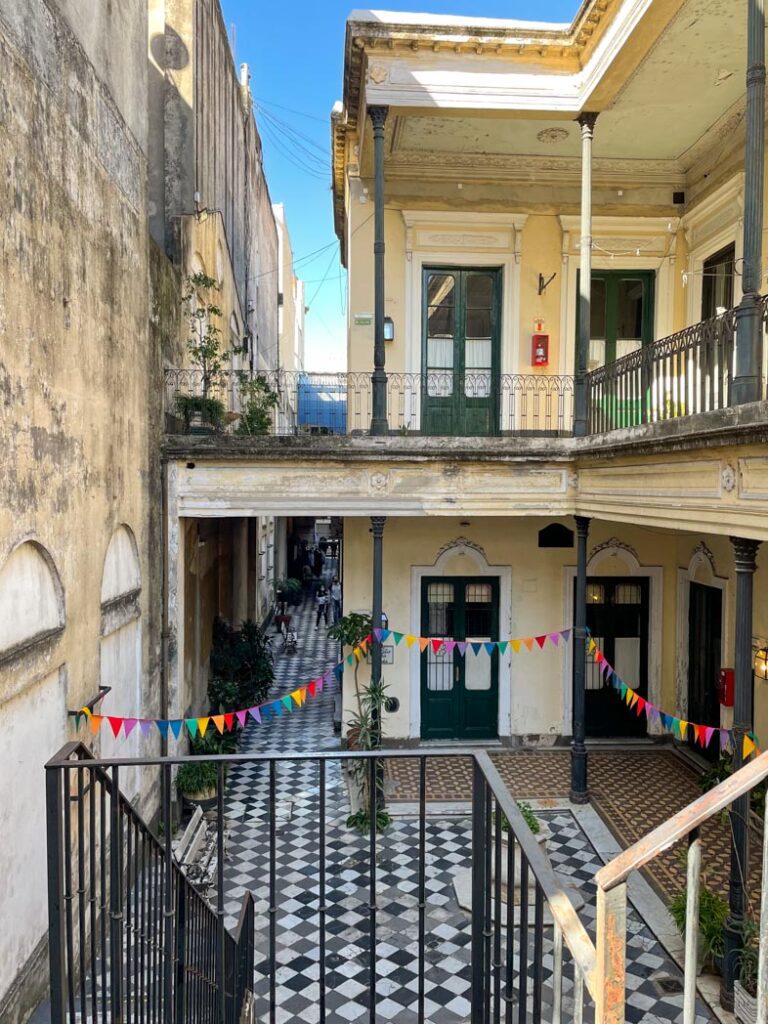 Besides, San Telmo is one of the main night centers in the city, due to its large number of bars, restaurants, and nightclubs.
In Plaza Dorrego, which is in the heart of San Telmo, you'll find artisans selling their crafts there.
If you think that it's time to eat something, in this area we have many recommendations for you. You could find them following this link:
This is one of the oldest markets in Buenos Aires. It preserves its original construction dating from the late nineteenth century.
The market building was designed by one of the first architects graduated from Buenos Aires University (UBA), Juan Antonio Buschiazzo.
The market history is interesting too. From being practically abandoned it turned out to be one of the main attractions in the neighborhood.
Today the original food stalls, the antique stalls, the trades stalls (such as seamstresses, shoemakers, etc.) coexist in this place. However, without a shadow of a doubt, those that came to prominence are the food stalls of the market. Well, it's rather cafes and restaurants than stalls.
Visiting San Telmo market is a very nice experience. You could appreciate the mix of different activities and, of course, have a cup of coffee or eat something.
We particularly like the coffee from "Café Town" and the pastries from "Merci".
Buenos Aires The Paris of South America
"El Ateneo Grand Splendid" bookstore is located on the border of Barrio Norte and Recoleta, at 1860, Santa Fe Av.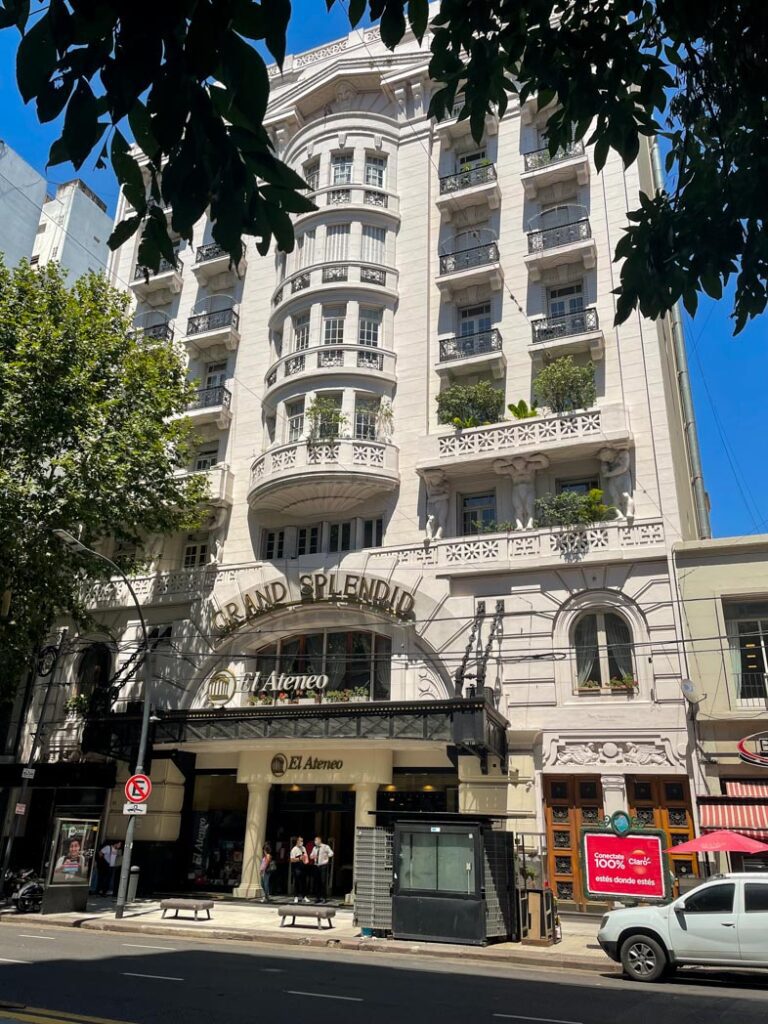 Listed as one of the most beautiful bookstores in the world by National Geographic and The Guardian, it is undoubtedly one of the must-visits in Buenos Aires.
When you walk through the door, it still may not stand out. In the beginning, it may look like just another bookstore, but as soon as you're inside you'll be surprised by its immensity.
You'll find traces of its history in the architecture. It will be very easy for you to recognize that a it used to be a theater, since the theater boxes, the ceiling, the crimson stage curtains and many other details remain in its original shape.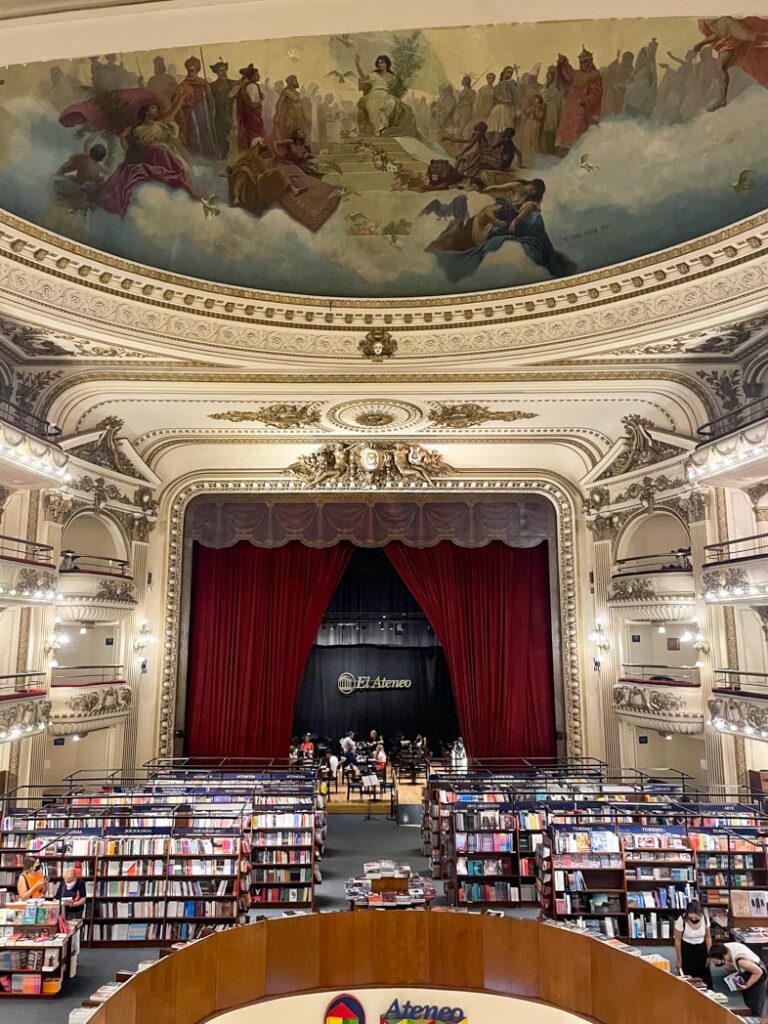 At Grand Splendid there was also a radio, and a cinema and recording rooms, where Carlos Gardel, a world reference in tango, recorded many of his songs there.
It's the bookstore with the largest number of books in Buenos Aires with more than 120,000 titles.
Surely during your visit, you will find many people resting comfortably in the armchairs of the bookstore, while enjoying a reading. El Ateneo offers these spaces for free with no commitment to purchase any book.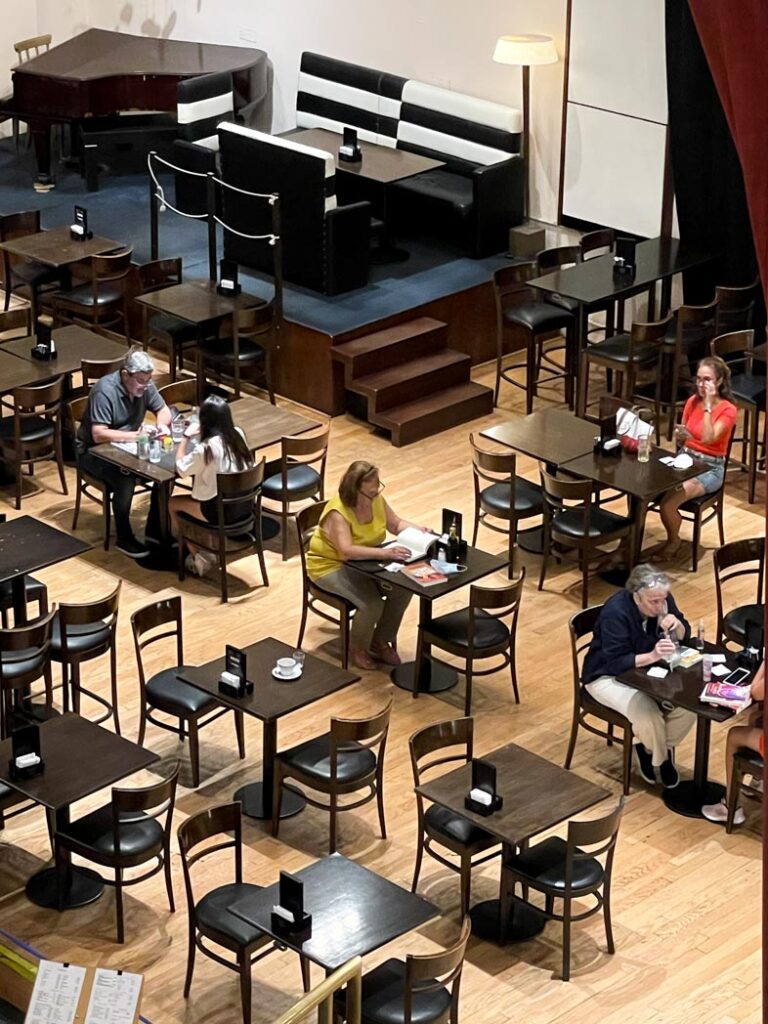 Inside the bookstore, on the old stage there is a coffee shop. So, if you feel like having a coffee, this may be a good opportunity.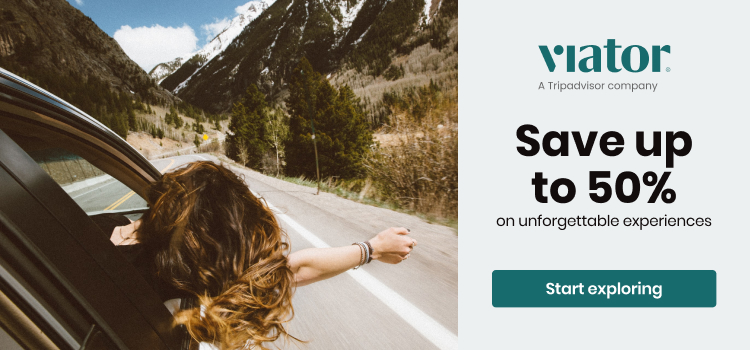 We encourage you to walk down this avenue located in Recoleta and Retiro areas. It's only 7 blocks long, but you'll be surprised for sure.
Towards the end of the 19th century, this avenue was opened to receive the rich people of the city who were moving to the north of the city, escaping from the yellow fever outbreak.
All the facades of this avenue are protected. This means they cannot be demolished, to preserve the distinctive French style the city adopted at that time.
Among the most remarkable buildings there are: the Brazilian embassy, the French embassy, and the Jockey Club building. All of them had been originally residences of wealthy families in Buenos Aires.
Located on the corner of Alvear and Ayacucho, the Alvear Palace Hotel building is also noteworthy, with its majestic architecture and decoration.
If you want to make a stop, you can go to the coffee shop and restaurant of the Hotel Alvear Palace and you will be able to appreciate these luxurious spaces. Just consider that you'll be paying European prices.
This burial ground located in the heart of Recoleta is the oldest cemetery in Buenos Aires City.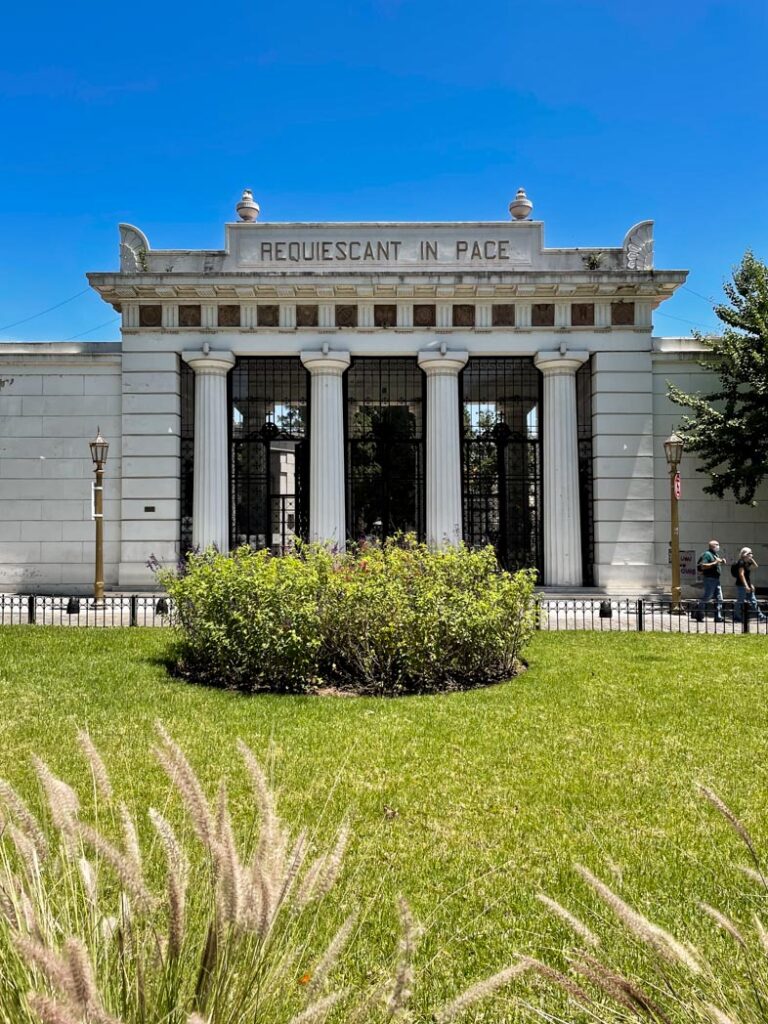 It may seem strange to mention a cemetery as a tourist attraction. But in fact, it really is the No. 1 attraction in the city for many travel guides.
This cemetery was built to house the remains of the wealthiest and most prestigious families of Buenos Aires.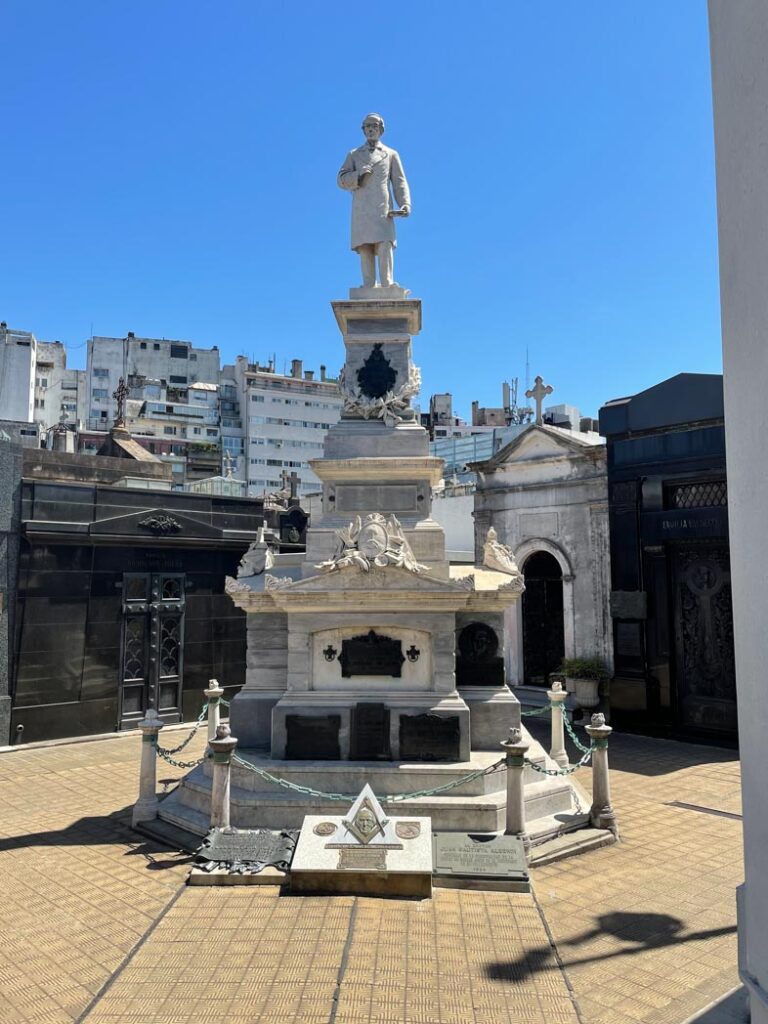 There are the remains of politicians, artists, soldiers, and leading figures of Argentine history.
Each mausoleum is a piece of art. You could appreciate the works made in marble, bronze and stained-glass, by important artists of international renown.
Without a shadow of a doubt, the most famous character is Eva Perón. Evita's tomb is the most visited one.
This mausoleum is one of the least remarkable, in terms of decoration and architecture. It's often said that the tomb is simple, just as Evita used to be.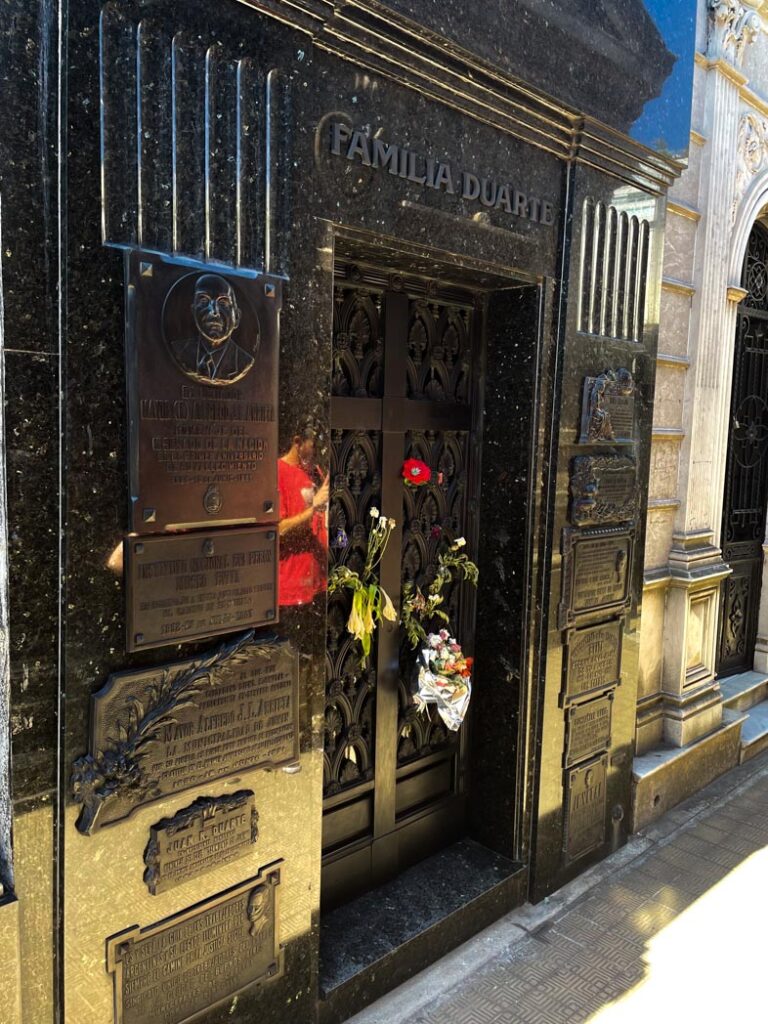 If you'd like to take a cup of coffee after visiting the cemetery, 100 m away from the entrance of the cemetery, there's one of the oldest cafes in Buenos Aires, La Biela.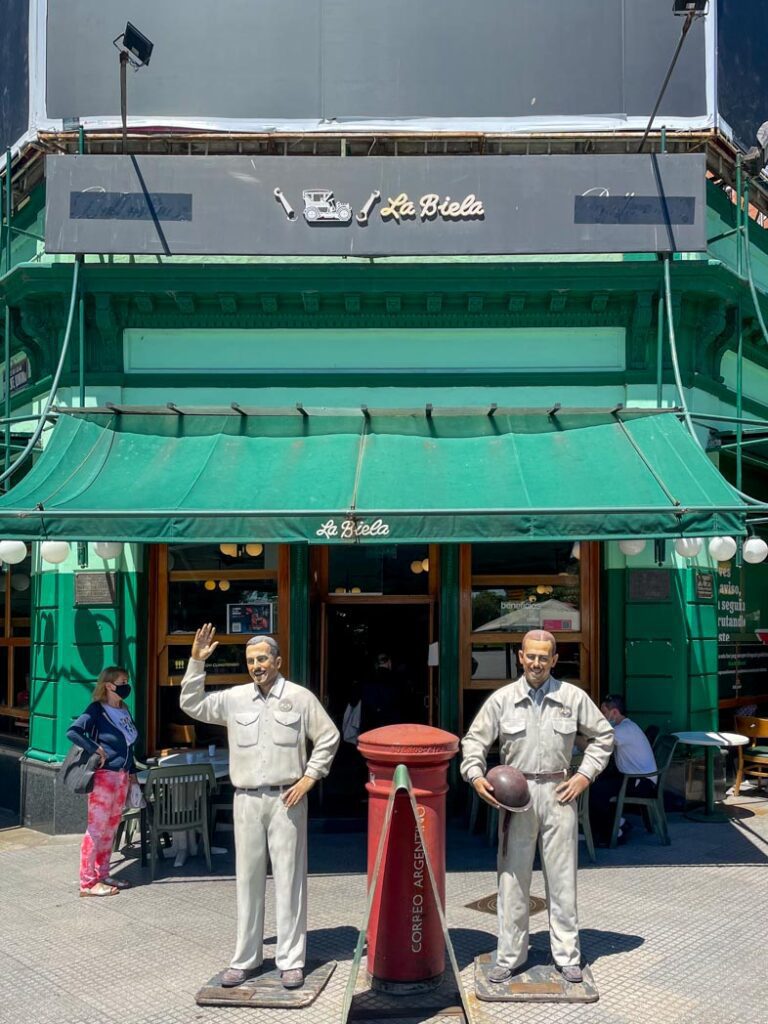 You'll see it's a typical meeting place for the elderly who live in the neighborhood.
Located in Recoleta neighborhood, very close to the cemetery, the Museum of Fine Arts is one of the most important in Latin America.
Founded in 1895, the Museum of Fine Arts was installed in its current headquarters in 1932. The building previously functioned as a drinking water reservoir and from here it was distributed to the rest of the city.
The permanent collection of the museum includes pieces by the most renowned artists in Argentina, as well as international artists such as Picasso, Monet, Rodin, etc.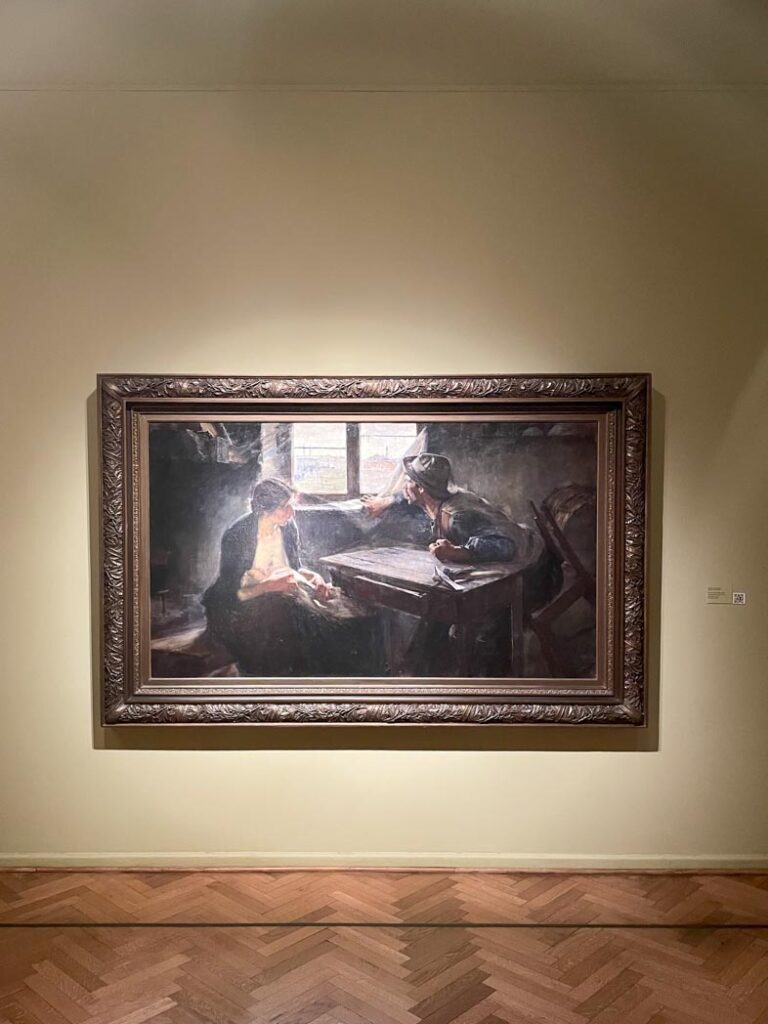 This is one of the many free museums in Buenos Aires, its ticket is free for the general public, so it's also free for tourists.
You can check the temporary exhibits on the museum's website to find out which collection is offered at the time of your visit.
Floralis Genérica & Law School Building
Behind the Museum of Fine Arts we will find 2 icons of the city of Buenos Aires such as the building of the Law University and the sculpture of the Floralis Genérica.
Without a doubt, the best angle to frame these two icons together on the same picture is from the bridge that crosses the avenue.
The law school building is impressive due to its architecture style.
It's one of the 13 establishments that belong to University of Buenos Aires (UBA) that is public and free and internationally recognized as one of the best around the world.
In the park next to the university, we find a sculpture of a giant metallic flower that is the Floralis Generica.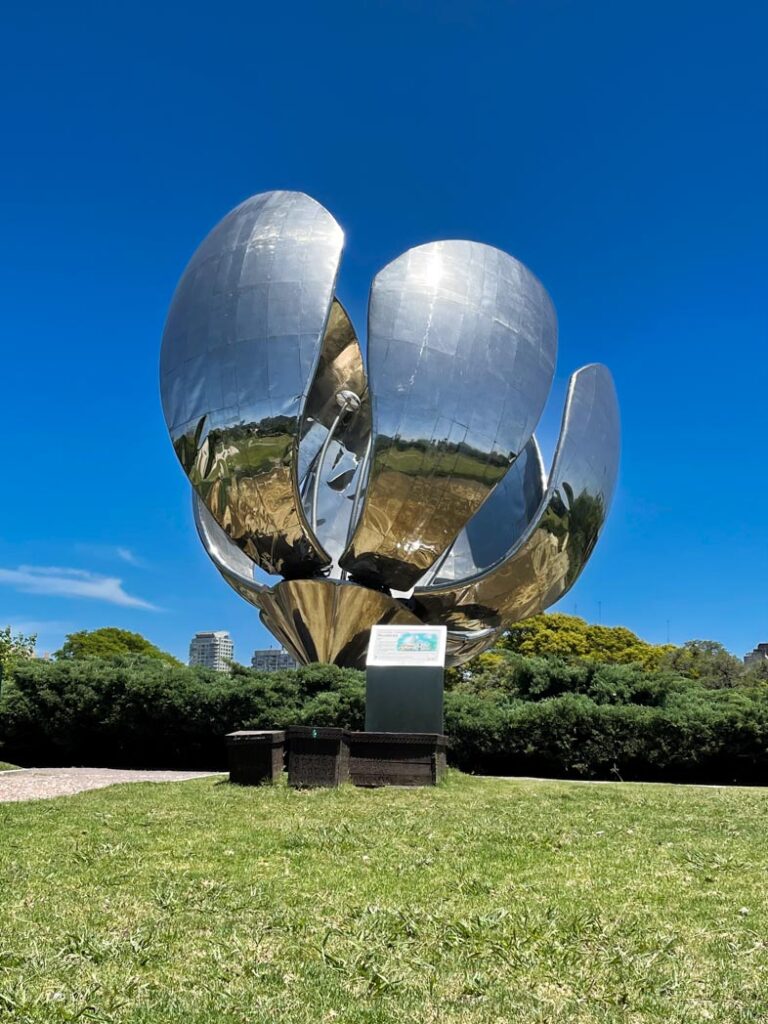 Floralis Generica is one of the modern icons in Buenos Aires. Its main peculiarity of this monument is that it moves. During the day, the flower is open and it's closed at night, as if it were a real flower. Unfortunately due to the abandonment of the city government, the mechanism that opens and closes the flower has not been working for a couple of years.
Within Palermo neighborhood, there is Palermo Chico.
In the area there are imposing French-style palaces, which used to be the residence of the wealthiest families in Buenos Aires. Today they are embassies, museums or public buildings.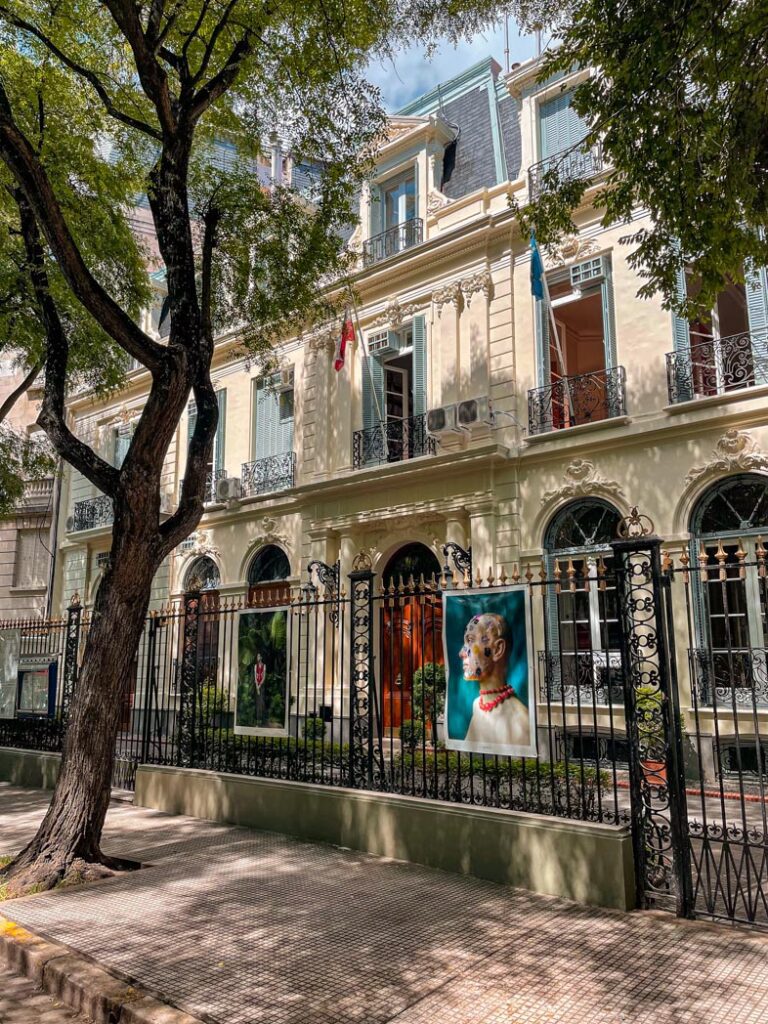 This neighborhood is also known as Barrio Parque or the neighborhood of the embassies. Well, there are 19 embassies from different countries, including Spain, Belgium, Chile, Sweden, Malta, etc.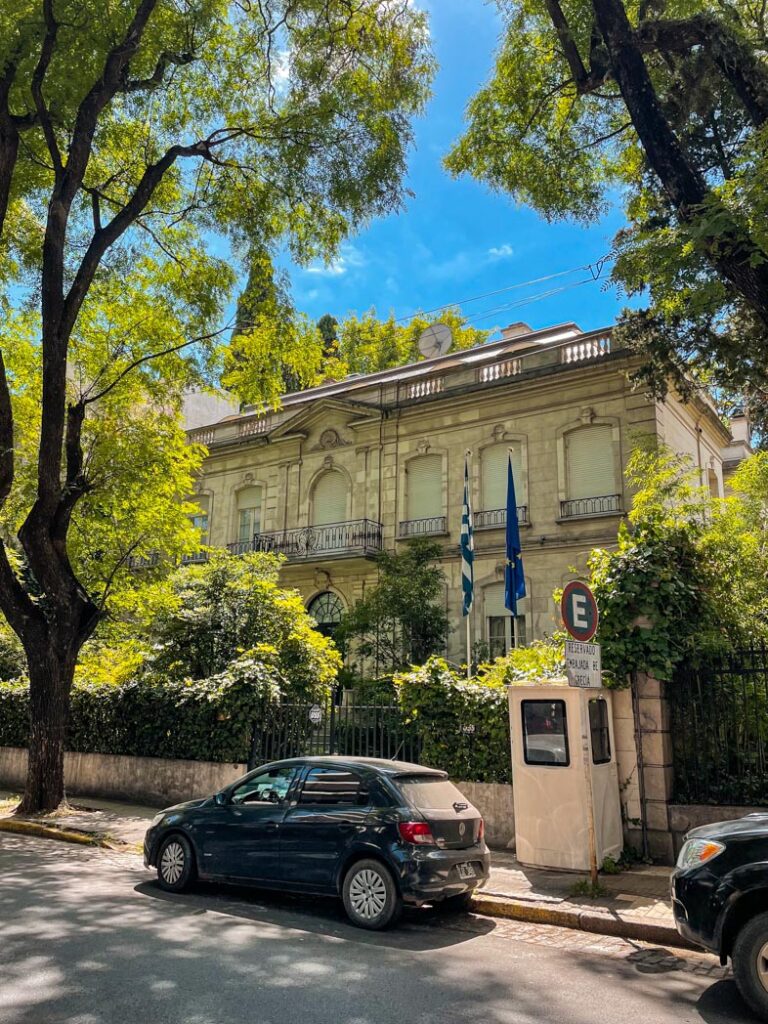 You have probably heard that Buenos Aires is known as "The Paris of South America", and when you'll visit this neighborhood you will easily understand why.
Palermo Chico was designed by the French landscaper and architect Charles Thays in 1912. Heenvisioned a neighborhood with diagonal and curved streets, surrounded by native vegetation.
Today it is one of the most expensive neighborhoods in Buenos Aires. Therefore it's where the upper classes of the city live.
Curiously, a few meters from Palermo Chico, there is Villa 31. It's one of the poorest neighborhoods in the city, with pre-built houses, no sewers and an extremely precarious electrical system. This reality shows the enormous social contrasts that exist in our country.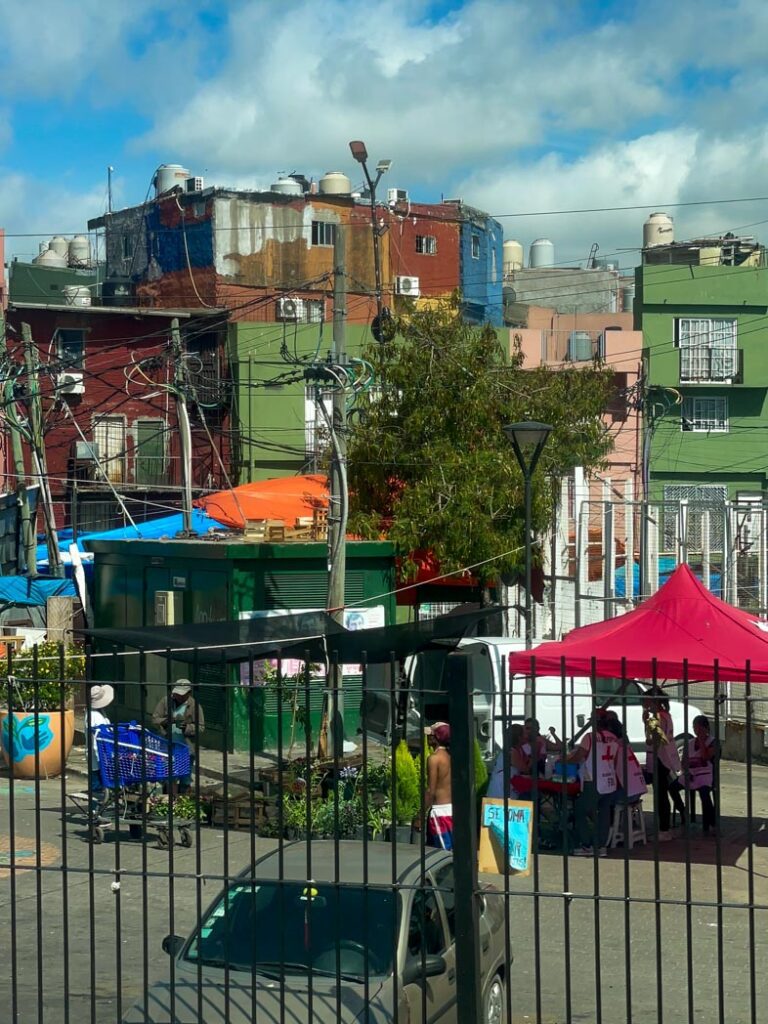 Located in Palermo Chico area, MALBA is the Latin American Museum of Buenos Aires, the most visited museum in BA.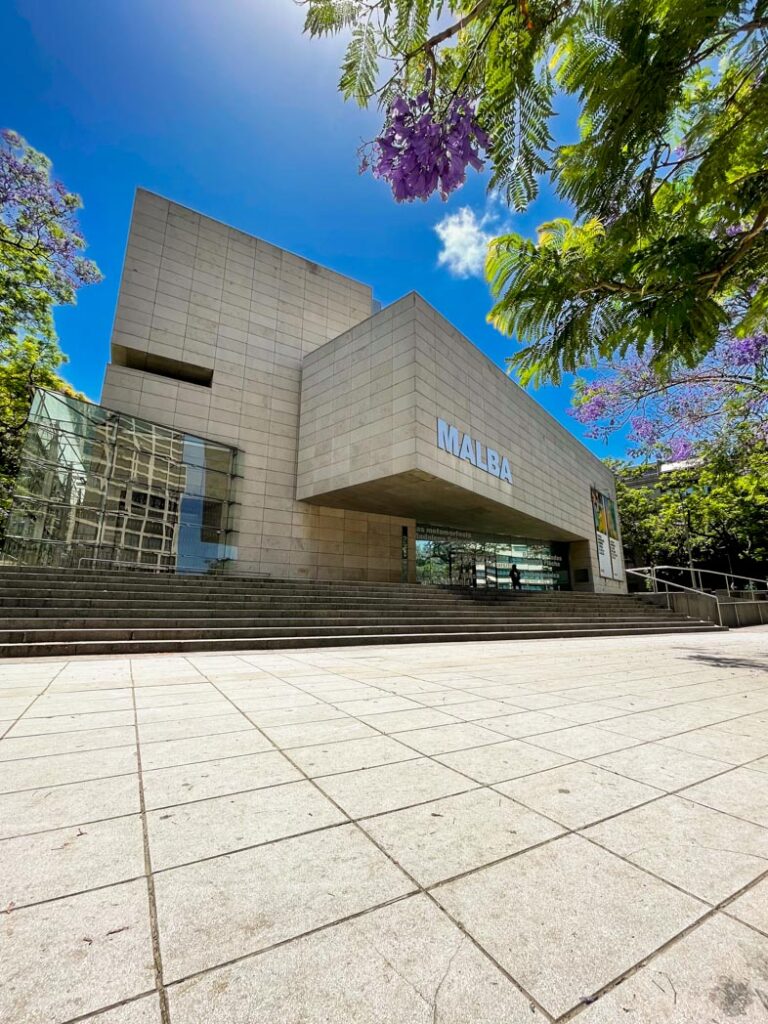 It was founded in 2001 with the aim of collecting, studying, preserving and disseminating Latin American art from the beginning of the 20th century to the present.
The samples are a faithful reflection of Latin American culture. It combines temporary exhibitions with its permanent collection.
In its permanent collection we find works by prominent artists such as: Frida Khalo, Diego Rivera, Xul Solar and Antonio Berni.
Inside the museum, there's the luxurious and expensive Café des Arts, a very exclusive place with privileged views of the park, ideal for those who want to have a drink at the end of their walk. That, of course, as long as they are willing to spend a little more than in the rest of the city .
You could visit the museum's website to see which is the exhibition at your time in Buenos Aires.
Palermo Green Areas in Buenos Aires
Get ready for your tour around the green areas of Buenos Aires in the Bosques de Palermo.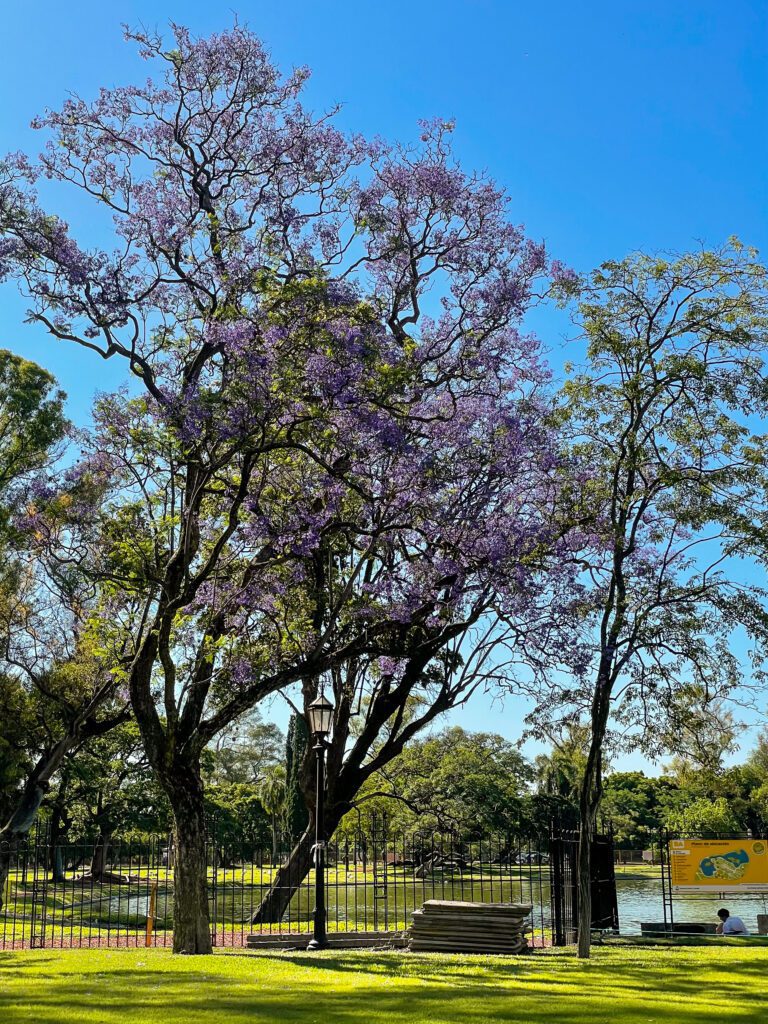 It's a 25-hectare green space, popularly known as Bosques de Palermo. However, there are several parks and each of them has its own name.
Besides, there are 4 artificial lakes on these public parks with an unexpected ecosystem.
It's a recreation area perfect for thole looking for some calm and nature in the middle of the city.
When you'll visit Bosques de Palermo, you'll discover why this is one of the favorite places for Buenos Aires residents. Not only for locals, but also for tourists.
For anyone looking for a place to work out or just relax.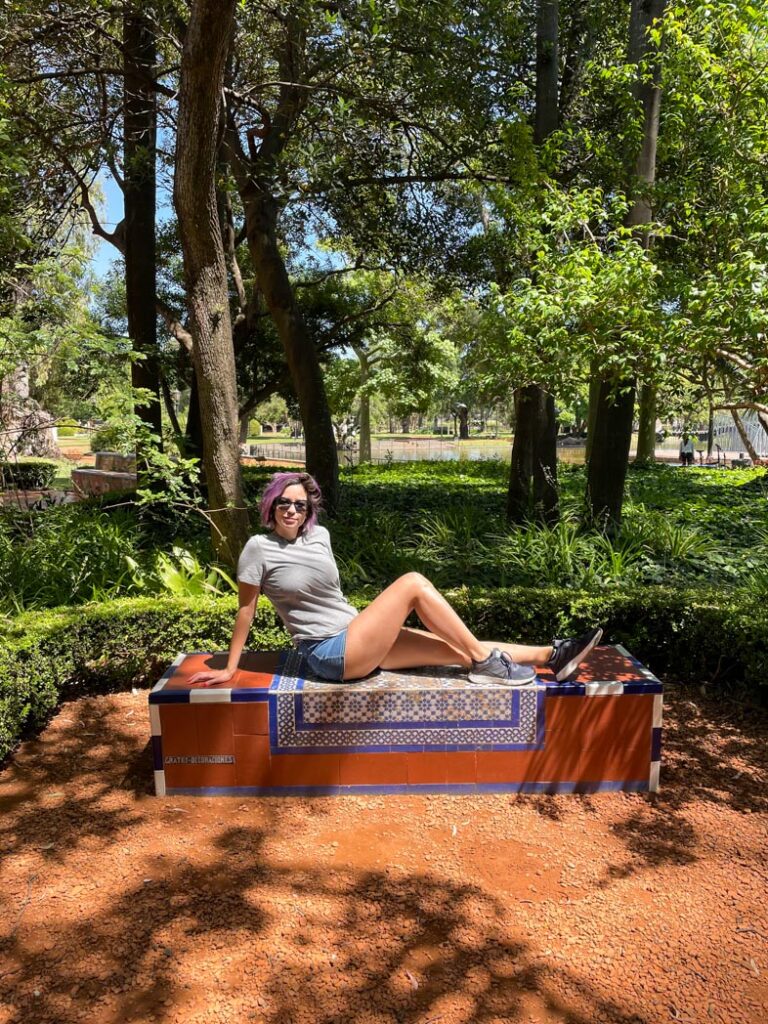 If you feel like eating something, you can try one of the sandwiches from the food trucks that are scattered all over the parks.
The most popular options are the choripán (chorizo sandwich), beef sandwich (churrasquito) or pork meat sandwich (bondiola).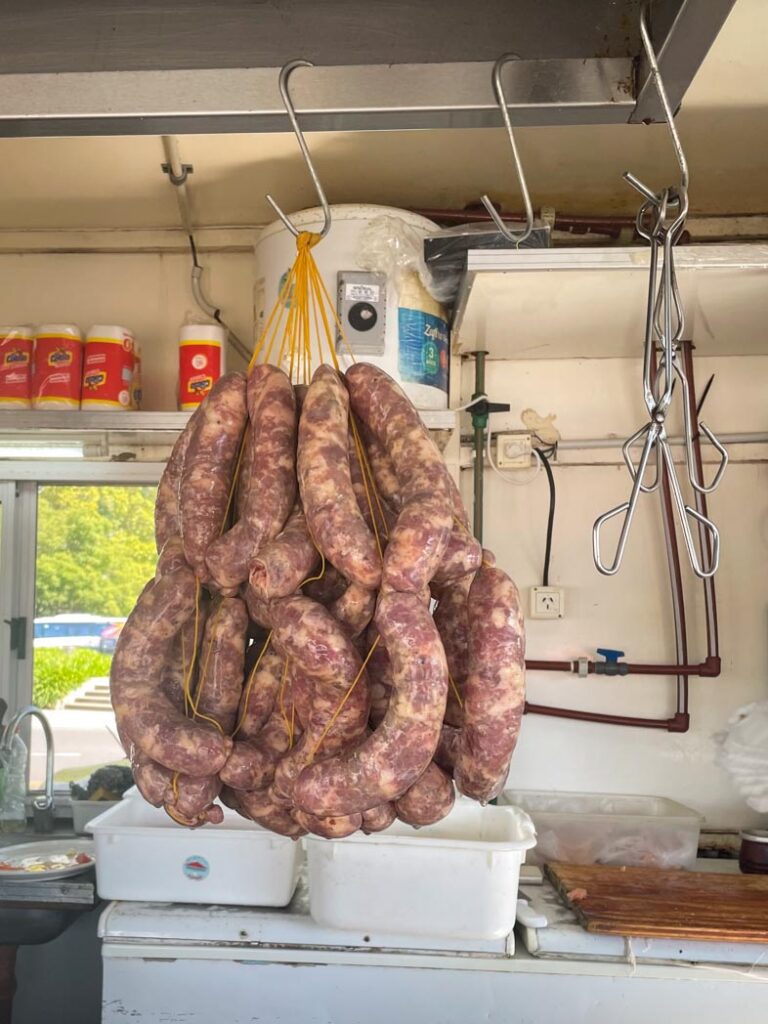 El Rosedal is one of the most beautiful and best maintained parks in Buenos Aires.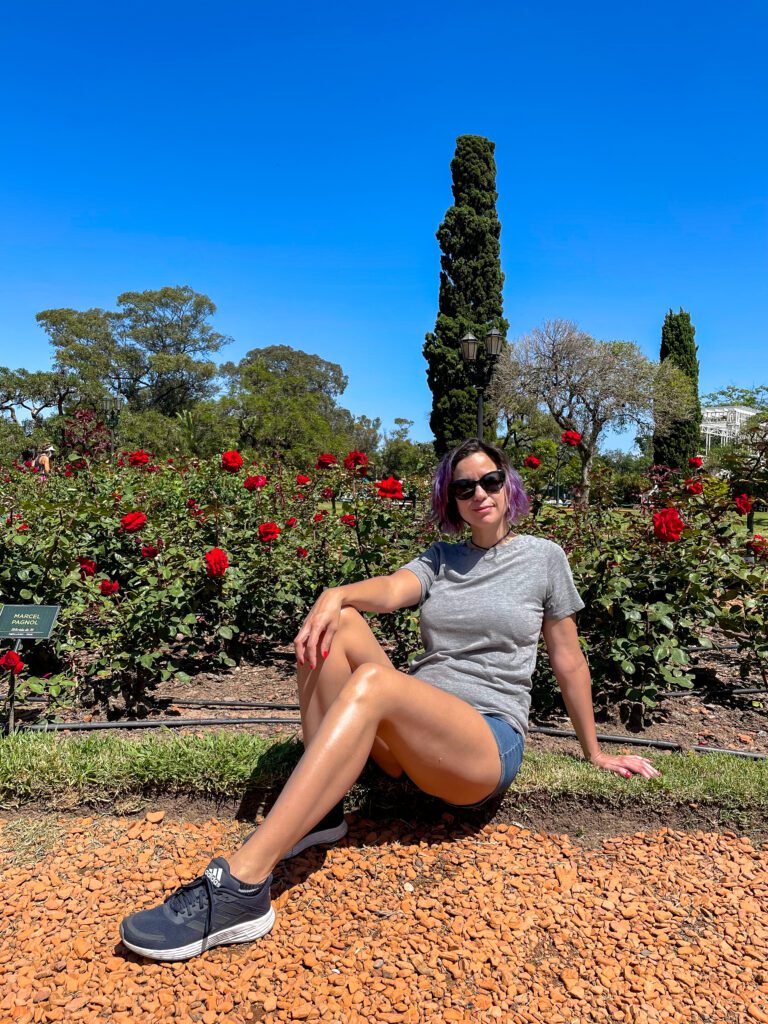 This impressive rose garden features more than 18000 rose plants with a variety of 100 different types of roses.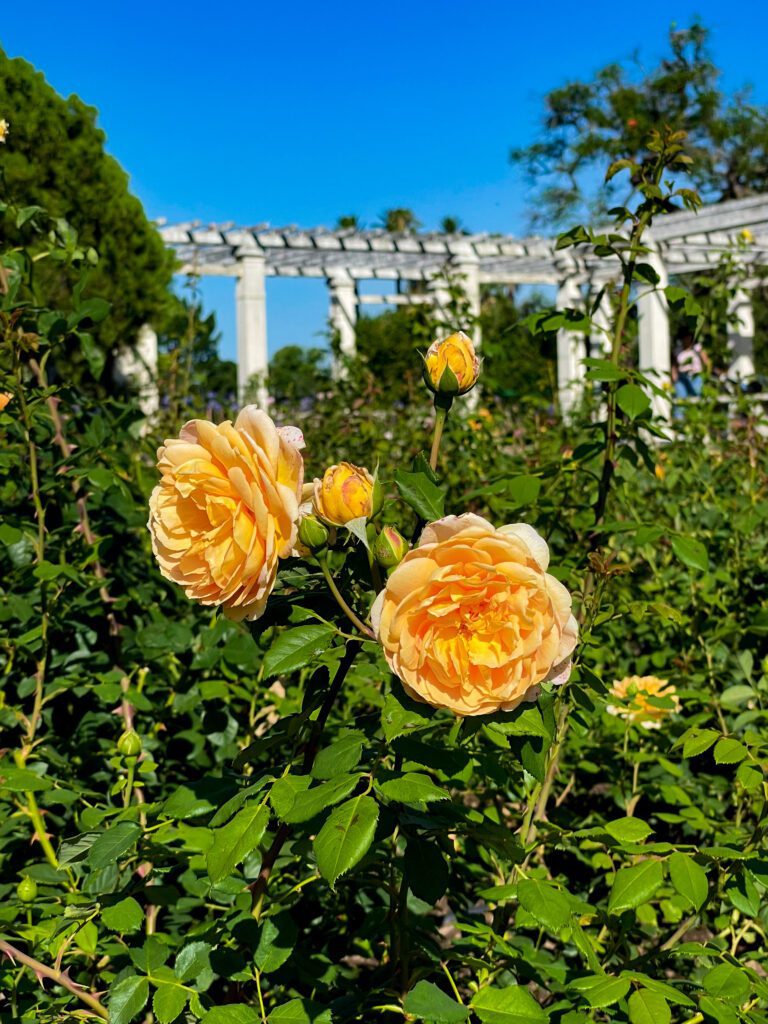 Its entrance is free and its opening hours vary according to the season of the year. Between September 22 and April 21 it opens from 8 a.m. to 8 p.m., from April 22 to September 21 it opens from 8 a.m. to 5 p.m. In any case, this park is not open on Mondays.
We recommend you spend a long time visiting the almost 4 hectares that this park occupies.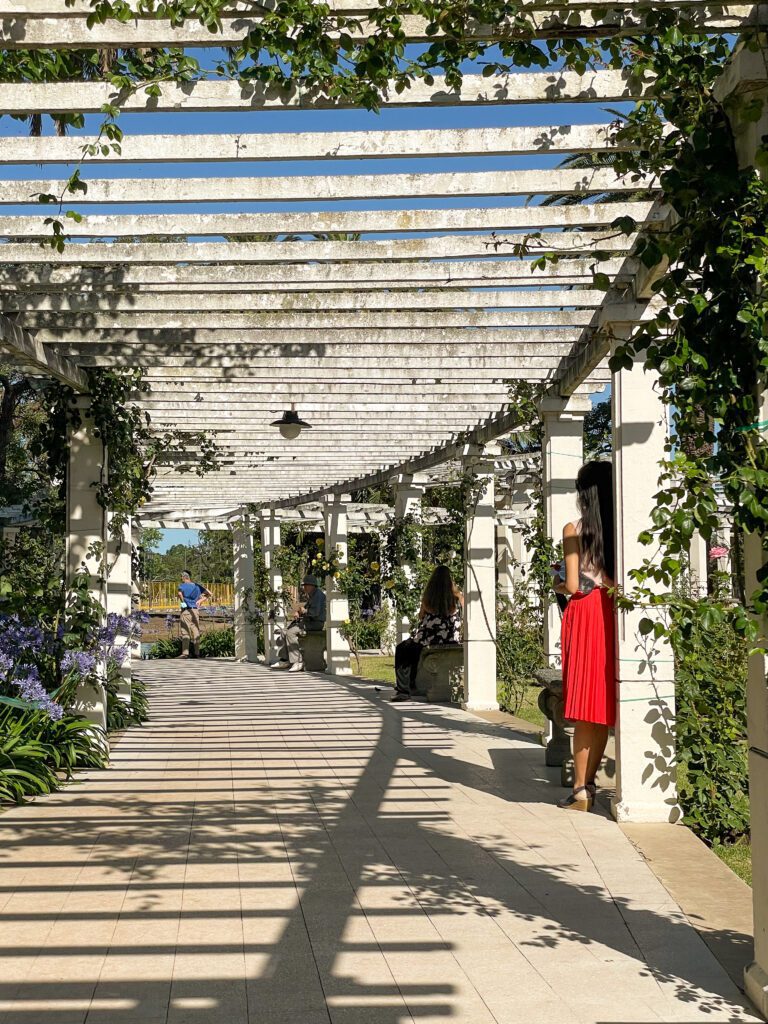 It's likely that during your visit you'll find many people working on a photo shoot, especially quinceañeras. In Argentina, we have a great tradition of celebrating on a big party when a girl turns 15. You may also find couples who taking their wedding pictures.
This icon of Buenos Aires is located in the Bosques de Palermo, within the 3 de Febrero Park.
This building of curious architecture was built with the goal of to disseminate astronomy science through educational shows and activities.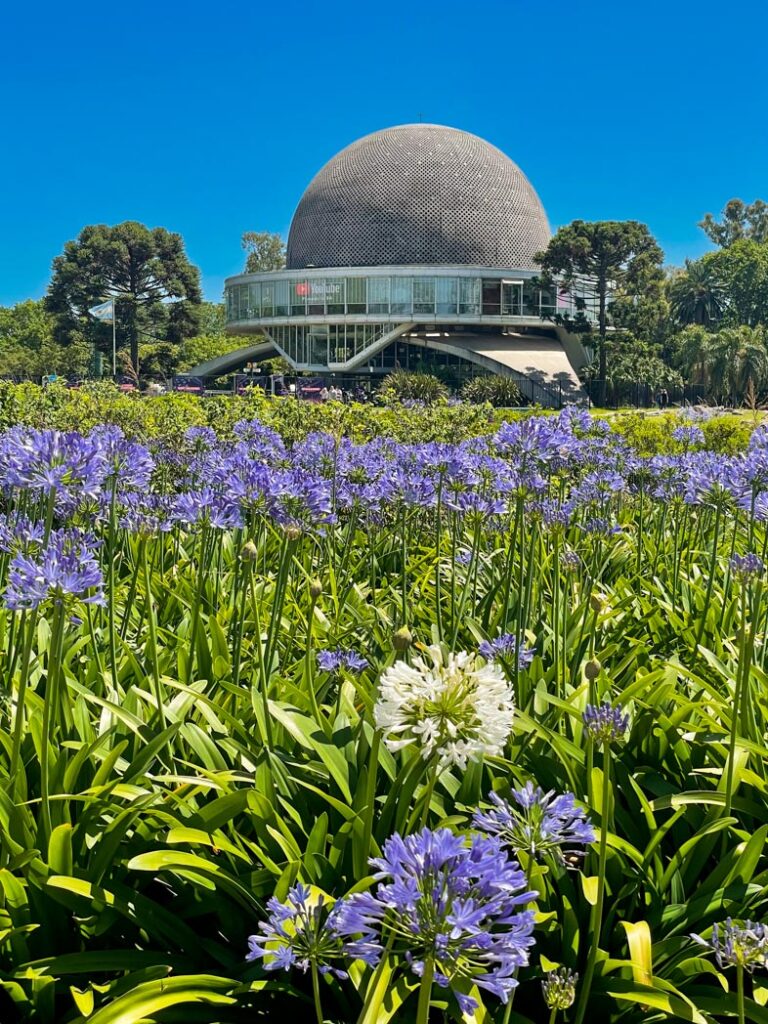 At its entrance you could see 3 metallic meteorites that fell on Argentine territory.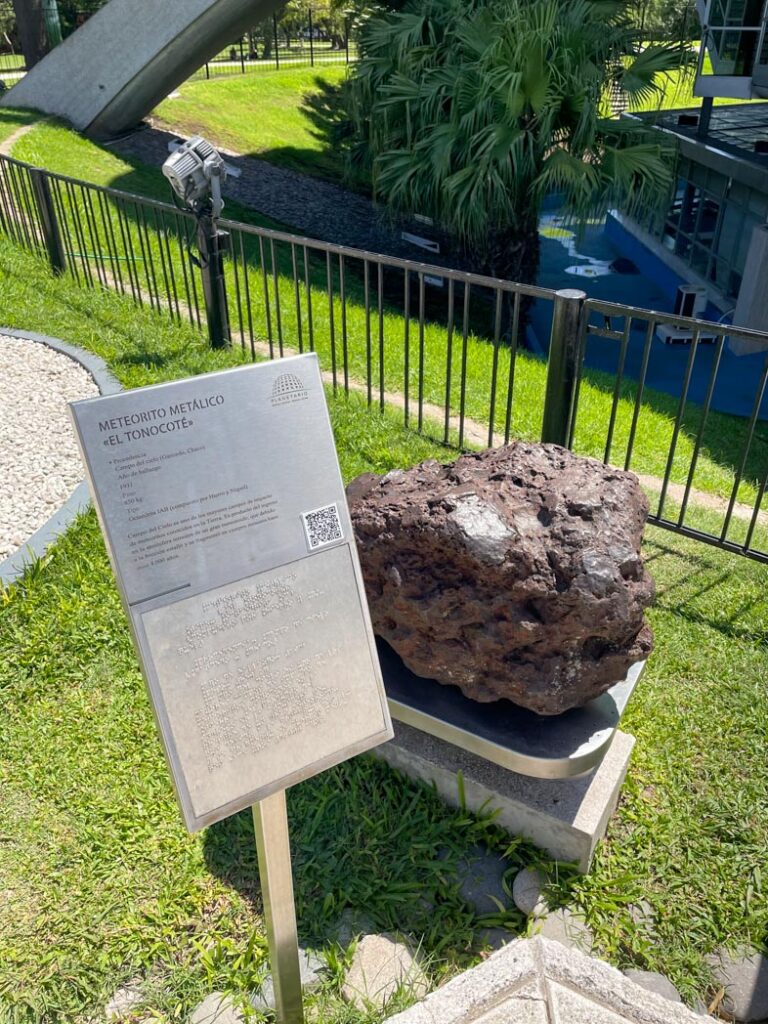 Without a doubt, the most impressive characteristic of this building is its shape. It emulates Saturn, although we could also say that it looks like a spaceship, a noodle strainer, or a giant golf ball.
We also recommend you visit this Buenos Aires icon late at night, when the lights on its roof that makes it looks like a futuristic building.
This garden is basically a little piece of Japan within Bosques de Palermo.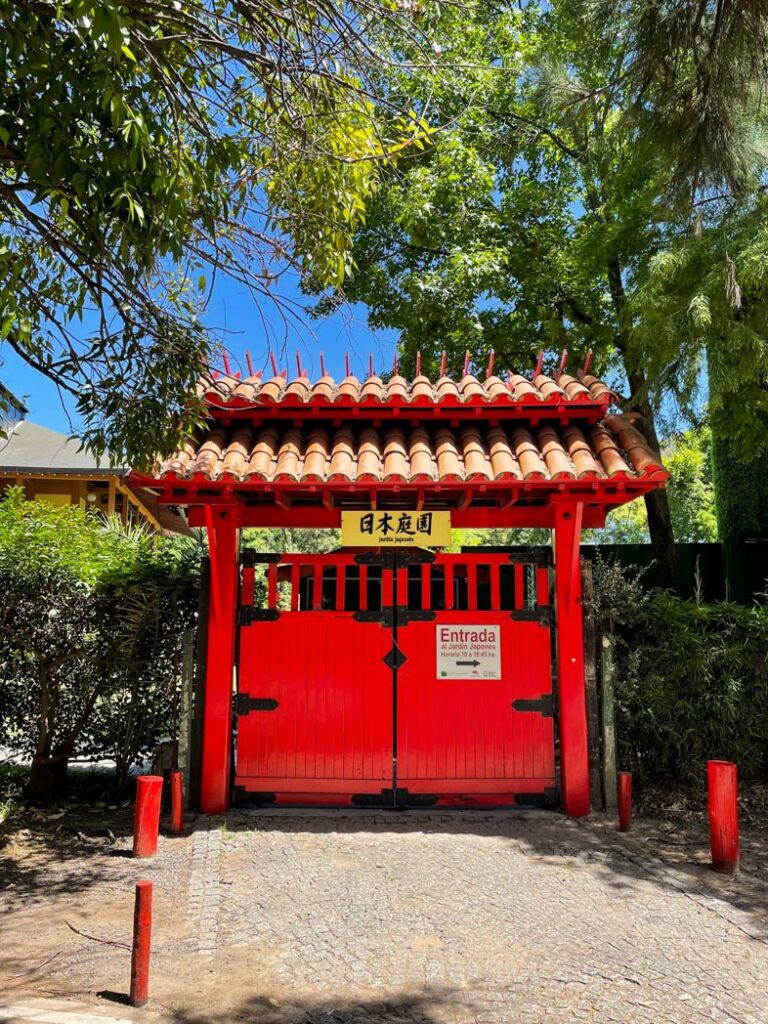 The Japanese Garden was classified as a "space of harmony and tranquility in the middle of the big city".
Within this impressive park we find cherry trees, water lilies, azaleas, lakes that are full of carp fish of different traditional colors and Japanese-style bridges to cross the lake. Be ready to get immersed in the Japanese culture.
Within the park, there is a building that houses a Japanese culture museum, a plant nursery where you can buy bonsai and other species of plants such as sakura and orchids.
Furthermore, there is a sushi restaurant and, of course, it's one of the best ones in the city.
Although the entrance to this park is not free, the ticket is very cheap. And you'll know you'll be contributing to the park maintenance.
Just in front of 3 de Febrero Park we find this curious and brand-new park.
It's the location of the old Buenos Aires Zoo that was open there until 2016. Finally, it closed its doors due to the cruelty related to keeping animals locked in cages in the middle of the city.
The goal was to transform it into an Ecopark. But it's been a long process since then .
In the new Ecopark, there should be just animals that can move freely around the park. There would also be limited access for visitors and the prohibition of feeding the animals.
Even today there are large animals living in the Ecopark, such as giraffes, zebras, a hippopotamus, 2 elephants (until March 2020 there were 3 elephants, but one of them has already been transferred to an elephant sanctuary in Brazil).
The park is a very attractive place to visit. You would not only see local animals living in freedom, but also the cages where the zoo animals used to be locked up, that are true pieces of art.
Each cage was designed according to the country of origin of the animal that lived there. So we may find buildings with Chinese, Hindu, Moorish and Greco-Roman architecture styles.
Buenos Aires Botanical Garden is located in Palermo neighborhood. You could find its main gate on Santa Fé Av., approximately 1 km away from Bosques de Palermo.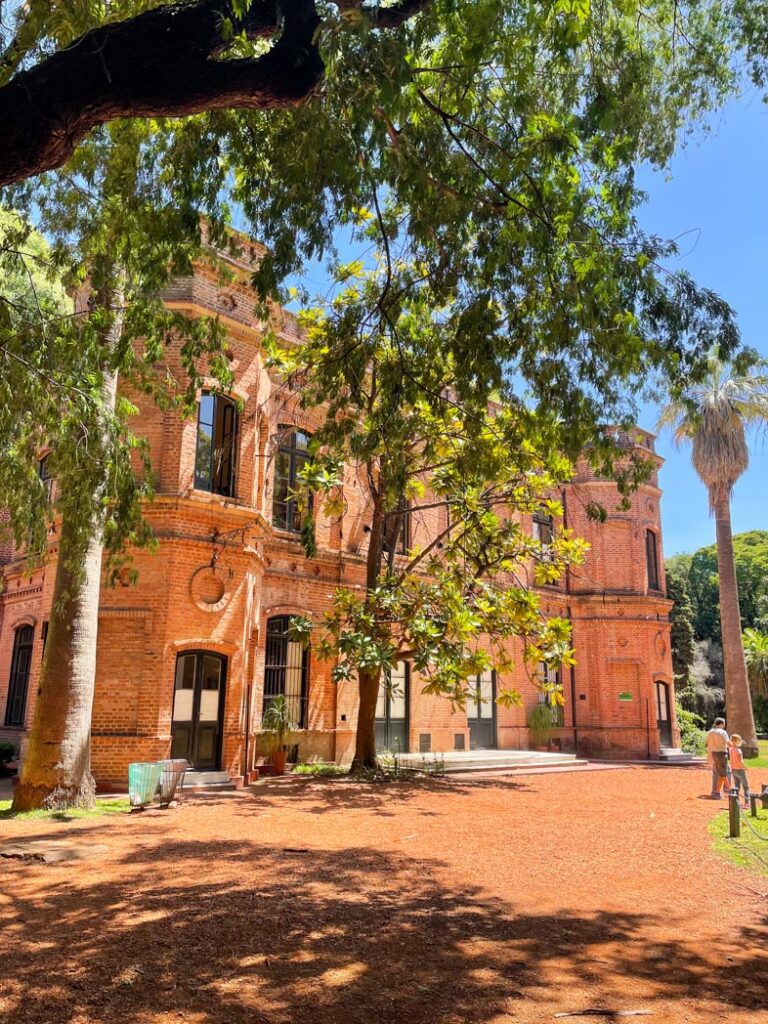 During summer this place is an oasis in the middle of the city. Thanks to its lush trees, the temperature inside the garden is always cooler than outside. A great plan for those hot days with more than 30 °C.
This garden occupies 7 hectares and it's home to more than 6000 plant species. Il also houses sculptures and greenhouses.
Besides, there is an English-style house, that today is used for exhibitions. There used to live Charles Thays, the French landscape architect that designed the Botanical Garden, among others green areas in Argentina.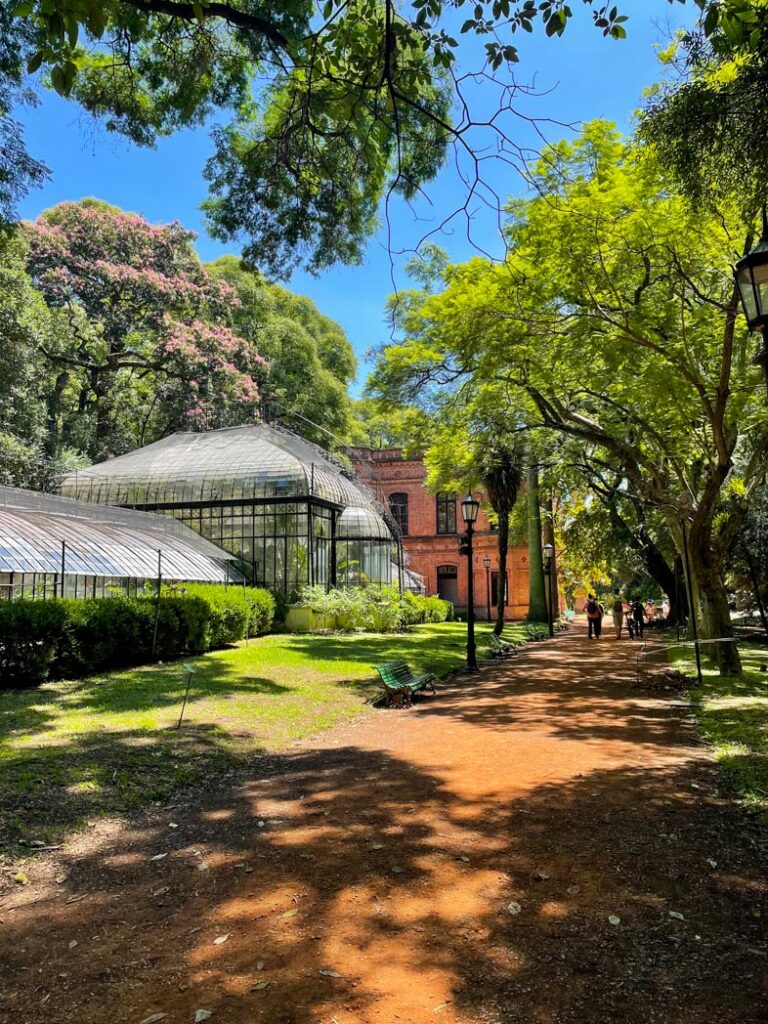 One of the most attractive areas is the Butterfly Garden, a garden within the Botanical Garden that has plants specially placed there to attract butterflies, so you can see thousands.
Another interesting area within the garden is the Senses' Garden. Here you will find aromatic and perfume plants and with varied textures to touch.
This space is frequently visited by blind people, school children and children with different abilities.
Palermo Soho y Palermo Hollywood
Nothing better than finishing our tour walking around the trendiest areas of Buenos Aires: Palermo Soho and Palermo Hollywood.
Palermo neighborhood, as you may have already noticed, is the neighborhood with the largest territory in Buenos Aires city.
Being the neighborhood so big, in order to identify its different areas, people started using different names, so today we have: Palermo Soho, Palermo Viejo, Palermo Chico, Palermo Hollywood and Bosques de Palermo.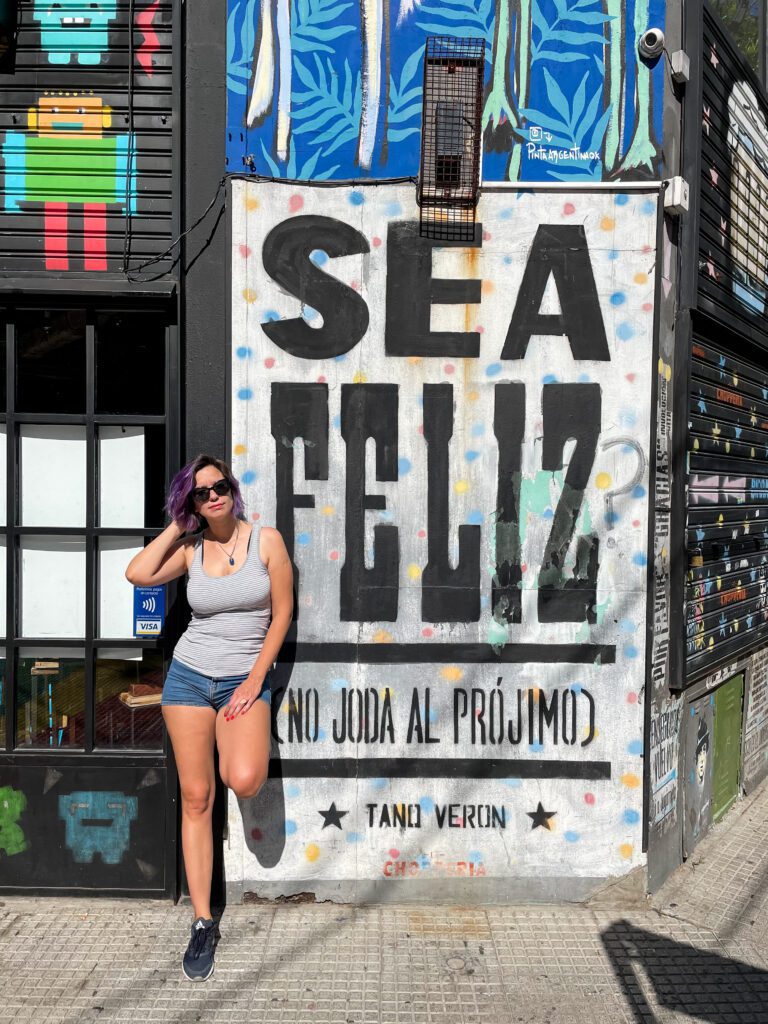 For the past 20 years the look of the neighborhood has changed a lot until it became what it is today: one of the coolest neighborhoods in the world, according to many travel specialists.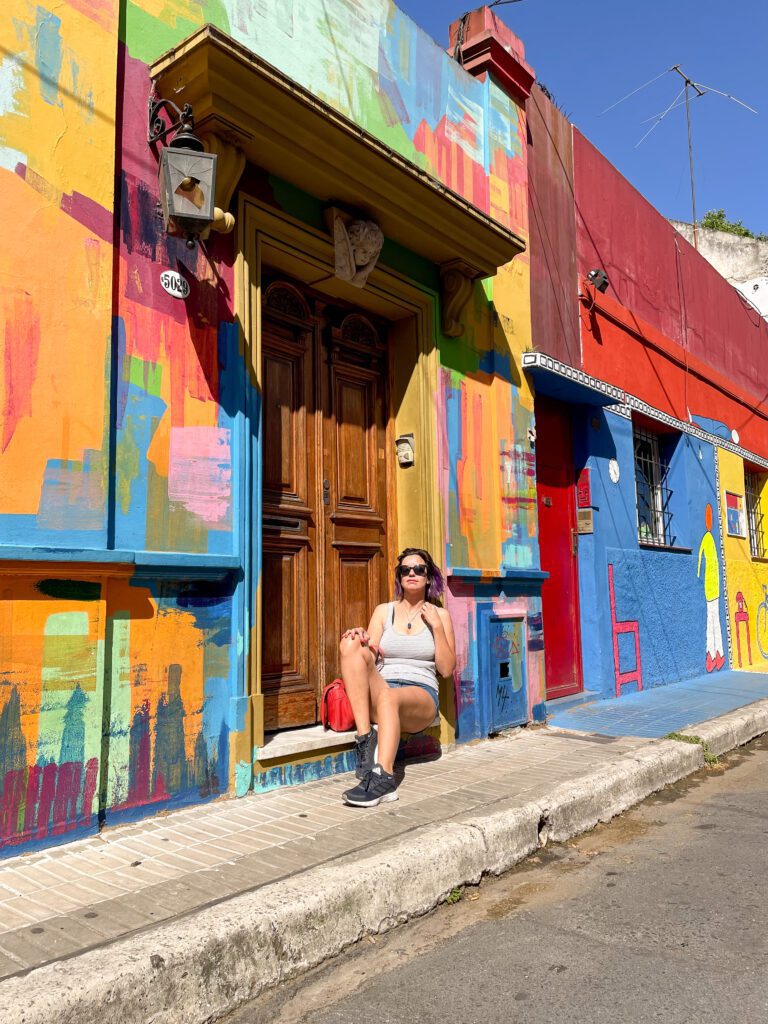 Both Palermo Soho and Palermo Hollywood stand out for their wide food offer, their nightclubs (known as boliches in Buenos Aires) and clothing stores.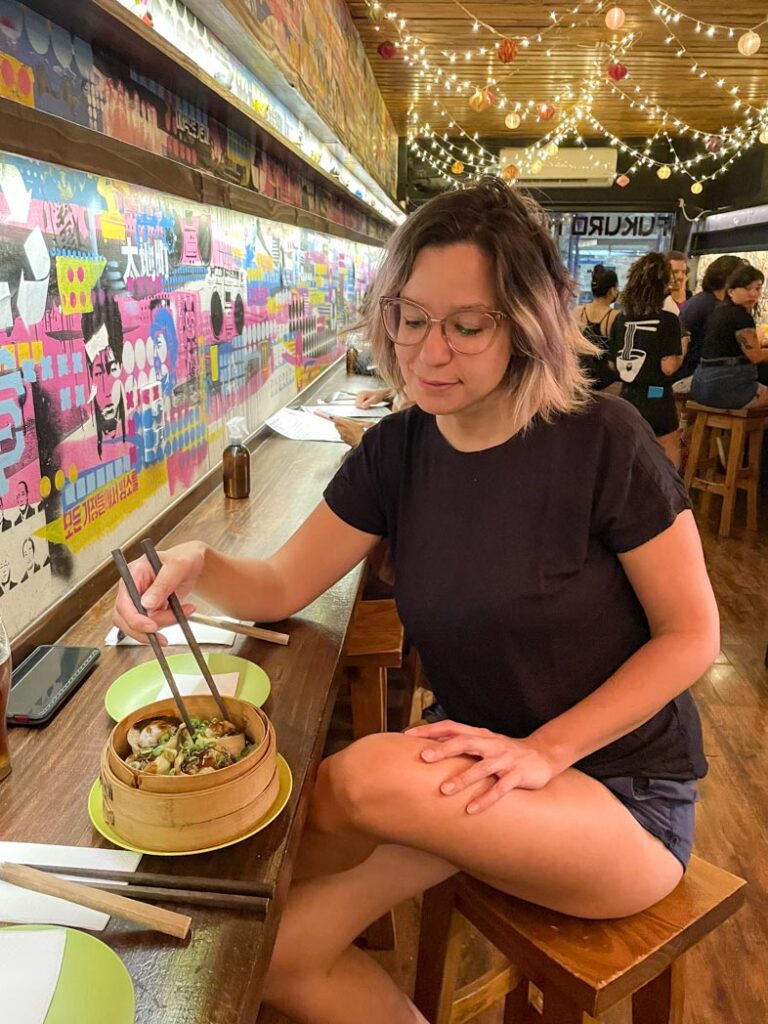 Here you'll find the main nightlife activities of the city. So, every day of the week this area will be very busy even at night.
If you want to take a break for a craft beer, it will not be difficult to find a bar, there are at least 2 per block. You could follow our food recommendations in Palermo if you want to eat something.
Buenos Aires City History & Growth
Paseo del Bajo is a modern green promenade opened in 2019, just behind Plaza de Mayo in the center of the city.
Thanks to this megaproject, that featured the construction of an underground highway, it was possible to decompress a busy area and open new green spaces in Buenos Aires.
This promenade is located just in front of Puerto Madero, among impressive French style buildings from the old BA. The one that stands out the most is definitely the CCK.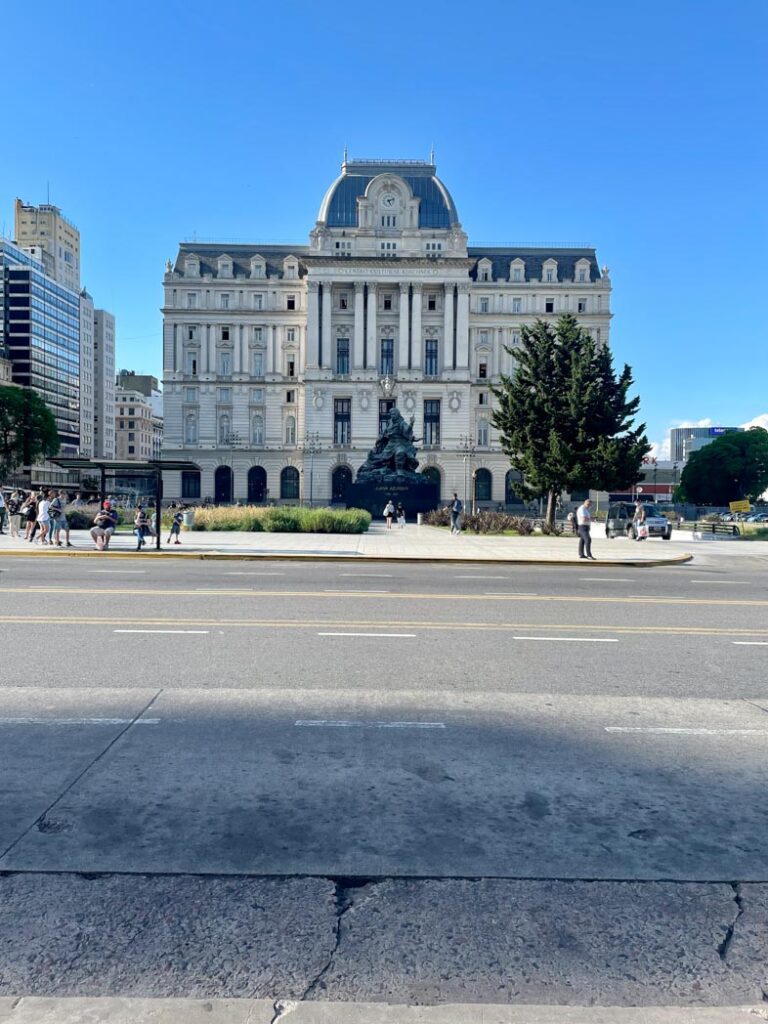 CCK stands for Centro Cultural Kirchner. Its building used to house the central post office. After many years of neglect, it was completely restored to make way for a cultural center.
You could just take a photograph of CCK building's façade including the statue of Juana Azurduy (heroine of South American independence) and continue your tour. But in addition, CCK offers guided tours and different activities that you could check on its website. We highly encourage to visit its interior, it's super beautiful! Do not miss the chance to visit this area. By exploring Paseo del Bajo, you'll discover a totally different Buenos Aires.
This emblematic square in Argentine history is known as the center of the city for being the place of Buenos Aires foundation.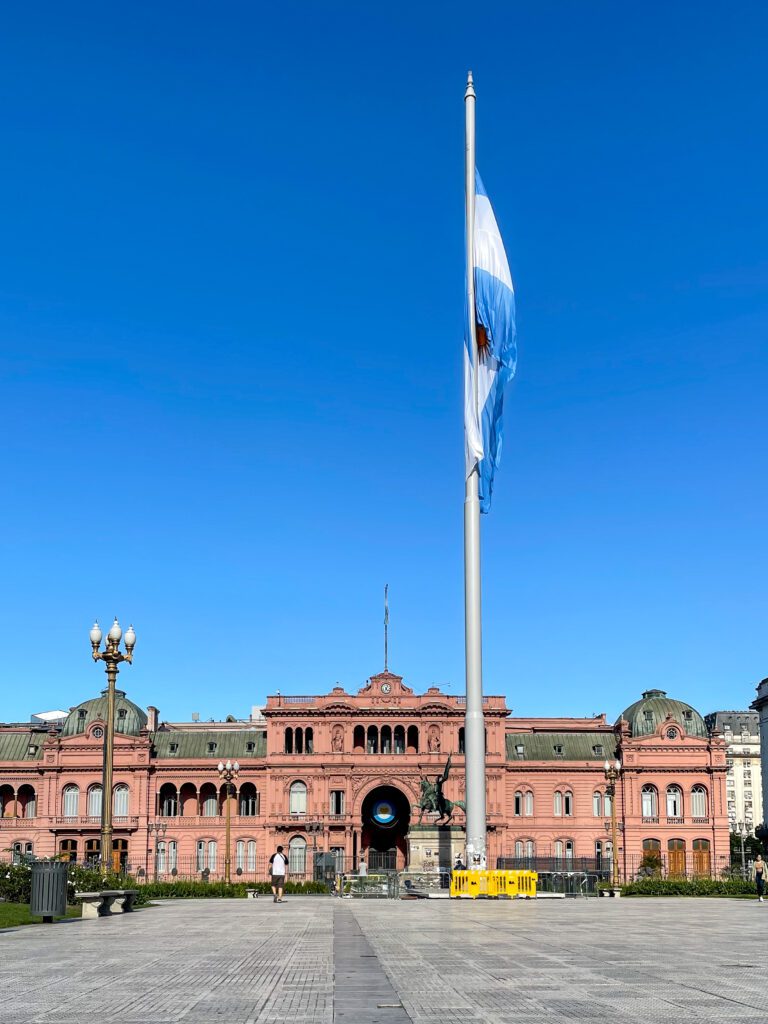 Plaza de Mayo is where the most important political events in Argentine history occurred, occur and will occur. Most demonstrations and popular celebrations will take place here and it's a very busy area.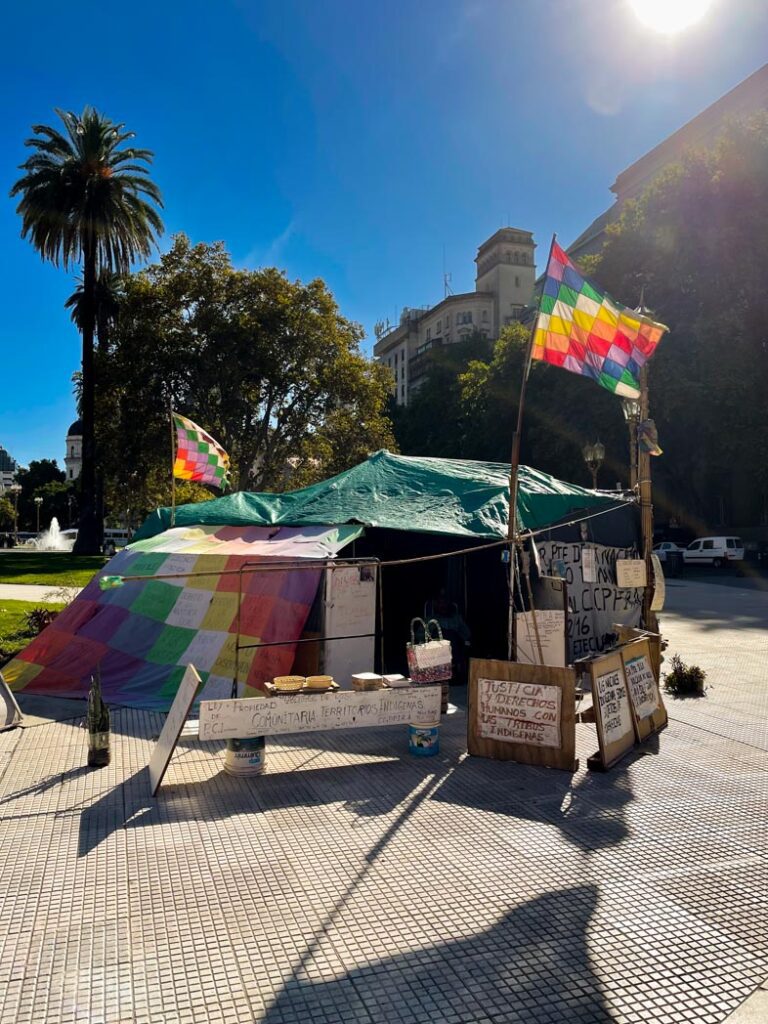 The square is surrounded by important buildings such as: La Casa Rosada (government house), The Cathedral of Buenos Aires, El Cabildo (government building during the colony times), El Banco Nación, La Legislatura Porteña (the City Council ), etc.
In Plaza de Mayo surrounding areas all the economic, political and administrative life of the city and the country is focused.
All bank head offices, government buildings and headquarters of the main companies in the country are located around Plaza de Mayo.
This centralization makes the area very crowded, so traffic collapses every day at all hours.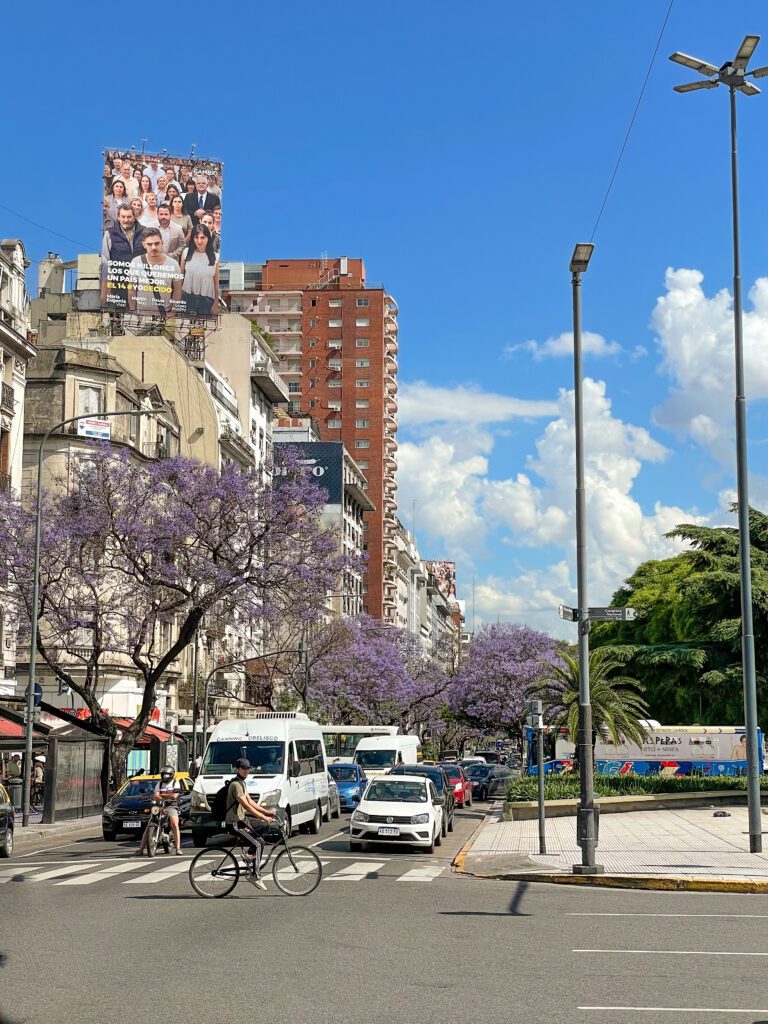 Whenever there is a massive demonstration, we strongly recommend avoiding visiting the area, as it will be impossible to get even close to the square.
If you have time and want to try the best empanadas in the world, go to La Morada, they have their restaurant / museum a few blocks from Plaza de Mayo.
Avenida Corrientes / Obelisco
Corrientes Av. and El Obelisco are 2 Buenos Aires icons that lost relevance over the years but still retain their charm.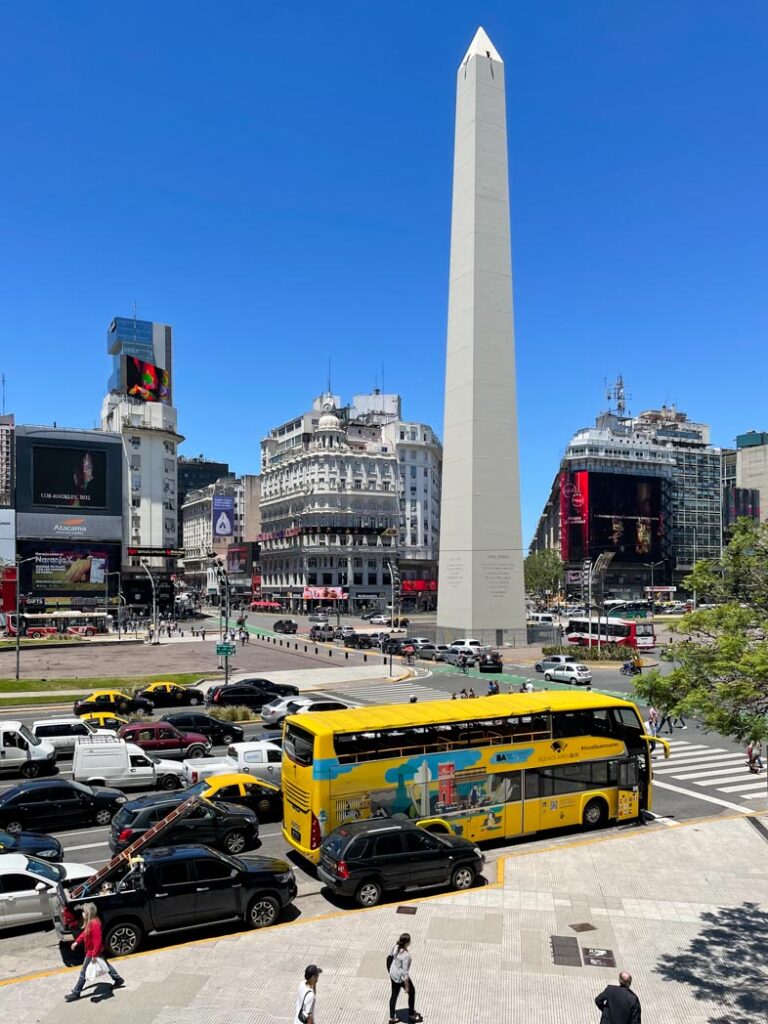 Corrientes Avenue is very long, and its visual aspect changes according to the different neighborhoods.
In the city center, Corrientes Avenue is known as "the street that never sleeps".
The area is also known as Buenos Aires "Broadway", as many theaters are located there.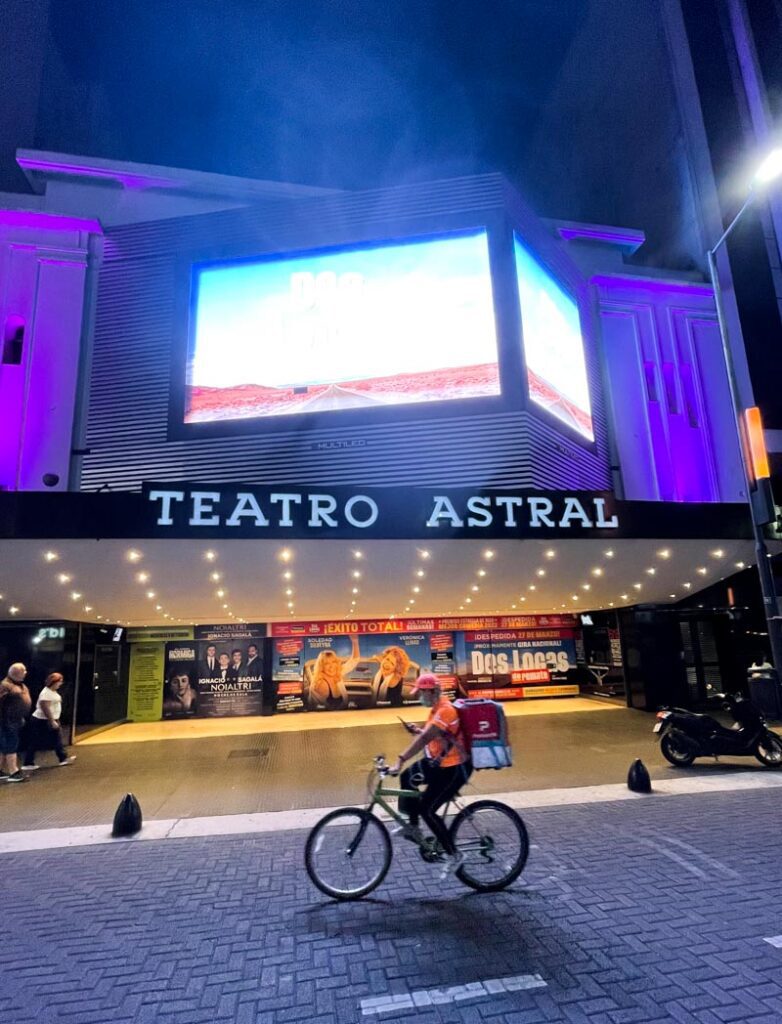 Bookstores and pizzerias are also another feature of this avenue in the center of the city.
Regarding bookstores, Buenos Aires is the city with most bookstores per inhabitant in the world.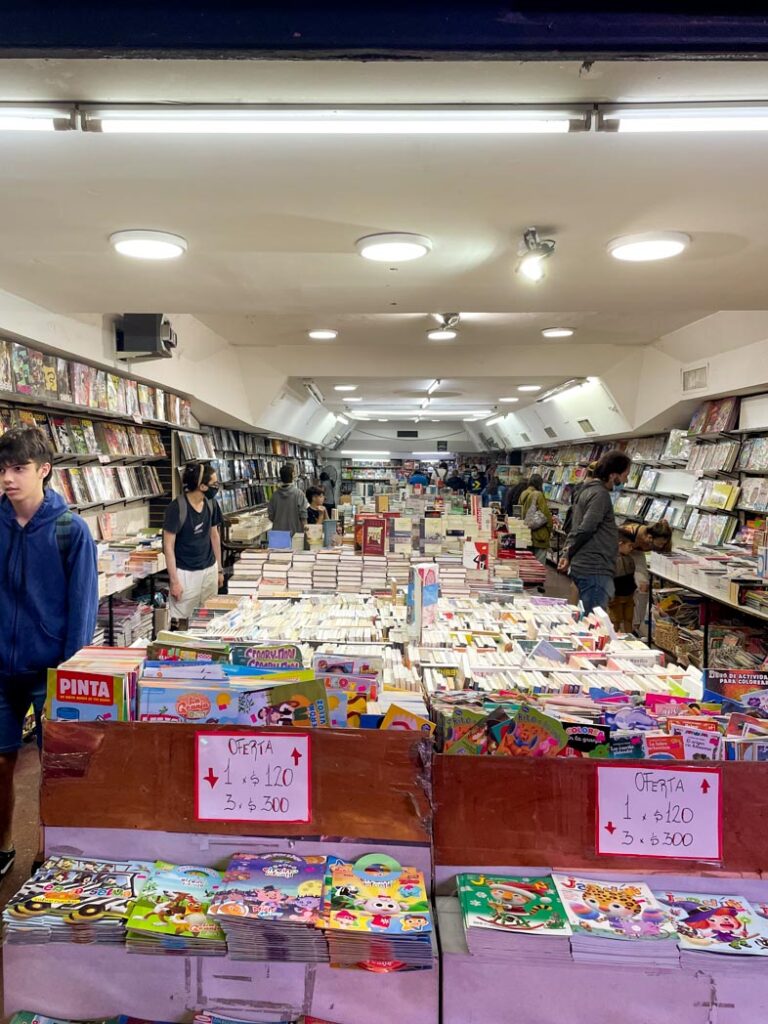 Pizza is actually a typical meal in Buenos Aires, due to its Italian heritage. On Corrientes Av. we can find traditional pizzerias such as Banchero, El Güerrin, Los Inmortales, Las Cuartetas.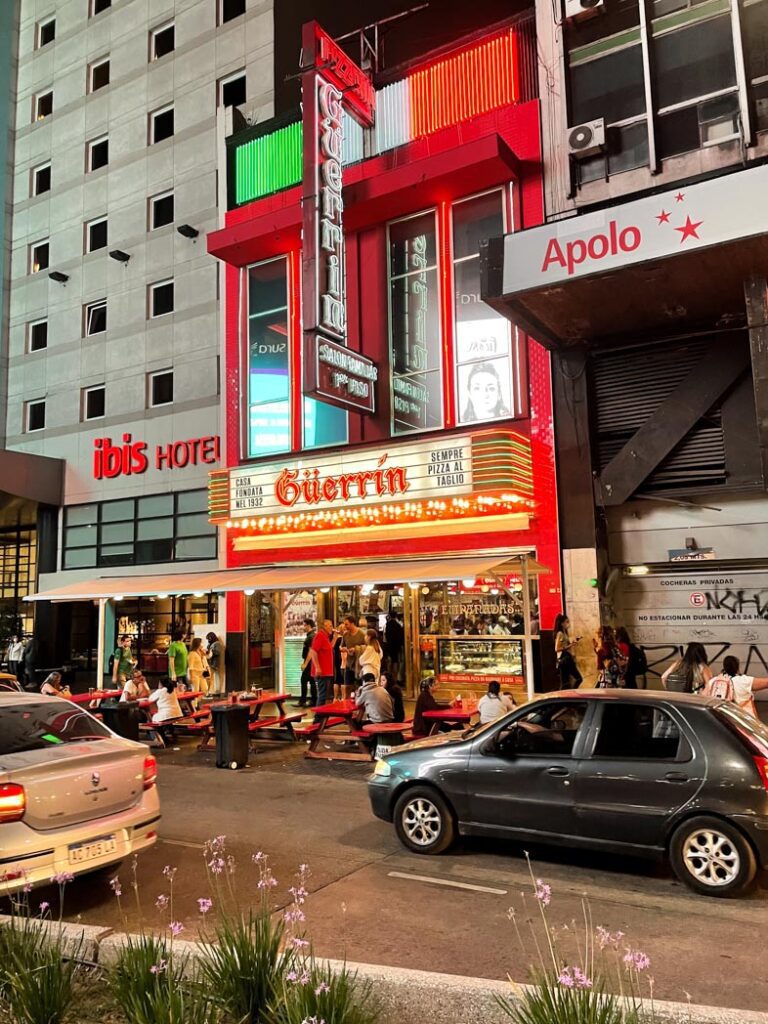 You could order just a slice of pizza, and if you are running out of time, you could order it at the bar and eat standing up. Don't miss the chance to try the fainá. Well, you can find more information about pizzerias and fainá in our food recommendations' post.
Teatro Colón is an impressive opera house located a few meters away from Obelisco in the center of Buenos Aires City.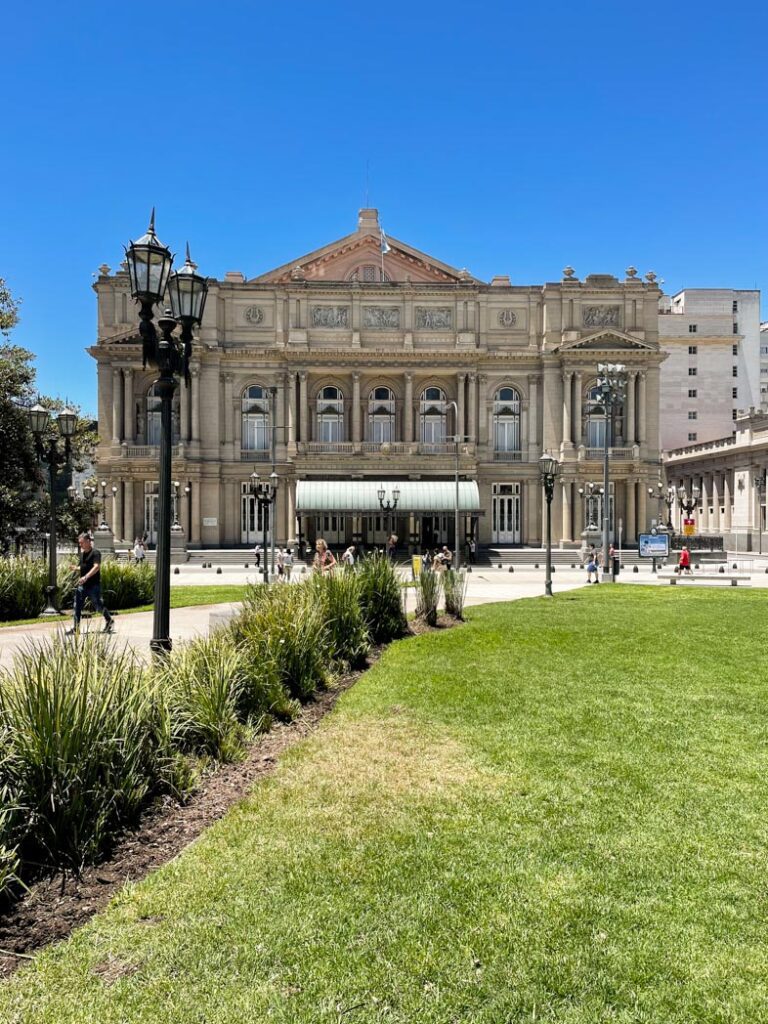 With its impressive architecture, you will be tempted to take pictures of the building from all its angles.
Its main entrance is in front of Plaza Lavalle and not on 9 de Julio Avenue. Although, anyone would think that the entrance should be on this avenue, the construction of the theater predates the avenue.
Not only is it a beautiful building, above all else the Colón Theater, due to its size, acoustics, and trajectory, it came to be considered one of the best lyrical theaters in the world.
You can compare it to the best opera houses in the world: the Scala Halls in Milan, The Metropolitan Opera House in New York, the Vienna State Opera, the Royal Opera House in London, and Paris Opera.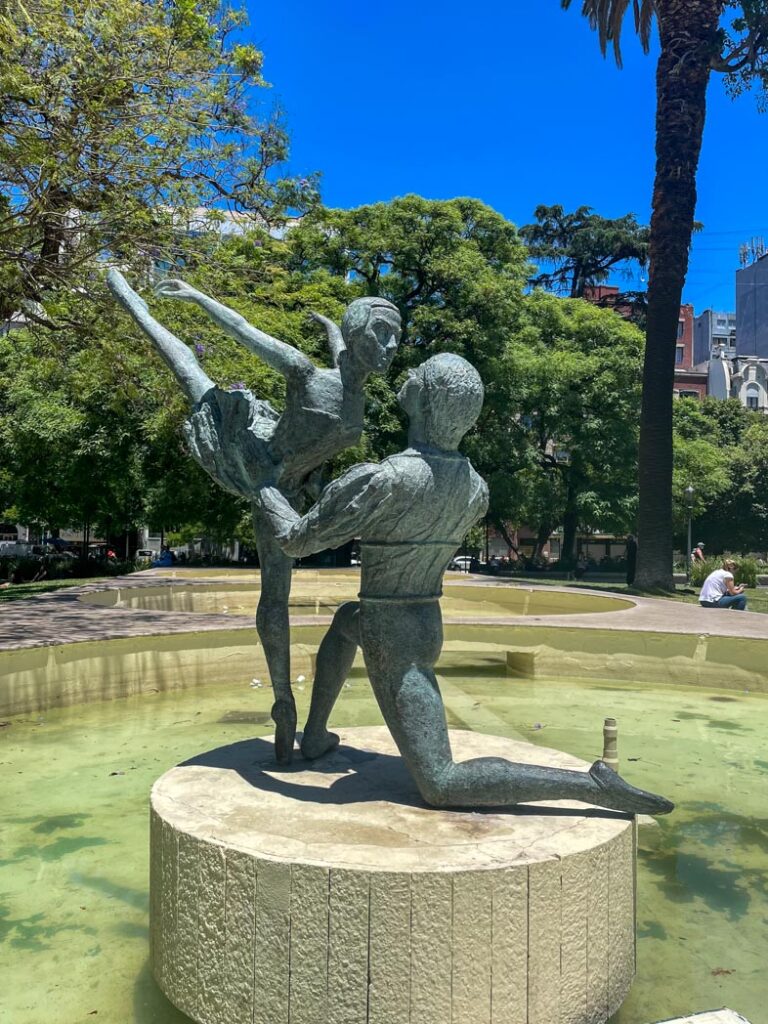 If you have time and you are a music or architecture lover, we recommend you take a guided tour of the theater. And why not, maybe go see a performance as well.
Visit the theater website to learn about the shows and guided tours at the time of your stay in the city.
Just in front of Colón Theater, you will see an imposing building that will catch your attention, it is the Courthouse.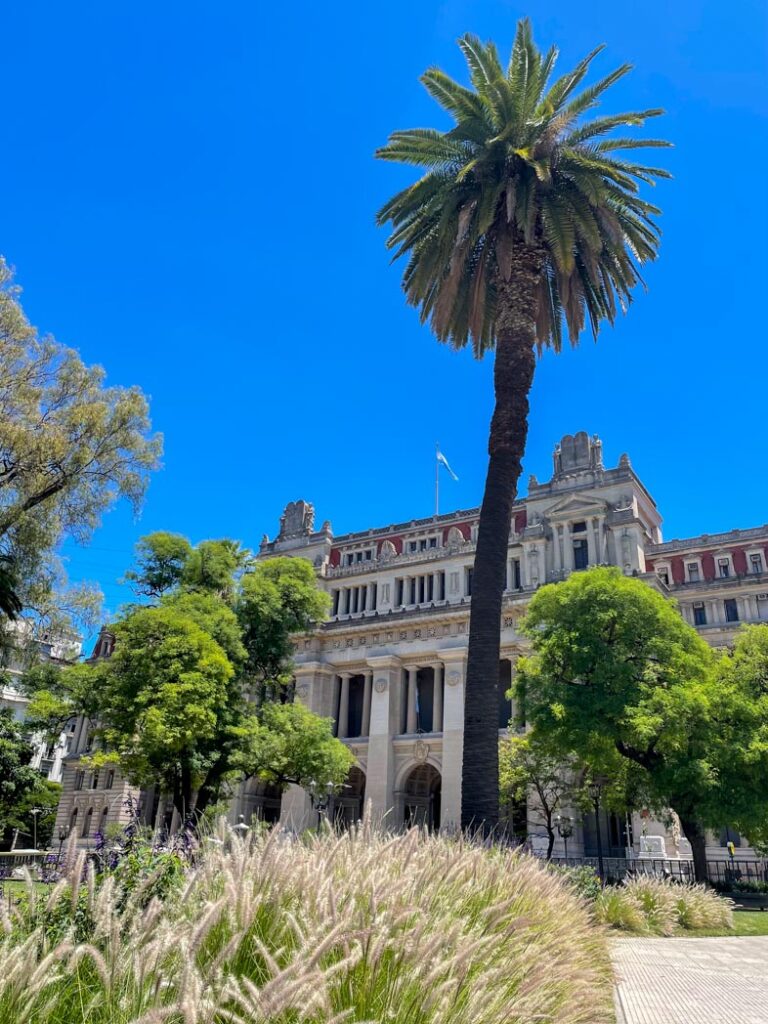 This building, also known as the Palace of Justice, is the seat of the Judiciary and the Supreme Court of Argentina.
Its architecture maintains a perfect symmetry. And the building is decorated with symbols that refer to the idea of justice, such as the balance or small axes surrounded by bundles of rods, symbols of Roman power.
We also recommend that you get in the hall of the Courthouse, so that you can see the 3-meter statue made of bronze, representing justice, crafted by the artist Rogelio Yrurtia.
In this area you may find several interesting gastronomic proposals.
Cadore, the best ice cream in the world (listed by National Geographic as one of the best in the world).
Just next to the ice cream shop, there's El Gato Negro, a traditional coffee shop in Buenos Aires.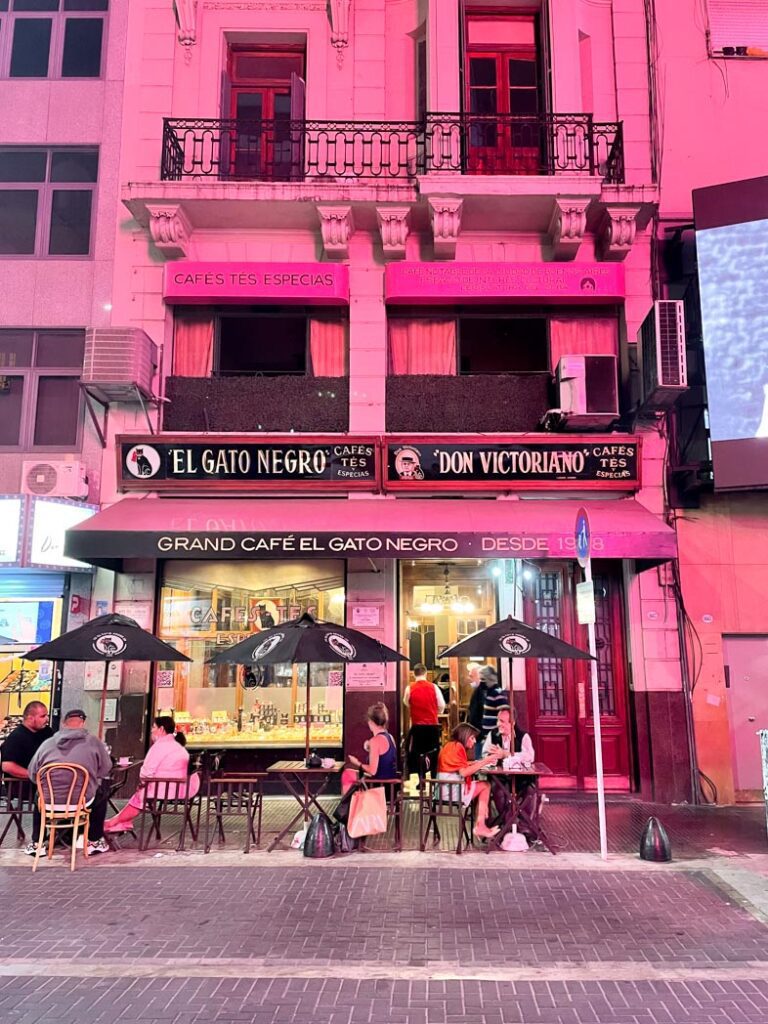 Finally, we would like to recommend the pizzeria El Cuartito that offers the best fugazzeta pizza in the city.
Palacio Barolo y Avenida de Mayo
Avenida de Mayo was designed and built at the end of 19th century to connect Plaza de Mayo with Plaza del Congreso de la Nación.
It was the first avenue in the country and in all South America.
On Avenida de Mayo we find many old buildings with Art Nouveau, Belle Époque and Art Déco styles. They probably make this avenue the most beautiful one in the city.
Many traditional cafes were opened on Avenida de Mayo, following Parisian style.
Among them, there is Café Tortoni, the oldest in the city. If you want to have a coffee at El Tortoni, be patient because you will surely have to queue.
One of the buildings that stands out the most is Palacio Barolo, a building inspired in the book "The Divine Comedy" by Dante Alighieri.
Curiously, it is not a book written about a building, but the opposite, a building designed from a book.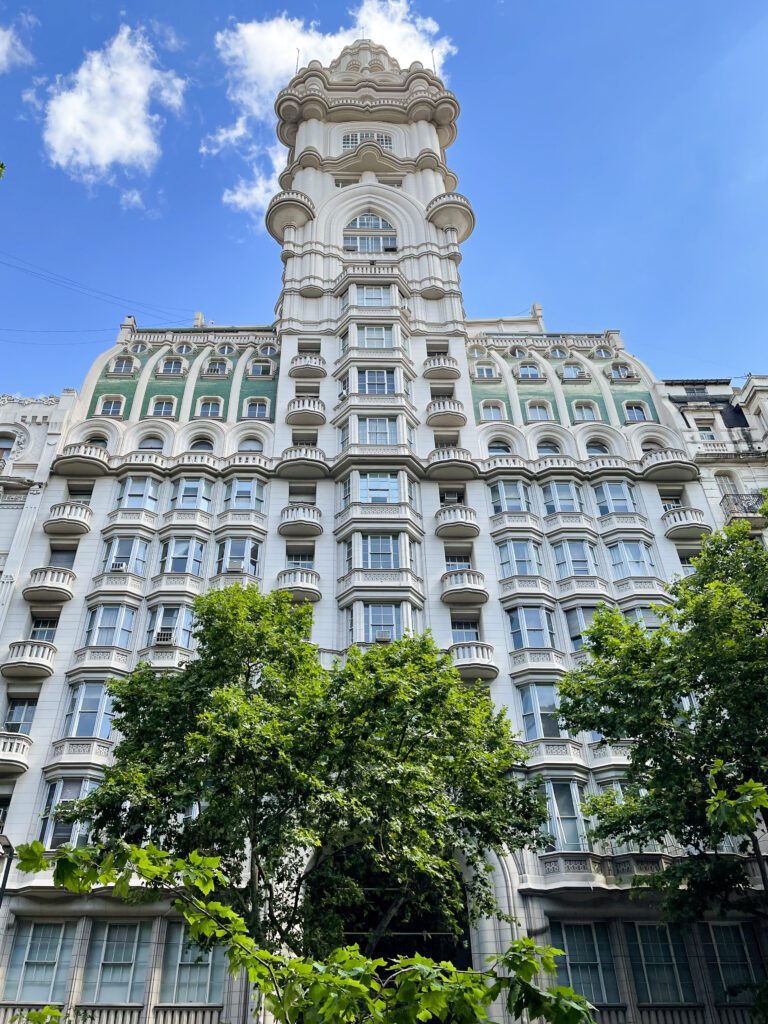 On the terrace of the Palacio Barolo there is a bar with impressive views of Avenida de Mayo. Therefore, it's not only ideal for having a coffee or a drink but also for taking many photos.
Guided tours are organized in Palacio Barolo, you could follow the next link to see what days and options are available.
Palacio del Congreso de la Nación Argentina
Palacio del Congreso is located a few meters from Palacio Barolo at the end of Avenida de Mayo.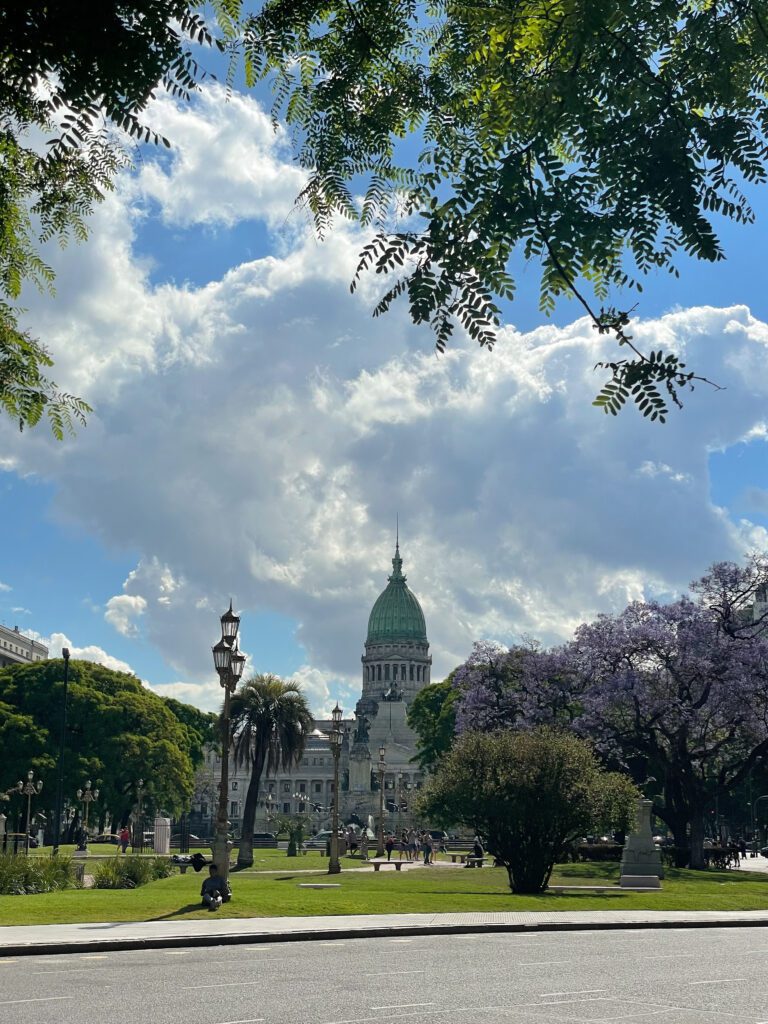 It's our Congress Building, where parliamentary activities take place. What's interesting is that it's one of the largest parliaments in the world, occupying the entire block where it's built.
You can spend hours observing and photographing every detail placed on its façade or on its domes.
The square in front of the Congress Building is called "La Plaza de los dos Congresos". You'll see there are several monuments.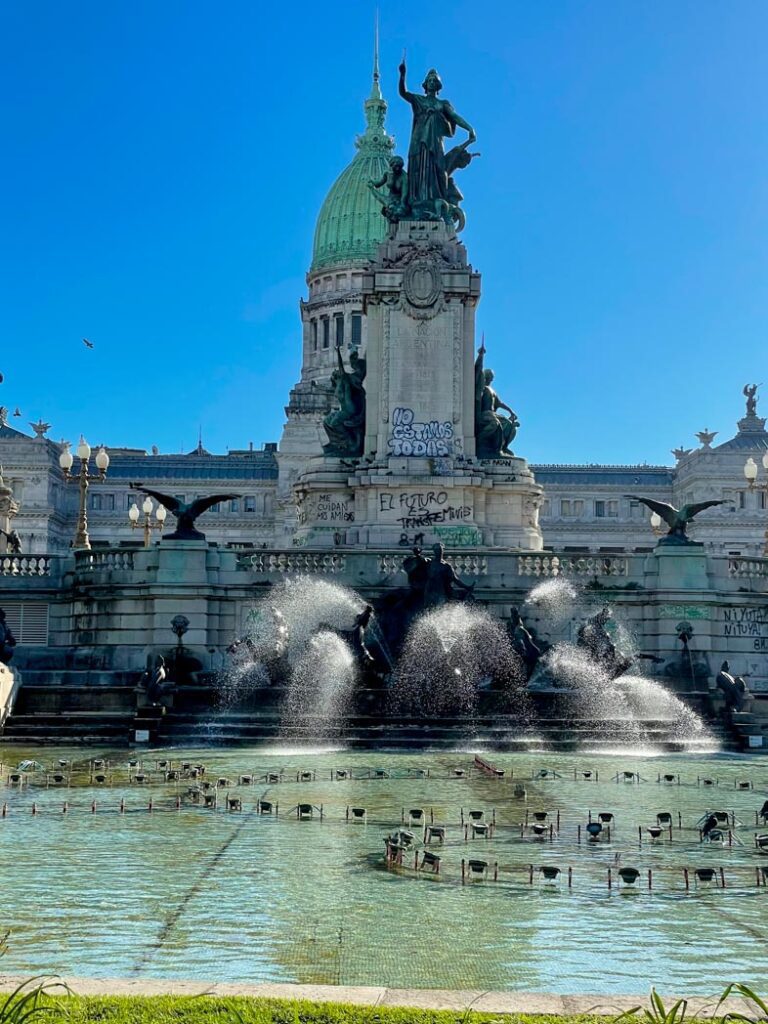 The most impressive monument is the "Monumento de los dos Congresos", located right in front of the congress building.
On the other hand, the most popular monument among tourists is an original replica of Rodin's "The Thinker".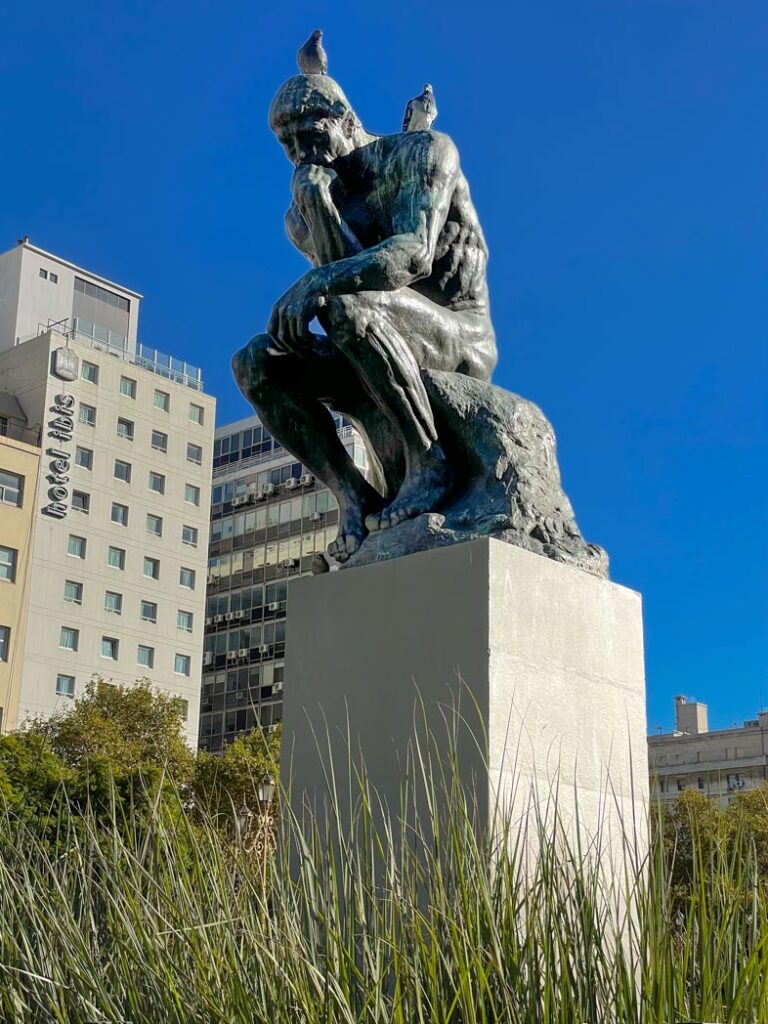 We are going to give you some extra tips to do things in Buenos Aires outside of the tourist routes that we designed for this post. However, you could also combine them, if your schedules allows it! These are attractions that may be geographically distant from specific tourist spots or events that take place only on certain days of the week.
If you visit San Telmo neighborhood on a Sunday, you may discover its street market, "La Feria de San Telmo".
This market takes place on Defensa Street, from Plaza de Mayo to San Juan Avenue. It's more than 10 blocks long.
It opens every Sunday of the year, from 10am. During summer or when the weather is pleasant you may find its stands open until 8pm.
It's a street market where you can find music or dance shows, food, antiques, crafts, and anything you can imagine.
Late at night on Sundays, a milonga takes place in Plaza Dorrego, so it is a good plan to end your touring day.
Finally, there's a great food offer in the area.
La Feria de Recoleta works on weekends and holidays in the heart of Recoleta, in the square that is right in front of the cemetery.
This is the largest handcraft market in Buenos Aires. It's the ideal place to buy gifts and souvenirs.
All the products you may buy at this market are authentic products, made by the same person who runs the stand.
The market is regulated by the city government. Those who want to work in the market must go through a test and explain the production process and the origin of the materials in order to be able to offer their products.
The goal is to guarantee that the artisans offer authentic products that represent part of the Argentine or South American culture.
During the weekends, there are usually music shows and different performances that include juggling, acrobatics, living statues, clowns, etc.
Fútbol is not just a sport for Argentines, it's a passion and, without a doubt, the most popular sport in the country.
Going to see a soccer game in a stadium in Argentina is an experience that cannot be compared to other sporting events around the world. Really, the ambience is very especial. Watching the audience, constantly singing and shouting, is another live show. And you could actually be part of it!
If you could attend a River Plate soccer match, don't miss the chance. Right now, it's the team that plays soccer the best, and probably the best team in South America. Besides, its stadium is impressive, colossal, and people call it El Monumental.
It's not easy at all to go to see a football match in Buenos Aires. First of all, it's not easy to get the tickets. And then, truth is that being in the surrounding areas of the stadium could be somewhat hostile for a tourist.
Maybe not, but who knows. That's why we recommend you hire one of the tours that include the tickets for the game and the transfer.
Tigre is a true paradise just 30 kilometers away from Buenos Aires City. You could get there by train from Retiro Station, or from Lisandro de la Torre Station in the Palermo neighborhood. The most interesting thing to do in Tigre is visiting its Delta. It's a group of islands that have no connection with the mainland or even with each other.
In other words, the only connection is by water, through the rivers and canals that make up the Delta.
On the islands closer to the continent, we find many weekend homes. However, if we go a few kilometers further into the Delta, we'll find homes that are permanently inhabited throughout the year.
Life on the islands is very especial. There are islands with schools, for example, and many others with churches, hospitals, etc.
There are also boats that work as a market. They offer anything, from drinking water and food to coal or gas used for cooking or heating the house.
We highly recommend that you take a tour around the Delta on a boat.
In Biker Street we offer a tour that includes a bike ride, a train trip and a visit to the Delta by kayak.
The advantage of kayaking is that you can visit channels and small rivers where large boats cannot sail. In those places the wildlife remains more preserved and you could get an idea of what living there could be like.
As you may already know, tango is the music style that represents Buenos Aires and Argentina internationally.
This rhythm that was born in La Boca, in the conventillos, became popular worldwide from 1920s. Even today it awakens curiosity among many tourists that come here to discover its roots.
Tango shows are plentiful in the city, but the truth is that they are shows exclusively designed for tourists.
If you want to see what tango life is really like, you should go to a Milonga.
A milonga is like a nightclub where you could only dance tango music.
And it's where locals, and of course tourists as well, go to dance. In any case if you don't dance, you could just enjoy the ambiance and the dancing.
Many milongas also offer tango classes for beginners, so you could go, take the lesson, and stay working on your recently learned steps.
Don't be shy, tango atmosphere is very relaxed. No one will be expecting you dance like a professional. It's just about having a good time.
There are milongas every day of the week and all over the city. Here we offer you this link so you can see which is the most convenient option for you to dance tango in Buenos Aires.
Mataderos is a neighborhood in the southwest of the city of Buenos Aires, not touristy at all. And there, from April to December, every Sunday, you could find the Feria de las Artesanías y Tradiciones Populares Argentina.
Besides, you'll discover a totally different part of the city, with low houses, few shops, and wide avenues with little traffic.
It is not so easy to get there by public transport. We recommend that you go by taxi or Uber.
VERY IMPORTANT: bear in mind the market does not work during January, February and March.
La Bomba de Tiempo is a percussion-only music show that takes place every Monday at Centro Cultural Konex from 7pm to 10pm.
This is an excellent plan for a Monday if you want to dance to the rhythm of the drums.
The show is improvised, the conductor executes signs with his hand, so the musicians create the music at that moment. Therefore, each show is unique and cannot be repeated.
Every Monday they have different guests who can be local or international artists that join them in the improvisation.
We recommend you buy your ticket in advance as they tend to sell out. It's a very popular and crowded show.
If you feel you have already seen everything you wanted to see in Buenos Aires, or if you want to include another country to your trip or if you just want to discover something different, then you should cross Río de la Plata and visit Colonia Del Sacramento. 
Just one hour away from Buenos Aires, it's the city in Uruguay closest to Buenos Aires.
Colonia is one of the oldest cities in South America. And you can get that feeling when you walk through its narrow cobblestone streets and colonial buildings.
This territory used to be occupied by Portuguese people, then by Spanish people, and this is reflected in the town's architecture.
The attractions to visit are in a somewhat reduced area. So, going in the morning and returning to Buenos Aires at night should offer you enough time to visit all highlights.
To cross the river the available options are offered by the companies Buquebus and Colonia Express. Both offer several trip options during the day. However, we recommend you buy your tickets in advance to make sure you can make the best of your day.
Besides, bear in mind that you'll be changing country so you will have to take your passport with you. Therefore, we recommend you go to the port at least 2 hours before your ship departs.