BA Bike Tour: History & Local Culture​ – PM
"mate" (infusion) + "alfajor" (local snack)
+ with gears & suspension + helmet
500 ml bottle of water
English speaking local guide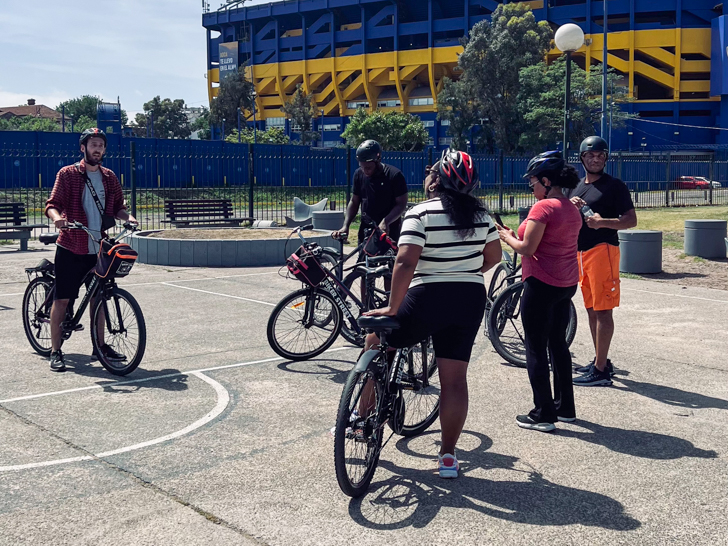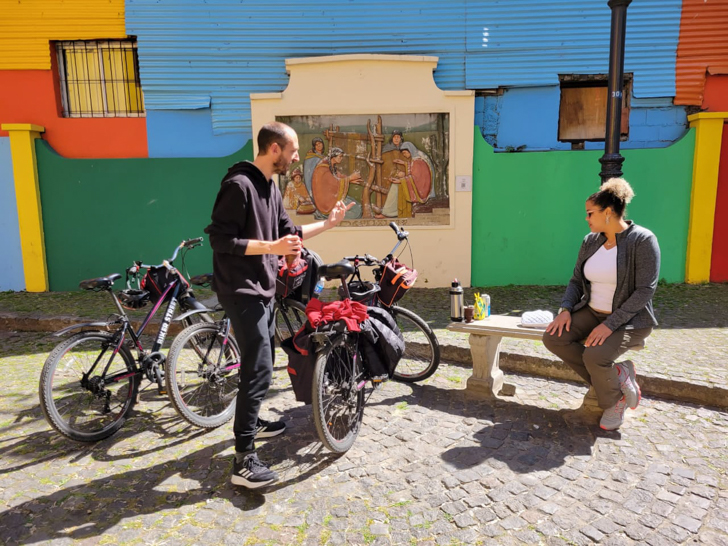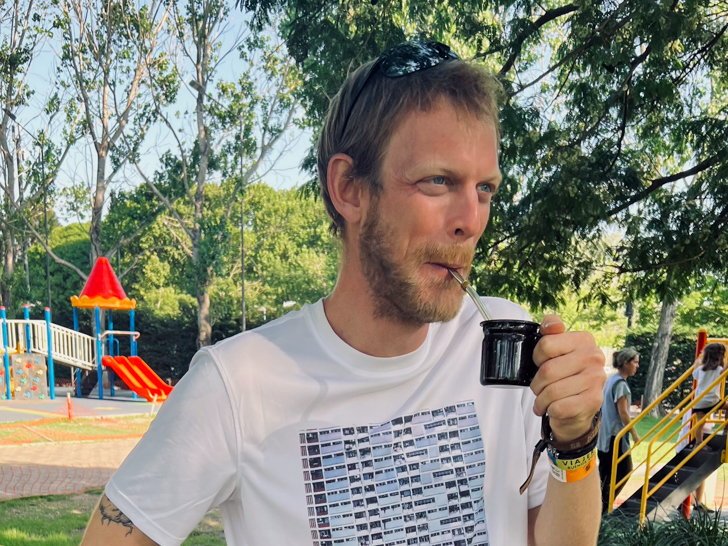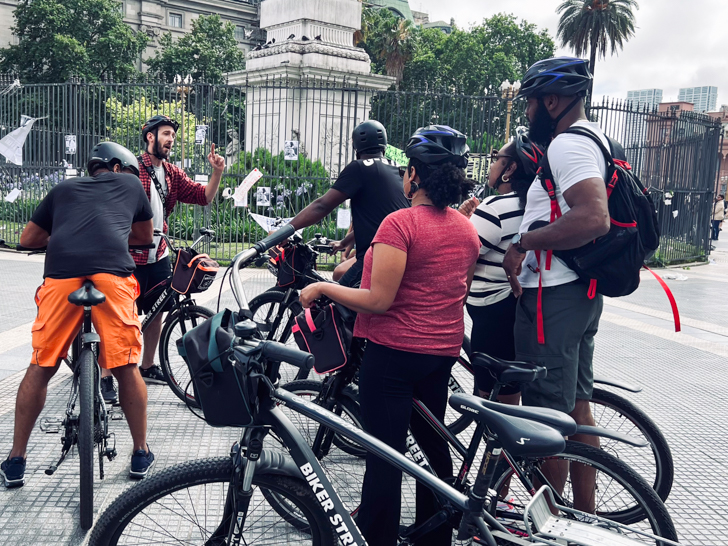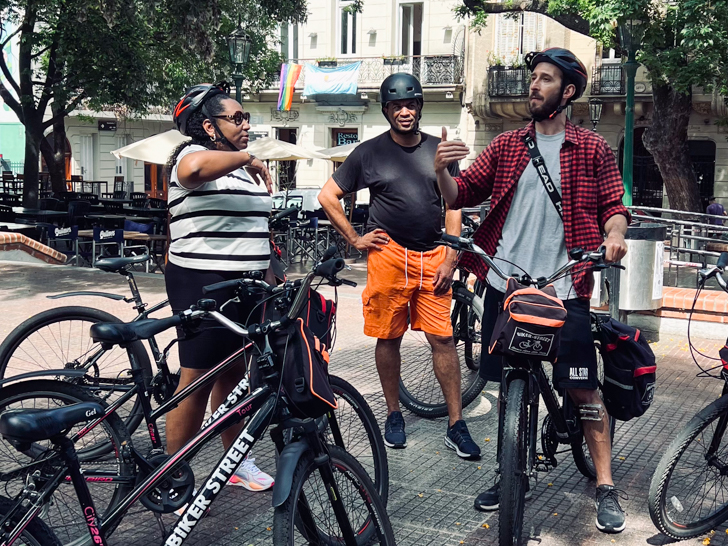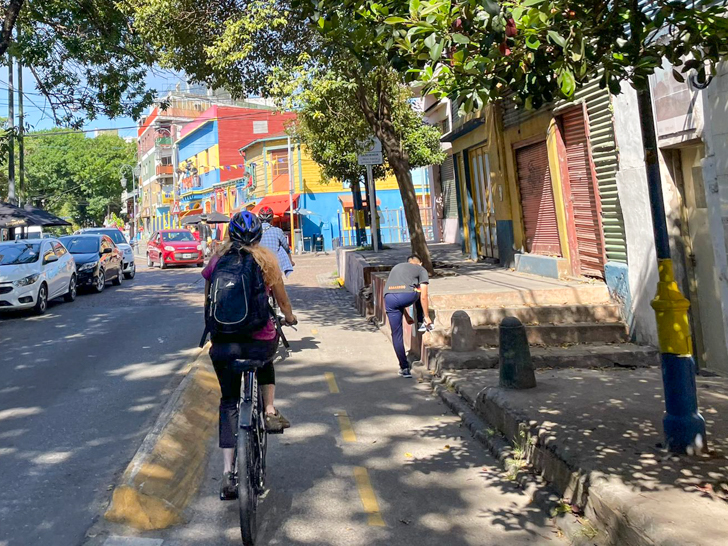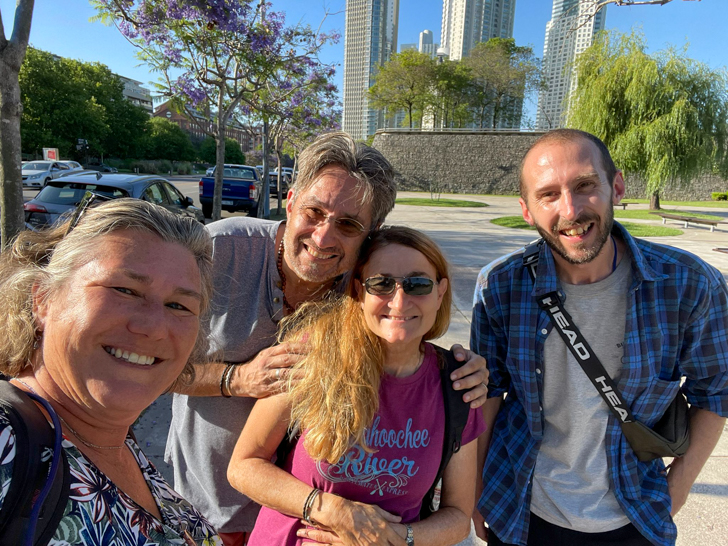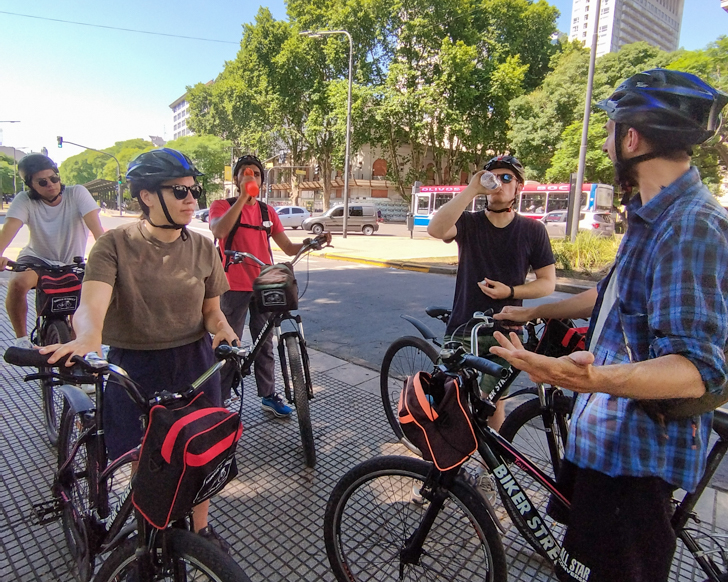 BA Bike Tour: History & Local Culture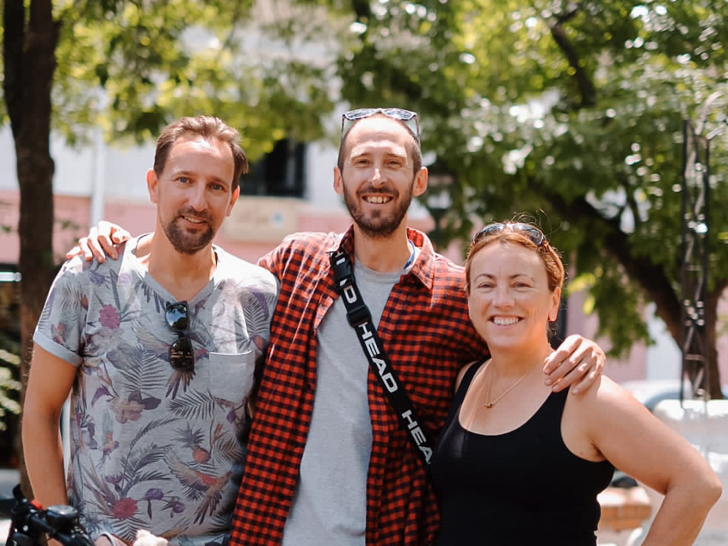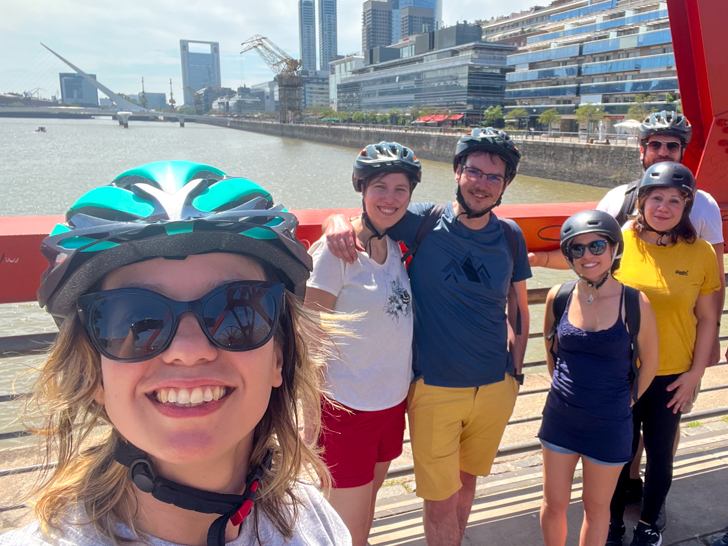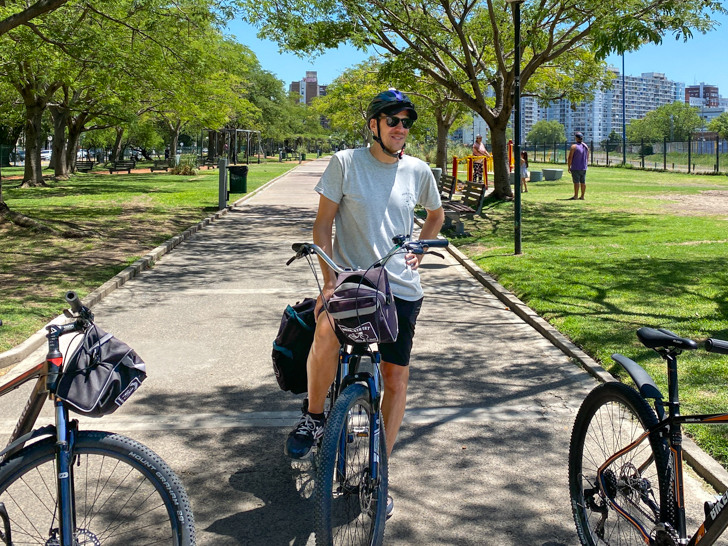 Encounter Carlos, Julián, or Gilda at 762 Hipolito Yrigoyen Avenue to embark on an enthralling bike tour in Buenos Aires that delves into its History and Local Culture. We'll reveal how the porteño culture took shape in a city initially founded by the Spanish and later enriched by immigrants from various corners of the globe, with a predominant influence from Spain and Italy. Through this journey, we'll uncover the imprints left by these immigrants on our contemporary customs and the underlying reasons for our practices.
A single language per tour
Each tour is conducted in a single language, preventing any time wastage on content you might not grasp or waiting for others to catch up with the information you've already received. This approach guarantees universal understanding and active participation in the conversation.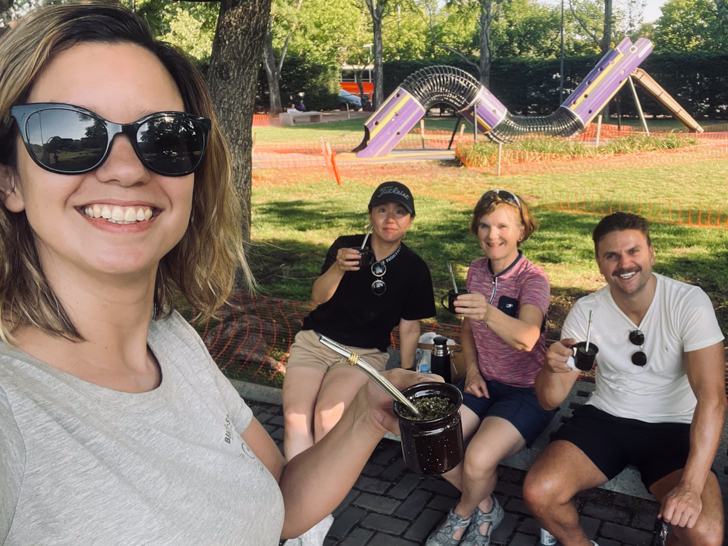 Join us for a unique "mate" session, the most cherished drink in Argentina. Sip hot water infused with tradition through a slender straw, like tea with a twist. As we savor this traditional beverage, indulge in "alfajores," two cookies filled with dulce de leche, for a delightful treat. Let your taste buds and senses embark on a flavorful journey. Engage with the culture, savor the flavors, and create unforgettable memories. Don't miss out on this captivating adventure.
Highlights in our Bike Tour:​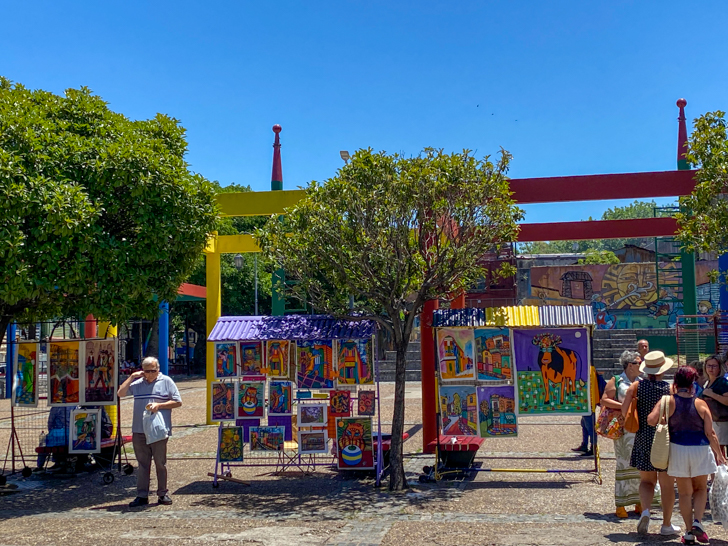 When we reach Caminito, a captivating chapter of Buenos Aires' history unfolds before your eyes. An outdoor gallery in the southern part of the city, Caminito enchants visitors with its splashes of color and cultural significance. Our itinerary sets aside some time here, granting you the chance to meander through this living canvas. Feel free to capture its essence with your camera or simply soak up the atmosphere. While you explore, you might choose to enjoy a cup of coffee or a refreshing beer (not included), savoring the artistic surroundings. This place not only ignites your senses but also offers a glimpse into the lives of the immigrants who once called it home.
In the heart of Buenos Aires lies La Boca—a district rich in history, culture, and resilience. A haven for immigrants in the 19th and 20th centuries, La Boca's working-class ethos is a testament to the enduring spirit of its people. The district pulses with soccer fanaticism, hosting the renowned Boca Juniors' stadium, "La Bombonera." Meandering through its streets unveils a visual feast—colorful murals and street art that mirror the community's vivacity. Caminito, nestled within La Boca, beckons with its kaleidoscope of hues—a street museum alive with tango rhythms and tales of yesteryears.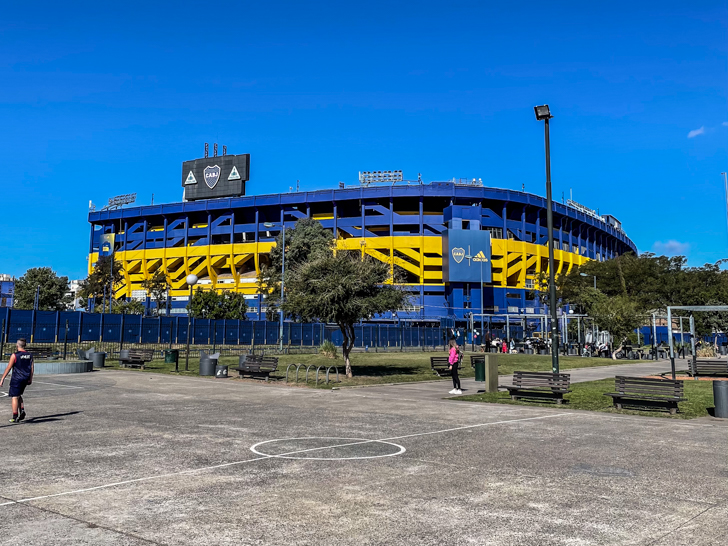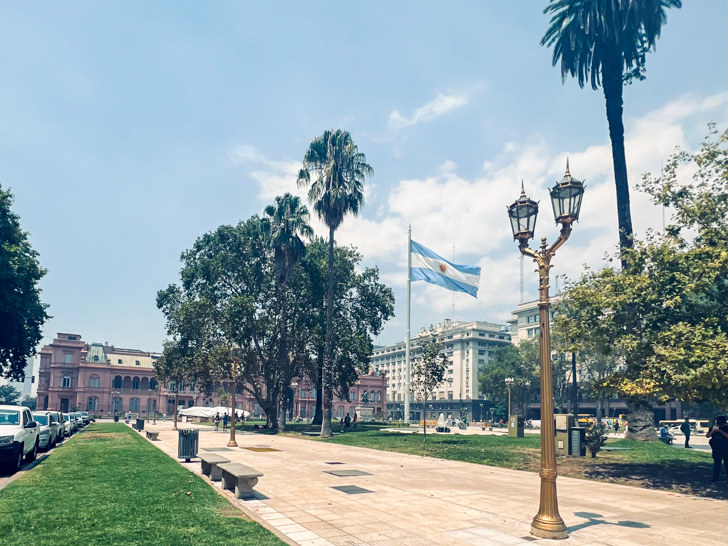 Plaza de Mayo, a prominent city square, holds the distinction of being Buenos Aires' genesis—the very spot where the city was conceived. Known as "the center," this square is a vital juncture where the heart of Buenos Aires meets the city's historic roots. More than mere geography, Plaza de Mayo resonates with the nation's emotions and ideals. It's the focal point for demonstrations that voice citizens' concerns and celebrations that commemorate their victories. Surrounding this emblematic square, the monumental buildings that grace its perimeter—such as the Government House, National Bank, Ministry of Economy, and the Cathedral of Buenos Aires—symbolize the nation's governance and spiritual essence.
Step into the heart of history as we venture into San Telmo, one of Buenos Aires' oldest districts. A mere stone's throw away from Plaza de Mayo, this neighborhood exudes an undeniable charm that harks back to the city's inception. The spirit of antiquity lives on in its original architecture and the cobblestone streets that weave through its alleys. While embracing its storied past, San Telmo has also embraced modernity, transforming into a thriving area adorned with vibrant bars, restaurants, and nightclubs that come alive after dusk. Amidst the contemporary energy, the district remains a haven for tradition, with its antique shops preserving the treasures of eras long gone.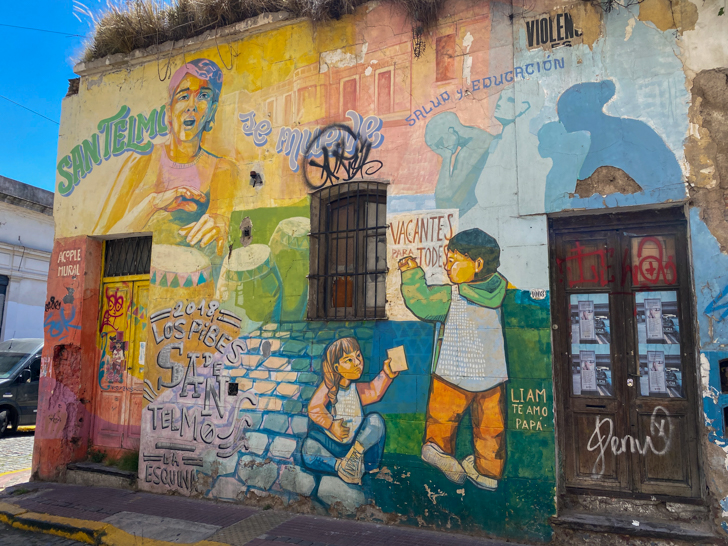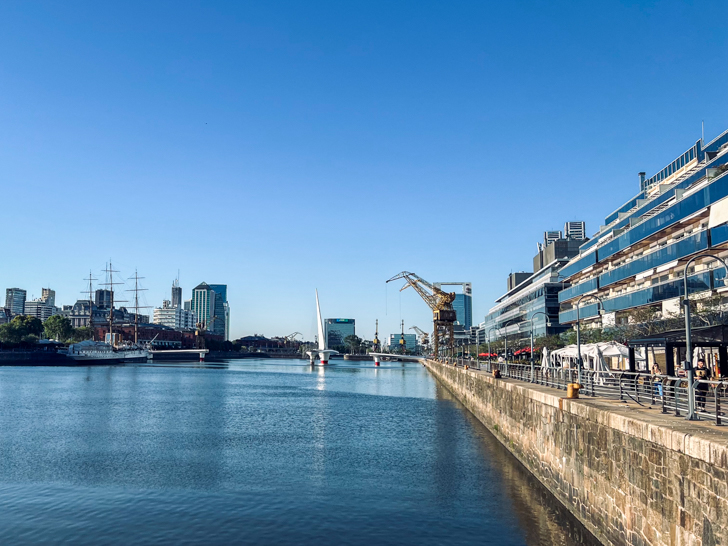 Puerto Madero's journey traces back to a time when Argentina's prosperity was showcased in its first port building. At the twilight of the 19th century and the dawn of the last, this monumental structure epitomized the nation's aspirations. Yet, the passage of time saw the port's functionality wane, leading to a period of abandonment. However, Puerto Madero's narrative took an intriguing turn in the early 1990s. A visionary project emerged, transforming the erstwhile port into a dynamic modern neighborhood—an embodiment of Buenos Aires' adaptive spirit. Today, Puerto Madero encapsulates both the echoes of its historical legacy and the vigor of its contemporary existence.
Embark on an enriching adventure through Montserrat District—a historical gem nestled at the heart of Buenos Aires. This district holds the pulse of the city's origins, a place where history echoes through its streets and landmarks. As you pedal through its captivating avenues, immerse yourself in the stories of Argentina's past, brought to life by its architecture, monuments, and cultural treasures. Montserrat District offers a blend of old-world charm and modern dynamism, where grand government buildings stand in juxtaposition with bustling marketplaces and quaint cafes. Explore its intricate network of streets, unveiling the layers of a city that has evolved over centuries.